Racing to Success, UK Celebrates China Tie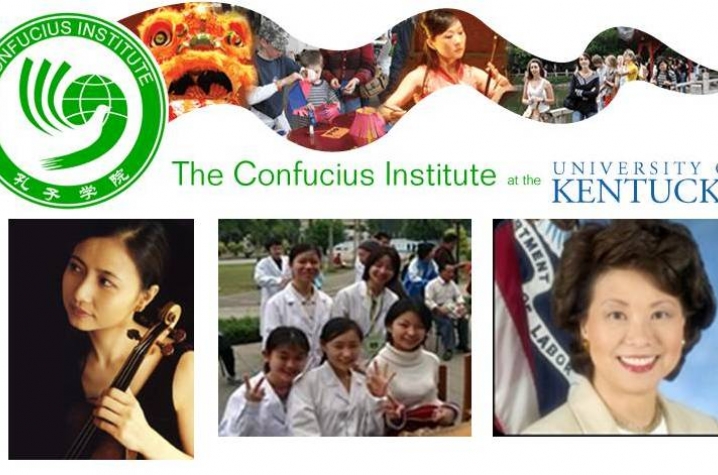 LEXINGTON, Ky. (Nov. 3, 2010)− The University of Kentucky will officially honor its place as one of fewer than 300 organizations worldwide to host a Confucius Institute on Nov. 6.
The distinction, initially granted to UK by the Office of Chinese Language Council International (colloquially known as the Hanban) in March, will provide Central Kentuckians, as well as UK students, faculty and staff the opportunity for a greater understanding of China through community classes, teacher preparation courses and events and services for the public.
The UK Confucius Institute Inaugural Ceremony and Concert will begin at 6:45 p.m. Saturday, Nov. 6, in the Recital Hall of UK's Singletary Center for the Arts.
"The Confucius Institute's purpose is to help U.S. students and communities become more knowledgeable about the history and culture of China," said Susan Carvalho, associate provost for international programs. "The array of visiting artists and lecturers who will come to Kentucky through this initiative will help us learn, and gain a greater appreciation for, that rich heritage."
UK President Lee T. Todd Jr. will open and close the ceremonies, which will involve an exchange of gifts between UK and its partner institution, Shanghai University.
An SU calligrapher will compose the university's gift to UK onstage: a scroll with four Chinese characters translating to "Horses Bring Success," meaning that a partnership with Lexington will "gallop toward success," according to Huajing Maske, director of the Confucius Institute at UK.
Former U.S. Labor Secretary Elaine Chao will deliver the ceremony's keynote speech.
Chao, who arrived in the United States at 8 years old without knowing any English, excelled in her new country, earning a bachelor's degree from Mount Holyoke College, a master's of business administration from Harvard University and broke new ground when she became the first Asian American woman to be appointed to a cabinet-level position.
Special ceremony guests include Senator Mitch McConnell, Representative Ben Chandler, Shanghai University President Zhewei Zhou, Hanban deputy director Zhiping Hu and You Shaozhong, minister counselor for Educational Affairs at the Chinese Embassy in Washington, D.C.
After the hour-long ceremony, visiting Chinese artists and UK's symphony orchestra will perform "China in the Commonwealth." The concert includes world-renowned guest violin soloist Sha, as well as the Yandong Shaolin, a troupe of Tony Award-nominated Kung Fu artists.
Sha is one of China's leading violinists on the world stage today. Her singing style and dynamic stage presence have mesmerized audiences from East to West. Born in Shanghai, China, Sha started the violin at age 6, and as a child prodigy, appeared often on radio and television.
Yandong Shaolin's performance will feature several boxing techniques, including animal-imitation boxing and the "needle through glass" technique during which a needle will go through a pane of glass to pop a balloon. During the week after the ceremony, the martial arts group will visit as many Lexington-area schools as time will allow, according to Carvalho.
"This is a wonderful example of an event that UK is hosting but that also involves outreach to the community," said Carvalho. "The vision is that this Confucius Institute will not belong only to the UK campus, but to the Commonwealth."
"The relationship we're forming with China at UK through the Confucius Institute is a great opportunity for our campus and the community," added Maske. "I look forward to strengthening the presence of Chinese language, arts and culture at UK's campus and beyond. Together we will succeed in bridging East and West through the power of education and culture."
The UK Confucius Institute is a center for Chinese language and arts, offering classes, teacher training and public events and services to the community. With the support of Shanghai University and Hanban, the UK Confucius Institute seeks to serve the Commonwealth of Kentucky in providing a greater understanding of China.
The Nov. 6 ceremony and concert will also kickoff the beginning of the ArtsAsia Festival at UK, which draws top caliber performers, visual artists and scholars to campus and Lexington venues. This year's events will highlight how traditional artistic and cultural practices of Asia are being kept alive and adapted for contemporary times. The UK Confucius Institute will only strengthen support for the Asia Center's annual festival.
Free tickets for the concert and ceremony are available at the Singletary Center's website. For more information on the celebration, please contact Maske at (859) 257-4607 or huajing.maske@uky.edu.