Seven Projects Receive UK Sustainability Challenge Grants Totaling $200,000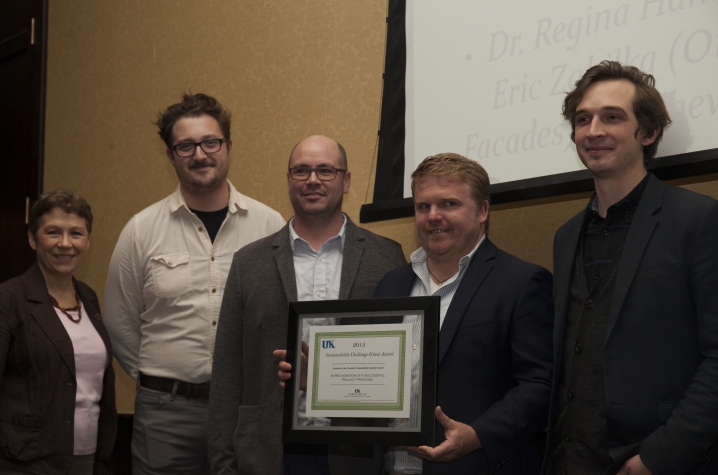 LEXINGTON, Ky. (Dec. 2, 2015) — At a ceremony Tuesday evening, the University of Kentucky President's Sustainability Advisory Committee awarded nearly $200,000 in funding to seven sustainability projects. The projects selected to receive UK Sustainability Challenge Grants ranged from developing a solar powered tractor to empowering youth with sustainability education.
The grant program issued a campus-wide call for proposals Aug. 31 seeking interdisciplinary proposals for the creation and implementation of ideas that promote sustainability. By the deadline of Oct. 16, the program received 18 proposals requesting a total of $544,919. Through an extensive review process, seven projects were selected to fund this year.
"At the University of Kentucky, we believe in putting students first in all we do. To maximize the well-being of our students, we must also contribute to the community that shapes their lives," said Executive Vice President for Finance and Administration Eric Monday. "We are committed to encouraging the university community to develop policies and programs that will advance economic vitality, ecological integrity and social equity, now and into the future."
2015 UK Sustainability Challenge Grant Projects are:
Building an Inclusive Community by Empowering Youth through Sustainability Education - Awarded $27,455 
 
Creating Tree Ambassadors - Awarded $32,636  
 
Establishing Native Forest on Surface Mines - Awarded $18,175
 
From SEE(E)D to (S)STEM - Awarded $25,184
 
Point of Departure - Awarded $49,991
 
Solar Powered Tractor - Awarded $25,000
 
The Arboretum's Children's Garden Patio and Wet Meadow Demonstration Area - Awarded $21,000
To read descriptions of each project and information on departments and individual team members involved, please visit http://www.sustainability.uky.edu/ChallengeGrants.
"The seven funded projects, while very diverse in scope, each make excellent use of the campus as a living laboratory, have high levels of student engagement and strong potential for positive impacts on the campus and beyond," said UK Sustainability Coordinator Shane Tedder.
The program is a joint effort of the Tracy Farmer Institute for Sustainability and the Environment, UK Office of Sustainability and the President's Sustainability Advisory Committee. Funding is provided by the Student Sustainability Council, the Office of the Executive Vice President for Finance and Administration, the Office of the Provost and the Office of the Vice President for Research. In 2014, the first year of the program, $100,000 was awarded to seven projects.
"The second year of the Sustainability Challenge Grant Program is off to a fantastic start and we were very impressed by the diversity and creativity represented by the 18 proposals that were submitted," Tedder said. "This program has proven to be a very effective catalyst for engaging students, faculty and staff in creative, multidisciplinary approaches to sustainability-related challenges that range from storm water and transportation to renewable energy and community development."
MEDIA CONTACT: Whitney Harder, 859-323-2396, whitney.harder@uky.edu