South African Freedom Fighter Visits UK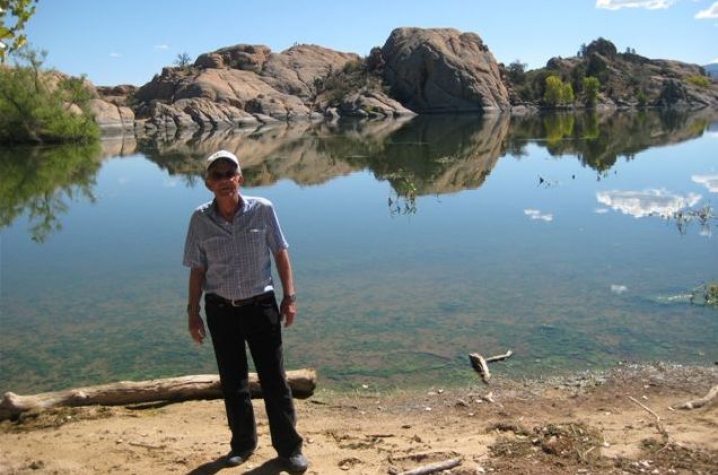 LEXINGTON, Ky. (Oct. 26, 2010) –Eddie Daniels, South African freedom fighter and former prison mate of Nelson Mandela, is a scholar-in-residence on campus at the University of Kentucky's College of Arts and Sciences from Oct. 24  to Nov. 7. His visit includes a book signing, visits to local K-12 schools and UK classes.
Daniels grew up in District 6, a "coloured" area of Cape Town in the shadow of Table Mountain. The district was an impoverished area where a child was lucky to grow to adulthood. It later became famous when the apartheid government of South Africa bulldozed down all the houses and turned the area over to white development.
Though legally classified as "coloured" by the apartheid government (because of his English and African ancestors), Daniels has said, "I take exception to being referred to as 'Coloured' as I see myself as a South African. If I must be referred to in terms of colour then I prefer the term 'black.'"
Daniels frequently climbed Table Mountain, sometimes rescuing other climbers who found themselves trapped. He worked on a whaling ship and then in the mines before opening a photography studio with a friend. Daniels joined the Liberal Party because it was the only political party open to all races, which was also the reason the party was one of the first to be banned.
To protest the oppression and injustice of the apartheid regime, Daniels and others in the Liberal Party began sabotaging government utilities.
Daniels was captured and imprisoned on Robben Island for 15 years for this activity. In prison, he befriended Mandela. The leader of the African National Congress (ANC) included Daniels in his political discussions, even though Daniels was the only member of the Liberal Party in prison (compared to the more numerous ANC and Pan African Congress). After they were both released from prison, Mandela said of Daniels, "We recall his loyalty and courage; his sense of humour, and justice as well as total commitment to the struggle of the prisoners for the eradication of injustice and for the betterment of their conditions."
After Daniels was released, his movements were still quite limited. But he found a way to court his future wife, a white woman he had met prior to his imprisonment, who insisted on coming to him despite his warnings to preserve her own safety. They were married twice—once by a minister when the Mixed Marriages Act outlawed their union and again by the law after apartheid was finally overthrown.
Daniels will visit Lafayette High School, Crawford Middle School, Providence School, Leestown Middle School, MLK Alternative School and St. Agatha's School in Winchester during his first week.
The following week, he will be visiting classes on UK's campus.
On Saturday, Nov. 6, Daniels will sign copies of his autobiography, "There and Back," and sell Robben Island Spy Mirrors, at Lucia's World Friendly Boutique at 523 East High St.
In addition to events around the Lexington community, Daniels will be the featured guest speaker at the fifth installment of the seven-part documentary series, "Have You Heard From Johannesburg" on UK's campus.
"From Selma to Soweto" will be shown at 3:30 p.m. and 7 p.m. on Thursday, Oct. 28, in 213 Kastle Hall.
The College of Arts and Sciences is embarking on a year-long exploration of South African culture and history with its South Africa Initiative, themed "Different Lands, Common Ground." This program hopes to engage the Lexington community in crucial global conversations spark an ongoing exchange of ideas and promote awareness of race, human rights and political change.
For more information on the South Africa Initiative, please http://southafrica.as.uky.edu/ or contact Program Director Lauren Kientz at lauren.kientz@uky.edu.