UK Alum Ed Berry Turned His Passion for Football Into Success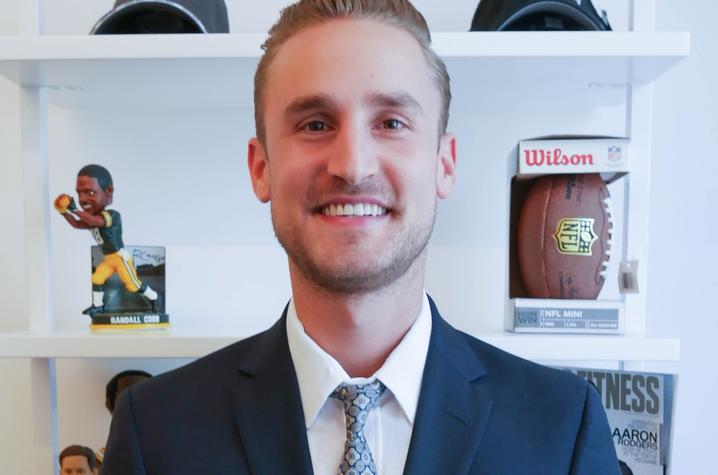 LEXINGTON, Ky. (April 25, 2019) — University of Kentucky football alumnus and now successful businessman Ed Berry did not always envision that he would end up where he is today. With a dream of playing in the National Football League (NFL), he got his start playing football at a very young age. Little did he know, his future career would grow from this passion.
Competing on the gridiron was always one of the most important factors in Berry's early life. He began playing the sport in the second grade and moved on to tackle football in the fourth grade. Growing up, in addition to football, Berry ran track and played basketball and baseball, anything to keep his competitive spirit high.
During his time at Eminence High School, Berry earned all-region honors in basketball, scoring over 1,000 points in his career; finished as state runner-up in the high jump; and was an all-region baseball player for the Warriors. Yet football was the one sport that stuck with Berry beyond his teenage years. When deciding what college to go to, like many young, ambitious athletes would, Berry focused on schools that would give him the best opportunity to get to the NFL. As it turned out, coming to UK to play wide receiver for the Wildcats did get him to the highest levels of professional football, just not in the way he originally thought.
Being a collegiate student-athlete requires excellent time management skills. Berry stayed focused during his college career by concentrating on personal accountability and self motivation.
"I learned how to effectively balance practice, workouts and team meetings with maintaining a strong focus on academics, while still having a personal life," Berry said. "It was very challenging, yet definitely helped prepare me for the future."
Graduating from UK's Gatton College of Business and Economics in 2013 with bachelor's degrees in management and marketing, Berry also minored in communication with a focus on international studies. He then attained his MBA from Gatton one year later.
Berry had a somewhat unusual freshman year experience, coming to campus just one month after his high school graduation to take part in the eight-week football training program. This is where he met his teammate and future roommate, Randall Cobb. Berry and Cobb shared an off-campus apartment during Berry's second year at Kentucky, which was Cobb's third year as a Wildcat. Berry described his experience getting to know the other guys on the football team as becoming a part of a brotherhood and says he created a bond that will last a lifetime.
Today, Berry can be found as an agent at Creative Artists Agency (CAA), traveling across the country to represent his clients and building professional relationships. He represents an array of football players, most notably Green Bay Packers' star quarterback Aaron Rodgers and the person he calls his best friend, Cobb, formerly with the Packers and now a member of the Dallas Cowboys. Former Wildcat defensive standout Avery Williamson, now with the New York Jets, is also a Berry client.
Berry establishes relationships and executes deals between the players he represents and different companies across the country. His typical work day begins at 8 a.m. and sometimes does not end until 9 p.m. or later.
"Putting in the long hours separates you from everyone else," Berry said.
He added that representing your clients successfully requires prioritizing tasks and being willing to take a risk from time to time. This mantra continues to earn dividends for him. Earlier this year, Berry was named to the Forbes "30 Under 30" list in sports and entertainment.
Though Berry has had many incredible life experiences thus far, he says that his relationship with Cobb stands out. From being roommates, to serving as best man at each other's weddings, and finally working together on a professional level, Berry and Cobb have shared some momentous times. This friendship with Cobb is what initially led to Berry meeting and signing Rodgers. 
As for advice to future business professionals, Berry believes that success begins with a great college education and then truly depends on your work ethic and who you know, not just what you know.
"The successful businessperson works harder, stays longer and is a genuinely good person," added Berry.  
Berry is grateful to UK for the experiences that have shaped his life, is a proud alumnus and fervent member of Big Blue Nation. He was humbled by mid-court recognition he received at the UK men's basketball home game against University of Tennessee this past February.
Above all Berry, a deeply religious person, said he owes everything to his strong faith.