UK Announces New Bikeshare Partnership With Spin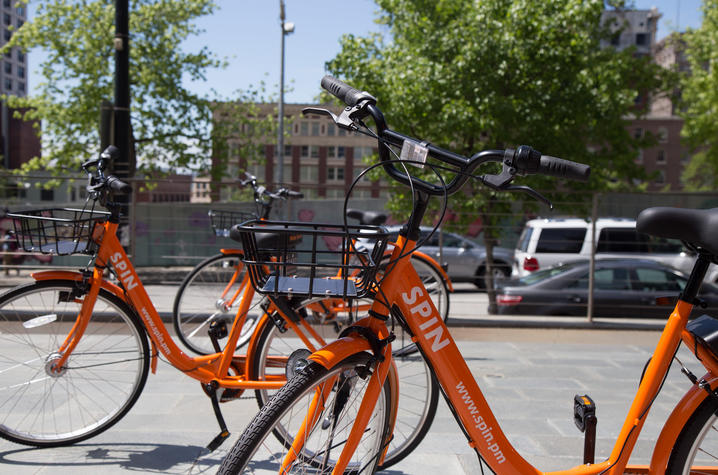 LEXINGTON, Ky. (May 14, 2018) — The University of Kentucky on Friday announced a new partnership that will provide the UK community with a stationless bikeshare service — another step in increasing mobility options across the campus.
Through the new partnership with Spin — the first stationless bikeshare company in North America — UK students, staff and faculty can rent the bikes for 50 cents per half hour ride — a 50 percent discount on the standard fare of $1 per half hour.
Semester and annual memberships will also be available to the UK community. The bikes can be picked up and left almost anywhere; a smartphone app will help you locate the bike closest to you when you are ready to ride. Spin will employ a local team responsible for regular maintenance and a daily 'rebalancing' of the fleet. Spin has agreed to relocate a certain number of bikes back to designated campus locations each day ensuring convenient access to this new transportation option.
Spin's launch at UK is part of the company's continued expansion onto college campuses across North America with the goal of providing affordable and equitable transportation alternatives to students everywhere. The city of Lexington also is exploring a partnership with Spin. Together, these partnerships will launch with 200 GPS-enabled, self-locking smart bikes distributed across campus and downtown in June with plans to expand to 1,000 bikes within the first year of the program.
UK's partnership with Spin is one of the many ways UK is working to increase mobility options to, from and around campus. These options already include BluPass, the bike voucher and cash out programs, car sharing, and the Wildcat Wheels Bicycle Library.
Ride credits with Spin are one of the benefits included for certain member groups in UK's new Commute Club.
"Our various mobility options align with the goals set forth in the UK Transportation Master Plan," said Executive Vice President for Finance and Administration Eric N. Monday. "Not only are we expanding the number of options offered and aimed at improving access to, from, and around campus, but these options also benefit the campus, community and environment."
Download the app by searching "Spin Bikes" in the app store.
Open the app and locate a bike nearby.
Scan the QR code on the bike to unlock it.
Start your ride.
Park the bike without blocking sidewalks or building entrances and trigger the self-locking device to end your trip.
On-campus bikes must be parked in dedicated zones. 'Geofence' technology and in-app messaging will be used to discourage users from ending their trips if they try to lock the bike outside of these zones.
"Spin is all about bringing affordable, equitable and eco-friendly transportation options to campuses and cities across America," said Matt Sink, head of campus operations at Spin. "We recognize that college students are often limited by traditional public transportation options. The University of Kentucky has been making tremendous strides to provide additional mobility options for students, faculty and staff, and Spin is excited to partner with the university to complement its efforts."
About Spin
Spin helps people move around in cities by offering a convenient, affordable, and environmentally friendly mode of last-mile transportation. Its fleet of solar-powered, GPS-equipped, orange-colored smart bikes can be unlocked by scanning a QR code, and dropped off anywhere, all at no cost to cities. Spin is based in San Francisco and is led by a team of Lyft, Uber, Disqus and Y Combinator alumni. To learn more visit https://spin.pm.