UK Announces Premier Interdisciplinary Fellowship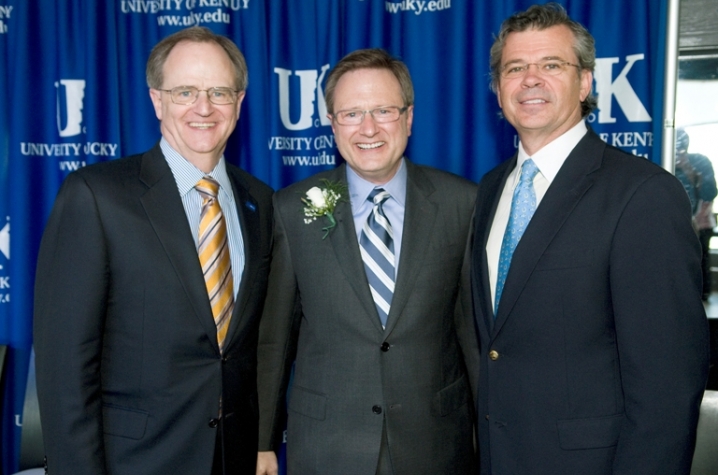 LEXINGTON, Ky. (April 16, 2010) − The University of Kentucky has announced the establishment of a $1.15 million fellowship program in engineering and medicine, the Halcomb Fellows program, made possible through a donation from alumni Dr. Joe and Joani Halcomb and matching funds by the UK Research Challenge Trust Fund.
"Thanks to the generosity of Joe and Joani Halcomb, UK will be at the leading-edge of advancements in the emerging field of biomedical engineering," said UK President Lee T. Todd, Jr. "And as excited as I am today for this announcement, I am more excited about how this fellowship program will change the face of research at UK."
The Halcombs, of Camarillo, Calif., both graduated from UK in 1974 with bachelor degrees, his in mechanical engineering and hers in nursing. Dr. Halcomb earned his medical degree from the UK College of Medicine in 1978 and completed his residency training at UK Medical Center.
The new fellowship program will provide the opportunity for graduate students in the UK College of Engineering and UK College of Medicine to engage in premier interdisciplinary research in the field of biomedical engineering, which has emerged internationally as an established discipline that integrates engineering with principles in the medical and health sciences.
"Far too many individuals believe that health care is limited to what transpires in 'the clinic'," said Dr. Jay Perman, dean of the College of Medicine and UK's vice president for clinical affairs. "Research and emerging technological advances are equally as important to how medical practitioners provide care to patients. Biomedical engineering allows us to apply critical thinking skills to real-world problems and generate workable solutions that have the potential to literally save lives."
The goal of the Halcomb Fellows in Medicine and Engineering program is to challenge UK students and enable them to learn "hands-on" skills, offer students prestigious research opportunities, encourage collaboration between disciplines and foster a wide range of high level, goal-oriented interdisciplinary research. The first Halcomb Fellow will be announced this spring for their two-year appointment.
"The interface of engineering and health sciences at the University of Kentucky provides an opportunity for students of two of the strongest colleges to collaborate to create new medical devices, solve clinical problems and promote collaboration with industry," said Thomas W. Lester, dean of the UK College of Engineering.  "While collaboration has always been encouraged, the Halcomb Fellows program formalizes this relationship."
Of the initial gift from the Halcombs of $500,000, $400,000 has been matched by the UK Research Challenge Trust Fund.  An additional $250,000 will be contributed over 10 years for a total of $1.15 million.