UK Hosts International Linguistic Conference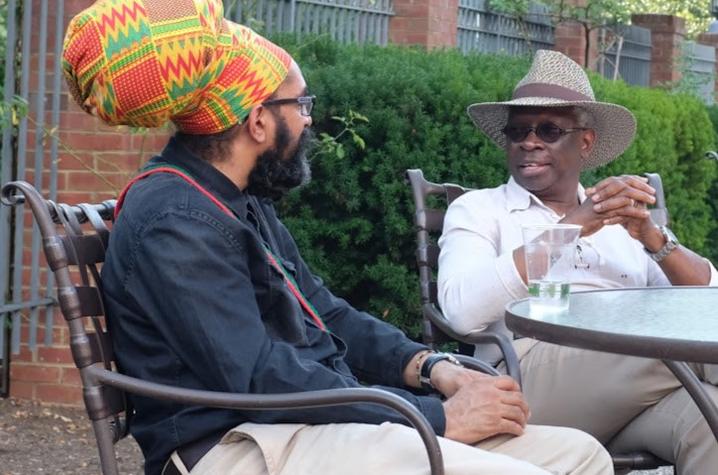 LEXINGTON, Ky. (July 28, 2017) ― If you have been anywhere near the University of Kentucky's Don & Cathy Jacobs Science Building this month, it is more than likely you heard at least one language you have never heard before. Since the beginning of July, there have been people on campus speaking a plethora languages ranging from Mauritian Creole to Farsi to Kalaallisut, the language spoken by the indigenous people of Greenland.
The UK College of Arts and Sciences is hosting the Linguistics Society of America's (LSA) biennial Linguistic Institute, the world's largest extended gathering of linguists. Institute Program Director Jo Mackby was quick to dispel the common misconception that linguists only learn how to speak foreign languages.
"Linguistics is the scientific study of natural human language and has many subfields, such as dialectology (the study of dialects), semantics (the study of meaning), syntax (the set of rules that govern language), sign language linguistics and creolistics (the study of the languages that emerged from colonialism and slavery)," said Mackby, a graduate of UK's linguistics master's program.
The Linguistic Institute offers a forum for linguists to come together and not only expand their own knowledge, but also help advance the study of linguistics.
"What makes the Linguistic Institute special is that it is a way for the field of linguistics to refresh itself every two years. It's a way of driving the discipline forward," said Andrew Hippisley, chair of the Department of Linguistics and co-director of this year's institute.
The LSA Institute is held for one month every two years in order to, in the words of the LSA, "provide advanced training in linguistics that is not readily available through the regular course offerings of any single academic institution." LSA and the UK College of Arts and Sciences are accomplishing this goal exhaustively this year, offering 75 specialized courses, four academic poster sessions, eight public lectures and more than 20 workshops to its 375 attendees. According to Hippisley, linguistics departments across America and throughout the rest of the world are usually quite small, as it is a specialized field, and the institute is a way for professors and students alike to engage with like-minded people and learn from each other.
Hippisley and Rusty Barrett, associate professor of linguistics and co-director of this year's institute, were first approached by the LSA at their annual meeting in 2014, and it was shortly decided that UK would host the 2017 event. The new Jacobs Science Building has offered the perfect space to cultivate a close knit community for this year's event.
"Usually the institute is distributed all over the host university's campus and people tend not to bump into each other as much. This year's institute is more cohesive," Hippisley said.
The organizers aren't the only ones excited about the institute. With attendees consisting of undergraduates, graduate students and tenured professors — all learning together — the diversity of ideas and topics is almost limitless.
Katherine Lahti, a professor of Russian at Trinity College, said that she is attending the institute in order to learn enough from her classes to craft her own course curriculum on morphology (the study of the forms of words) once she goes back to Connecticut. Meanwhile, Canaan Breiss, a student from University of California, Los Angeles, traveled all the way to Kentucky to be exposed to new ideas, meet new people, take interesting and highly specialized classes like morphophonology and, in his words, "nerd out" with his fellow linguists.
UK finds itself in elite company with the institute having been held at the University of Chicago, University of Michigan, University of California-Berkeley, Stanford University, Massachusetts Institute of Technology and Harvard University in the past decade and a half.
"This is huge for the Department of Linguistics and UK," Hippisley said. "It will help show the academic world that UK is an elite institution that is more than capable of hosting high-profile academic events in the future."