UK Dentistry Alumnus Craig Adams Gives Back to Alma Mater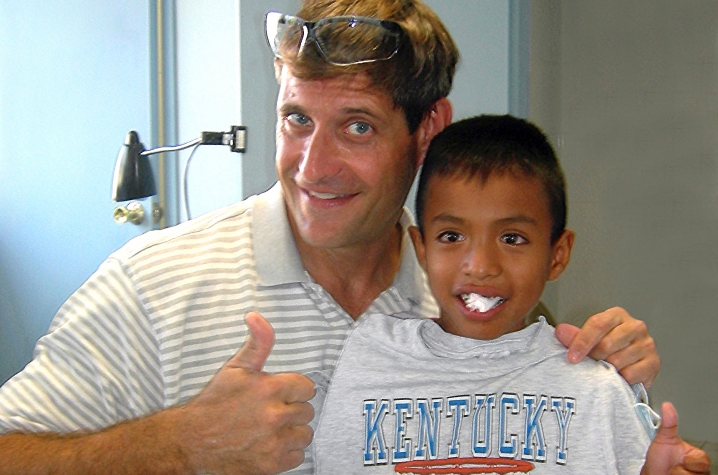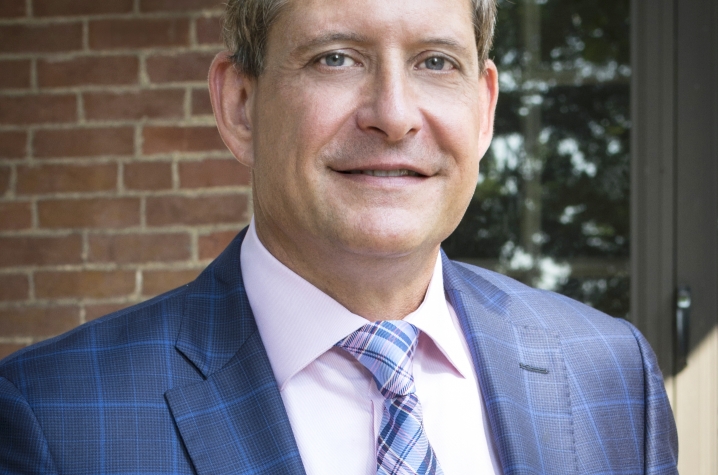 LEXINGTON, Ky. (Nov. 21, 2016) — November is National Philanthropy Month, and a time when the University of Kentucky can show its gratitude to the many individuals whose gifts play such an important part in the life of the institution.  One of those Paducah, Kentucky, native Craig Adams.
"When Craig Adams was in high school and his father told him to consider dentistry as a career, he took the advice very seriously," said Mike Richey, vice president for philanthropy at the University of Kentucky. "After graduating from the UK College of Dentistry on a full tuition scholarship, Craig established a very successful dental practice in Raleigh, North Carolina. He has also used his dental skills as a volunteer to benefit needy individuals in clinics in Haiti and Mexico, and he has helped organize and host similar charity clinics in the U.S.
"With gratitude for his UK education and a desire to help students follow his career path, Craig has made the largest gift commitment in the history of the College of Dentistry. Craig's phenomenal success in his profession, his exceptional volunteerism and his farsighted philanthropy distinguish him as one of UK's most outstanding graduates."
Adams lived in Paducah until he was in the ninth grade, when his father, a chemical engineer with the B.F. Goodrich Co., was transferred to Cleveland where the family, which included Craig Adams' mother and older sister, moved.
Following high school, Adams pursued an undergraduate education at Miami University of Ohio and graduated in 1983 with a bachelor's degree in chemistry and a minor in zoology. He applied to five dental schools and was accepted at all of them. He decided to attend the UK College of Dentistry, but he wasn't sure how he would pay for his dental education.
"I came from a middle class family," he said. "Dad said he could provide four years of college for my sister and me, but after that, he wouldn't be able to pay for professional school."
By working off-campus and obtaining a loan, Adams covered the cost of his first year of tuition and living expenses. Then he learned that two full-tuition, merit-based scholarships were available, and they were renewable for each subsequent year of dental school. He applied and received one of the scholarships for his second, third and fourth years of study. 
"That was huge for me," Adams emphasized. "Tuition was about $3,000 a year. Receiving the scholarship meant that I could borrow less. So when I graduated, I had just $20,000 of debt."
Not only did the scholarship fund his tuition, it also made him strive for excellence because being able to apply for it each year was contingent upon his standing in the top 10 percent of his class.
"The scholarship was a motivation for me to make myself better and quietly build myself to the next level," he reflects. "This valuable life lesson would carry over into my practice."
Adams knew he made the right choice in selecting the UK College of Dentistry.
He recalls, "UK's dental school was ranked in the top five in clinical dentistry and that was the direction I wanted to go in my career. The faculty-student ratio was more intimate than at larger schools. And UK was very kind to me right from the beginning. I was accepted as an out-of-state student, but when my dad was transferred back to Kentucky from Ohio, UK changed my tuition to the lower, in-state rate."
Adams was most impressed with the faculty, who he says treated students with respect. 
"The professor who had the most influence on me was Dr. Jeff Okeson. I admired him a great deal. He was very kind to me and was a tremendous mentor and example. He also had the same model of motorcycle as I did, a Honda 400," Adams said with a smile. "His was blue and mine was red. We parked them side-by-side most days at the dental school. I still confer periodically with Dr. Okeson."
Adams graduated in 1987 and was voted "Top Clinician" in the class by the College of Dentistry faculty. He was offered an associate position at the dental practice in Raleigh where he had completed his externship. He worked in this position for four years and then purchased a practice partnership. A few years later, he bought out the remaining partner. His practice grew and in 2001, Adams built a new building and relocated the practice to north Raleigh. In 2006, he took on a young partner, Dr. William Bryan Cheek, whom he had mentored through college and dental school.
Adams believes the success of his practice has been based on providing the highest quality dental care with the greatest integrity.
"Always putting patients first has been the key. The thing that makes dentistry unique and complicated is that to have a successful practice, in addition to being a dentist, I also have to be a business manager, an anesthesiologist, a radiologist, a surgeon and a leader of the people working with me. And together, we create the vision for the long term."
In addition to his practice, Adams also serves as a member of the adjunct clinical faculty at the University of North Carolina School of Dentistry and the community faculty of the University of Kentucky College of Dentistry.
Adams' volunteer pursuits increased when he moved to Raleigh. One of the ministers at the church he attended invited him to join a group of medical professionals on a mission trip to Haiti to provide free medical, optical and dental clinics for the indigent. 
"I didn't want to go," Adams said. "But I couldn't think of a valid excuse not to go.
"It was the week of Thanksgiving in 1989, and I was the only dentist on the trip. Word got out that a dentist was coming, and when I arrived, it looked like 500 people were waiting for me. Due to lack of facilities, I had to pull teeth under a palm tree with patients sitting in a metal chair set up on cinder blocks."
Even though Adams became very ill by the end of the week with resistant strains of malaria and dysentery, the volunteer experience and the faith perspective that it provided were transformational for him.
Since then, he has been on approximately 15 other similar mission trips to Haiti and Mexico, and he has enlisted some of his friends to come along as volunteers with him.
"These trips to serve others in need are humbling, life-changing experiences," he reflects.
Adams has also organized full charity clinic days in Raleigh. He and a colleague open their offices for two full Saturdays per year. Together, they see about 120 patients in a one-day clinic each spring and fall.
Adams also gives of his time, talent and resources in other ways —taking pro bono patients, working with a relief organization that brings orphans from Belarus to the U.S. for dental treatment and volunteering with other charitable clinics.
His philanthropy turned toward UK when he discovered that the scholarship he was awarded as a dental student was no longer available, and he decided to begin a similar merit scholarship program.
"Dental school is expensive," he said. "Nationwide, today's students are graduating with an average debt of $250,000. I know I can't help all the students pursuing dentistry at UK. But by endowing a scholarship, I can help one or two students per year, every year, for many years to come."
Adams contacted J. Ford Stanley, UK senior director of Gift and Estate Planning, to help him define the parameters of the scholarship endowment he wanted to create and to fund it in a tax-wise manner.
"Craig is making what I call a 'hybrid gift,'" Stanley explains. "He is establishing an endowed scholarship to be funded with both outright gifts during his lifetime and deferred gifts through his estate plan. This enables him to brainstorm with us on the details of how he wants the scholarship to function and gives him the opportunity to see his philanthropy at work as scholarship grants are made." 
"I anticipate the first awards being made in 2020," Adams said. "I know I will have a tremendous sense of satisfaction when the scholarships are awarded, and I get to meet the first student dentists receiving them."
All totaled, Adams' gift commitment is in excess of $3 million, making it the largest in the College of Dentistry's 54-year history.
"We are very grateful for Craig's generosity and the tremendous benefit it will provide," Richey notes. "With his carefully planned philanthropy, he is making the same kind of opportunity available to other students that enabled him to obtain his dental education. And because he is endowing his scholarship in perpetuity and expanding it through wise estate planning, he will provide dental education to generation after generation of future UK students."
Adams says he was motivated to make his gift for a number of reasons.
"I have a tremendous love for the university and the College of Dentistry, and a huge appreciation for what my professors did for me as a dental student. I therefore feel a great responsibility to give back," he shares.
"I also want to put something in motion at UK so that my name will be associated with the university for a long time. I want to set an example in giving for my daughter and son. And most of all, I want to make a difference in people's lives."
UK President Eli Capilouto observes, "I deeply appreciate Craig's wonderful gift and the transformational impact it will have upon many students at his alma mater. His thoughtful philanthropy is remarkable and his enthusiasm for helping others is inspiring."
The Adams family is establishing a UK tradition, as both Craig Adams' daughter and son are current undergraduate students at UK.
"I couldn't be happier with their college choice," said Adams, who is a proud advocate for his alma mater.
"The university and the College of Dentistry have great leadership," he says. "I strongly support Dean Stephanos Kyrkanides in his vision for UK to have one of the top-rated dental schools in the country.
"President Capilouto has tremendous leadership skills. He is very well respected by the deans on campus, and the students love him. He is inspiring others to succeed and to lead. And he is always the first person I see shaking hands at UK ball games.
"I hope that alumni will come forward with support and create a greater movement to help our university continue its climb upward. The more support we give as alumni, the better equipped the university will be to shape the programs, students and graduates of tomorrow." 
UK is the University for Kentucky. At UK, we are educating more students, treating more patients with complex illnesses and conducting more research and service than at any time in our 150-year history. To read more about the UK story and how you can support continued investment in your university and the Commonwealth, go to: uky.edu/uk4ky. #uk4ky #seeblue