UK Officials, Supporters 'Top-out' Marksbury Building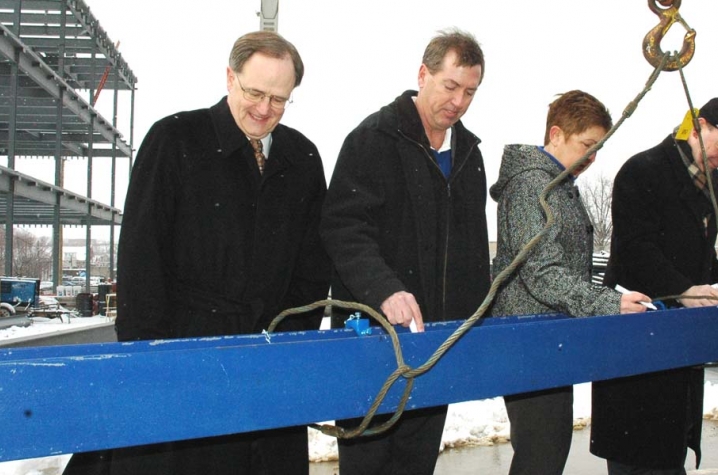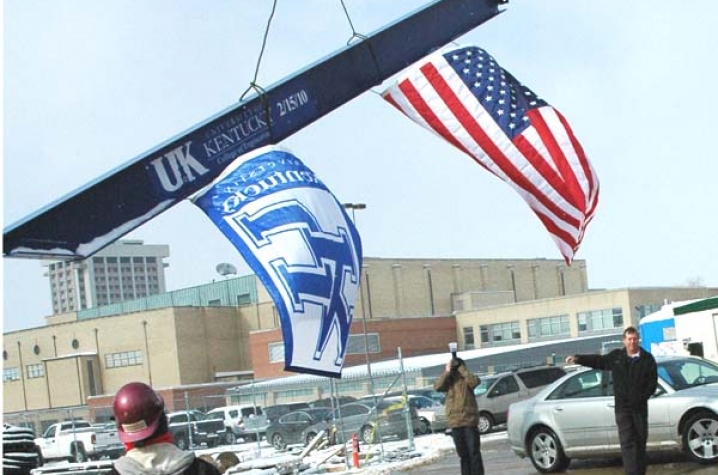 LEXINGTON, Ky. (Feb. 15, 2010) − University of Kentucky officials and supporters today celebrated the placing of the final steel I-beam in the structural skeleton of the $18.6 million Davis Marksbury Building, the latest building in UK's "digital village."
 
Entrepreneur and UK College of Engineering alumnus Davis Marksbury was on hand with UK President Lee T. Todd Jr., College of Engineering Dean Thomas W. Lester and other dignitaries for the topping-out ceremony on the building that is being constructed on Rose Street next to the James F. Hardymon Building, which also is part of the digital village.
 
"This topping out ceremony marks a milestone in the construction process," said Todd. "But it also signifies a significant moment for education and research at the University of Kentucky. When complete, this facility will help us expand the development of knowledge and technology as we seek to discover new ideas and innovations that will help revolutionize Kentucky's economy."
 
"The Davis Marksbury Building will provide current and future UK engineering and computer science students with academic resources that will equal or surpass any other university in the nation," Lester said.
 
Marksbury was the lead donor for the three-story, 45,000-square-foot building that will house the UK Center for Visualization and Virtual Environments, the Department of Electrical and Computer Engineering and the Department of Computer Science. All are part of the UK College of Engineering.
 
The building also will be UK's first to receive certification under the Leadership in Energy and Environmental Design (LEED) rating system developed by the U.S. Green Building Council.