UK Oral Historian Doug Boyd Receives Fulbright to do Research in Australia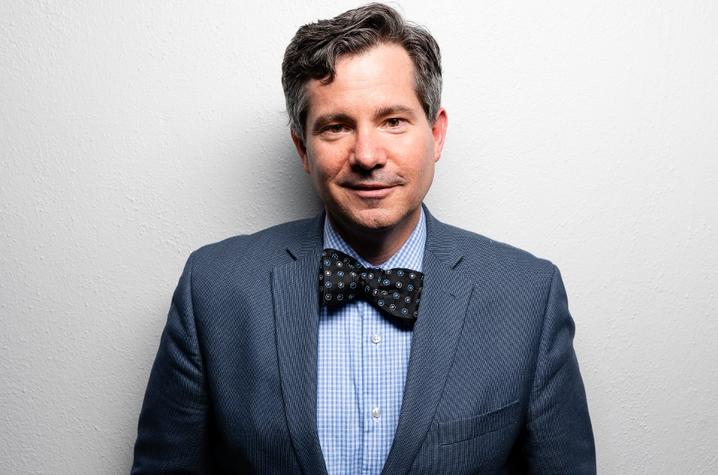 LEXINGTON, Ky. (Dec. 7, 2018) — The U.S. Department of State and the J. William Fulbright Foreign Scholarship Board have announced that Doug Boyd, director of University of Kentucky Libraries' Louie B. Nunn Center for Oral History, has received a Fulbright U.S. Scholar Program award to conduct research in Australia. Boyd will spend four months researching the expansion of the Oral History Metadata Synchronizer (OHMS), a digital tool he developed at the University of Kentucky.
"OHMS has transformed access to our oral history collections at the Nunn Center and I am truly honored to receive a Fulbright grant to really focus on oral history technologies in an international context," Boyd said.
At UK, Boyd designed and leads the development of OHMS, a free and open source digital tool that improves access to online oral histories by connecting a text search with the corresponding moment in online audio or video. Launched in 2014, there currently are OHMS accounts at more than 350 institutions in more than 20 countries.
In addition to enhancing access to the Nunn Center's rich collection of over 12,000 interviews, OHMS has greatly increased visibility of underrepresented groups in digital oral history collections at other institutions, such as the Brooklyn Historical Society and the Academy of Motion Picture Arts and Sciences' use of OHMS to publish oral histories of Latinx filmmakers. Boyd's team continues to actively develop new features, including the addition of multilingual support in 2017.
With his Fulbright, Boyd will conduct research pertaining to OHMS and the system that was designed by the National Library of Australia (NLA) — Audio Management and Delivery (AMAD). Both systems share a focus on discovery, usability and efficiency. This funding will allow the NLA and UK to work collaboratively in order to elevate international standards and capabilities for archival systems in Australia, the United States and around the globe. 
"Our hope is to create interoperability between two of the most innovative oral history delivery systems in the world."
In addition, Boyd hopes to amplify an international conversation about ethical guidelines for publishing oral history interviews and collections online. "With our interviews being used all over the world, archivists need to connect internationally to navigate the subjectivities regarding archives, ethics and rights. We as archivists need to pause and reflect on privacy risks posed to those whose personal stories we curate."
The Nunn Center for Oral History at UK Libraries' Special Collections Research Center is recognized as an international leader and innovator in the collection and preservation of oral histories. The center is home to over 12,000 oral history interviews that provide a unique look into Kentucky and American history and represent an irreplaceable resource for researchers today and generations from now. The Nunn Center's collections focus on 20th century Kentucky history, Appalachia, Kentucky writers, agriculture, black history, the history of education, politics and public policy, the Civil Rights Movement, veterans, the university,  and health care, as well as the coal, equine and Kentucky bourbon industries.
Since becoming the director of the Nunn Center in 2008, Boyd has overseen the addition of more than 6,000 new oral history interviews to the center's collection. In recognition of his work leading the team that developed OHMS, he has received several honors including the 2016 Roy Rosenzweig Prize for Innovation in Digital History and the 2018 Archival Innovator Award from the Society of American Archivists.
During his tenure at the Nunn Center, Boyd has spearheaded and/or grown collections on the bourbon industry, horse industry and student veterans. He also launched SPOKEdb, the center's online catalog, which garners more than 10,000 page views per month. Boyd is the author of the book "Crawfish Bottom: Recovering a Lost Kentucky Community," published by University Press of Kentucky in 2009. He edited another book, "Oral History and Digital Humanities: Voice, Access, and Engagement," published by Macmillan in 2014. Boyd is also the author of numerous scholarly articles, and regularly presents on oral history topics at national and international conferences.
Boyd received his bachelor's degree from Denison University and his master's and doctoral degrees in folklore and ethnomusicology from Indiana University.
Boyd is one of over 800 U.S. citizens who will teach, conduct research and/or provide expertise abroad for the 2018-19 academic year through the Fulbright U.S. Scholar Program. Recipients of Fulbrights are selected on the basis of academic and professional achievement as well as record of service and demonstrated leadership in their respective fields.
The Fulbright Program is the flagship international educational exchange program sponsored by the U.S. government and is designed to build lasting connections between the people of the United States and the people of other countries. The program is funded through an annual appropriation made by the U.S. Congress to the U.S. Department of State. Participating governments and host institutions, corporations and foundations around the world also provide direct and indirect support to the program, which operates in over 160 countries worldwide.
Since its establishment in 1946 under legislation introduced by U.S. Sen. J. William Fulbright of Arkansas, the Fulbright Program has given more than 380,000 students, scholars, teachers, artists and scientists the opportunity to study, teach and conduct research, exchange ideas, and contribute to finding solutions to shared international concerns.
Fulbrighters address critical global issues in all disciplines, while building relationships, knowledge and leadership in support of the long-term interests of the United States. Fulbright alumni have achieved distinction in many fields, including 59 who have been awarded the Nobel Prize, 82 who have received Pulitzer Prizes, and 37 who have served as a head of state or government.
For further information about the Fulbright Program or the U.S. Department of State, visit http://eca.state.gov/fulbright.
UK is the University for Kentucky. At UK, we are educating more students, treating more patients with complex illnesses and conducting more research and service than at any time in our 150-year history. To read more about the UK story and how you can support continued investment in your university and the Commonwealth, go to: uky.edu/uk4ky. #uk4ky #seeblue