UK's Gatton College of Business and Economics to Launch Real-time, Online MBA Option in Fall 2019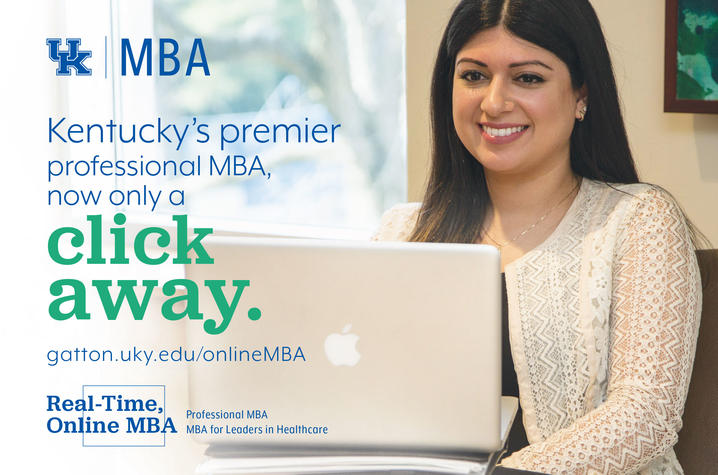 LEXINGTON, Ky. (May 7, 2019) — The University of Kentucky's Gatton College of Business and Economics is launching its highly anticipated real-time, online MBA option starting Fall 2019. The program is geared toward working professionals and executives from all industries in Kentucky and beyond.
Unlike a standard MBA program, the real-time online MBA option offers candidates the opportunity to attend classes online from any location, in person at the Gatton College, or a combination of both. This experience delivers a live classroom environment allowing students to learn, connect and participate in a virtual space with faculty, classmates and project teams.
"We're very excited to deliver this new option to our professional candidates and students who are seeking increased flexibility and accessibility in their MBA experience," said Simon Sheather, dean of the Gatton College of Business and Economics. "Our online learners will have the benefit of interacting and participating in real time with our faculty, their classmates and each other while learning."
Known as "synchronous learning," the technology creates an interactive, participatory in-classroom experience. Online candidates can utilize the same benefits traditional MBA students enjoy, including program customization through elective MBA courses, professional development workshops, and access to the in-house Graham Office of Career Management.
"As the flagship university in the state, we have a responsibility to expand how our MBA program reaches and teaches candidates inside and outside of the Commonwealth," said Harvie Wilkinson, MBA program director at the Gatton College of Business and Economics. "The real-time, online option will allow us to continue reaching and teaching more students who want to be competitive when pursuing various managerial, technical and leadership roles throughout their careers."
As with traditional programs, the real-time, online MBA option can be completed in either two or three years. Courses will be taught in the classroom and broadcast live on designated weeknights from 6-8:30 p.m. Eastern time.
For more information, visit http://gatton.uky.edu/onlineMBA or contact Christopher T. Carney, director of MBA Recruitment, at 859-257-7645 or christopher.carney@uky.edu.