UK Track and Field Captures 4 NCAA Titles, Finishes Season Strong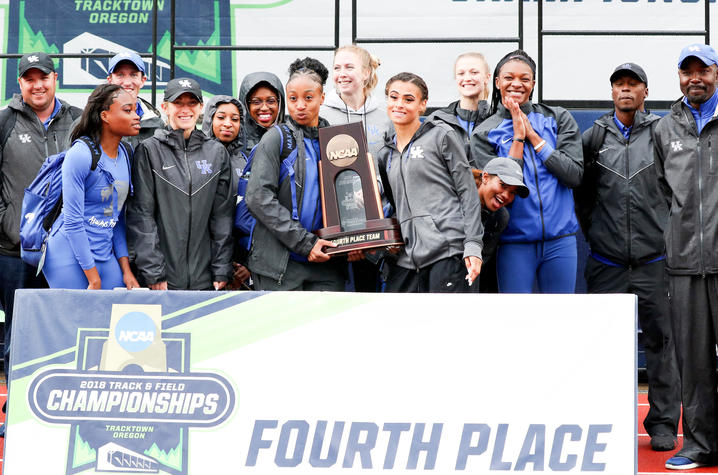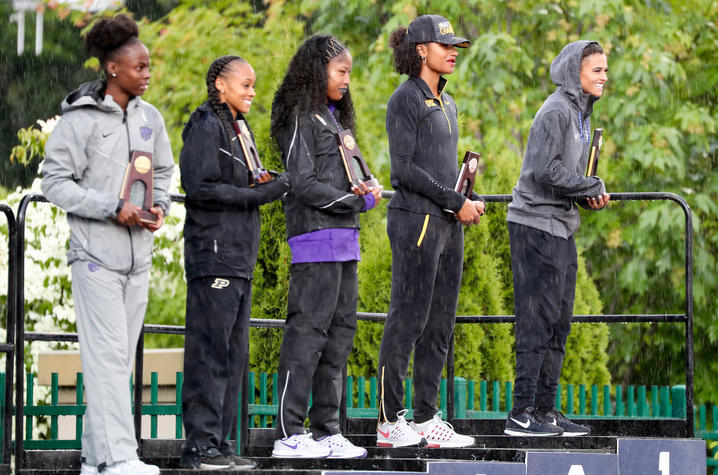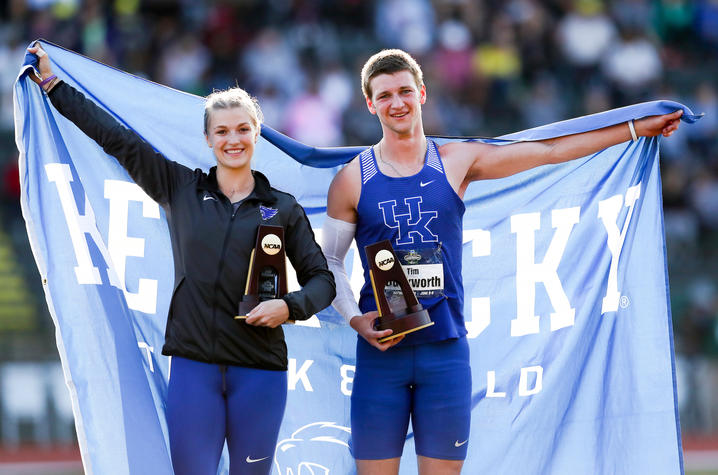 LEXINGTON, Ky. (June 14, 2018) — Members of the University of Kentucky track and field team raced their way to four individual national titles last weekend at the NCAA Outdoor Track and Field Championships. In addition, both the women's and men's teams finished the season strong placing fourth and 16th respectively.
Jasmine Camacho-Quinn and Sydney McLaughlin dominated their signature hurdles events, leading the Kentucky women's team to a fourth-place, 46-point result on Saturday in front of 12,988 fans at Hayward Field in Eugene, Oregon. The Wildcats earned a second straight NCAA Outdoor Track and Field Championships podium finish and their third from the last four years.
Camacho-Quinn (100-meter hurdles) and McLaughlin (400-meter hurdles) became the first teammates in history to sweep the women's NCAA hurdles championships.
UK finished in a top-four trophy-receiving position for the fourth time in head coach Edrick Floréal's six-year tenure. UK also earned an indoor trophy, placing third, earlier this year.
The UK women's team finished the meet with three individual titles as Camacho-Quinn and McLaughlin added to the pole vault gold medal Olivia Gruver defended on Thursday.
Camacho-Quinn led all UK scorers with 12 points (including two scoring relays with the points divided four ways). McLaughlin scored 11.
Saturday event winners
Camacho-Quinn needed to make up ground over the second half of a rain-soaked (on the verge of hailing) 100-meter hurdles final. But after having to settle for silver by a miniscule margin in a super-fast final last year, the junior fought back to reclaim the NCAA title she won as a freshman in 2016.
Her time was an impressive 12.70 with a +0.7 tailwind in a frigid downpour, .30 off the 12.40 personal best she ran, which was .01 from the collegiate record, to win a third-straight Southeastern Conference (SEC) title last month.
"It was a little nerve-wracking at first," Camacho-Quinn said. "After being told to stand up, stand up, and that with the rain — it started hailing a little bit — I knew I had to stay focused through everything and not let it get the best of me.
"You come out here to do one thing. You can't let the weather determine how the rest is going to go. Just have to go out there and do everything you did in practice and let that carry you through."
Camacho-Quinn is now a three-time NCAA champion. She ran the second leg on UK's gold-medal 4x100-meter relay last year.
By the time they stepped into the blocks for the women's 400-meter hurdles final, the pouring rain that marked the sprint hurdles final had turned into hail. Kentucky's freshman phenom Sydney McLaughlin still weathered the storm best, winning by more than a second in 53.96.
"Pretty crazy race," McLaughlin said. "It was pouring right before we went out and the weather was all over the place. It definitely wasn't my cleanest race, and we realized some things going down the backstretch that we're going to have to adjust to.
"But I think to be able to overcome those adversities and come out with the win is good. Coming out of high school I had so many adjustments to make and to be able to make them within the span of a year is just absolutely amazing."
While her winning time wasn't that close to the collegiate-record the 2016 Olympian ran at SECs, the sub-54 still ranks No. 8 on the NCAA all-time performers' list and No. 2 in NCAA Championships history.
Ebwea-Bile's triple jump medal
Marie-Josee Ebwea-Bile medaled in the triple jump for the second year in a row, taking bronze and the six points that go along with that performance with a mark of 44'9.75"/13.66m (+1.6.
Scoring Saturday relays
The UK women's 4x100-meter relay of Celera Barnes, Camacho-Quinn, Kayelle Clarke and Kianna Gray started the day with a fourth-place, five-point scoring, 43.49.
Faith Ross, Camacho-Quinn, McLaughlin and Clarke ran 3:30.52 to conclude the meet in the 4x400-meter relay with five points for fourth place.
Other Saturday results
Katy Kunc placed 12th in the 3k steeplechase final. The senior wrapped an illustrious career as a two-time NCAA steeplechase finalist, 2017 SEC Champion in that event, six-time SEC medalist including cross country and indoor and outdoor track, SEC Scholar Athlete of the Year and multiple-time All-America.
Sophomore Ellen Ekholm got over the high jump standard at 5'8"/1.73m and then two inches higher on her third attempt, but couldn't clear 5'11.5"/1.82m in slippery conditions on Saturday, placing 10th.
Men's team finish
The Kentucky men's track and field team finished in a two-way tie for 16th place with 16 points at the 2018 NCAA Outdoor Championships on Friday.
Tim Duckworth won the men's decathlon to score 10 points on Thursday. Jacob Thomson (10,000 meters) and Elijah Marta (javelin) scored three points apiece on Wednesday.
UK improved its point total by 12 points, and 43 places from a year ago. The Wildcats earned the school's best NCAA outdoor finish since 2014 when they finished 15th with 14 points. UK scored the most points since posting 18 to place 13th in 2010.
Two Thursday NCAA champions
Duckworth scored 8,336 to become Kentucky's first UK NCAA decathlon champion.
The score ranks No. 7 on NCAA all-time performers' list and was No. 9 NCAA all-time decathlon score.
It was a 191-point personal best moving him to No. 3 on the British all-time list.
Duckworth became just the second man to win the NCAA decathlon and indoor heptathlon in the same year, joining world-record holder and two-time Olympic gold medalist Ashton Eaton.
"It started off well, and I just kept the momentum going after the hurdles into discus," Duckworth said. "After pole vault, I kind of hit a stride and PR'ed in the javelin and ran a good 1500 for myself.
"I feel like everything is coming together. I just have one more piece that I need to fit together, and that's the 1,500. I think today it was a bigger step for myself to run a good one. It was a roller coaster this year, but I'm happy with how it is going."
Gruver cleared 14'11"/4.55m, in an otherwise slightly rocky early series. Battling ankle trouble for much of the season, she peaked at the right time and bettered the outdoor personal best she vaulted to win last year.
She missed the first two attempts after entering the competition at 13'7.25"/4.15m, but then seemed to relax after getting over. After clearing 14'1.25"/4.30m on her first try, she then then missed on her first go at three-straight heights before hitting the winning height on her first try.
"It really calmed me down this year knowing that I can do it," Gruver said. "Knowing that if I stayed calm and trusted myself everything would be fine. I started out the (outdoor) season with a fractured ankle, so it's been more about keeping my mental game up, and that really helped in that moment of knowing that I had to clear that bar to win."
Wednesday scorers
Thomson finished sixth in the 10,000 meters with a seven-second personal best 28:40.50.
Elijah Marta improved the personal best javelin throw he came into the meet with by 12-feet, four inches on his second attempt, and then blew that mark out of the water on the third try to eventually place sixth.
The format
Points were scored at the NCAA Championships by individuals or relay teams finishing top-eight in respective events. Points are awarded on a 10-8-6-5-4-3-2-1 basis with 10 going to the winner and one going to eighth place. The team with the most points at the end of the meet won the team title.
Athletes qualified to the NCAA Championships finals site by finishing top-12 at two regional meets 10 days ago. The East and West Preliminary Championships. Athletes qualified there based on having top-48 marks in respective events recorded during the season.
The No. 4-ranked Kentucky women's team had 13 event entries, tied for fourth most in the nation (PDF). The No. 14 UK men's team had 10 event entries, tied for eighth most at the championships.
Women's team precedent
UK was fourth with 40 points at the 2017 NCAA Outdoor Championships. The UK women's team's best NCAA outdoor finish was second in 2015 with 50 points.
UK placed third with 34 points at the 2018 NCAA Indoor Championships in March.
Men's team precedent
UK was 59th with four points last season at the NCAA Outdoor Championships. The UK men's team's best NCAA outdoor finish was ninth in 2008 with 25 points.
UK finished 17th with 12 points at the 2018 NCAA Indoor Championships.
UK is the University for Kentucky. At UK, we are educating more students, treating more patients with complex illnesses and conducting more research and service than at any time in our 150-year history. To read more about the UK story and how you can support continued investment in your university and the Commonwealth, go to: uky.edu/uk4ky. #uk4ky #seeblue