UK's 143rd Commencement Set for May 8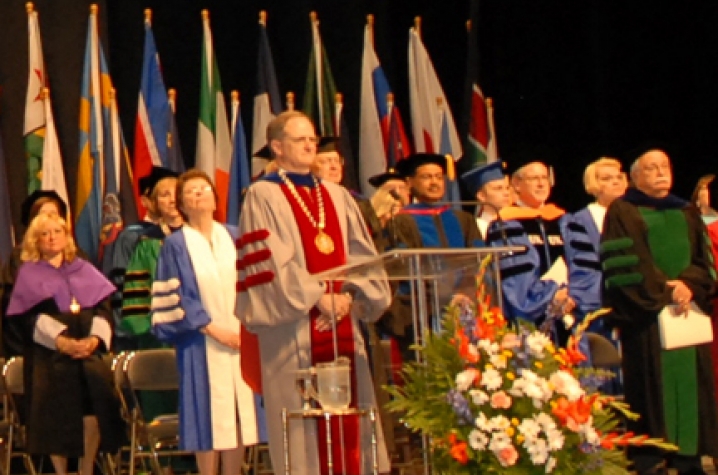 LEXINGTON, Ky. (April 21, 2010) − Nearly 6,000 undergraduate, graduate and professional students will be honored at the University of Kentucky's 143rd Commencement to be held at 2 p.m. Saturday, May 8, at Rupp Arena. The ceremony recognizes spring 2010 graduates as well as students who received their degrees in August and December 2009.
The speaker at this year's Commencement will be David C. Novak, chairman, CEO and president of Yum! Brands Inc., the Louisville-based firm that owns KFC, Pizza Hut, and several other international chains.  In those positions, Novak shapes the company's overall strategic direction, including efforts to build leading brands in China, drive aggressive international expansion and improve U.S. brand positions. He also has held senior management positions at Pepsi-Cola Co., including chief operating officer and executive vice president of marketing and sales.
"Commencement is the ultimate UK celebration," said UK President Lee T. Todd Jr. "It allows us to celebrate the achievement of our students and their families, who through diligence and discipline, have fulfilled their educational dreams. It provides us an opportunity to celebrate our faculty and staff, who take great pride in preparing another banner group of graduates for the next step in their lives. And we celebrate the future of our Commonwealth, as this year's class is poised to make their mark in communities across this state."
This year's student speaker will be Kara A. Sutton of Elizabethtown, a 4.0-GPA student who has served as a legislative intern to U.S. Sen. Mitch McConnell.  She's also been active in UK's Student Government Association and in the organization of DanceBlue, UK's largest student-run philanthropy that raises money for Kentucky Children's Hospital's pediatric oncology program.
In addition to the Commencement ceremony, several recognition events will be held by individual colleges to celebrate recipients of bachelor's, master's, doctoral and professional degrees. Those events begin with a reception for international students Thursday, May 6, and continue through Saturday, May 8.
More information about Commencement events is available online at www.uky.edu/Commencement/calendar.htm. Information about traveling to Commencement and the recognition events is online at www.uky.edu/Commencement/travel.htm.  For a behind-the-scenes look at year-round preparations for Commencement, read "Planning Pomp and Circumstance" online at http://uknow.uky.edu/node/8736.