UK's Information Technology Services Honors Customers and Staff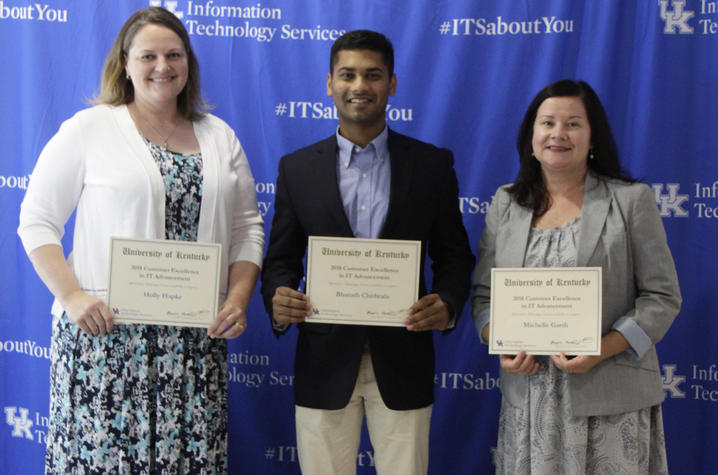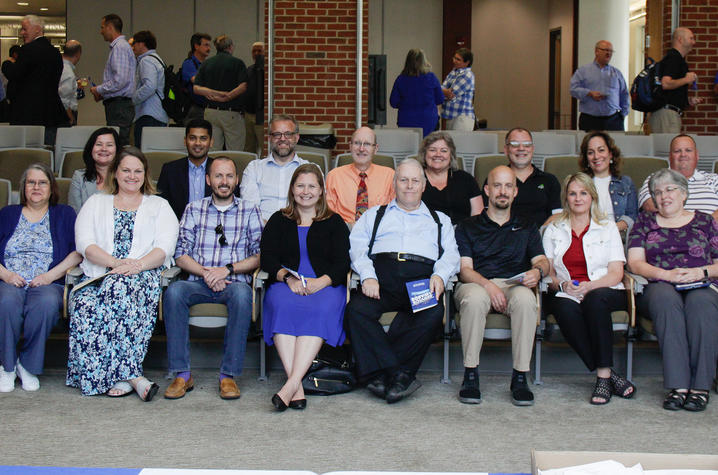 LEXINGTON, Ky. (Aug. 2, 2019) — University of Kentucky Information Technology Services (ITS) recently announced the recipients of their annual Customer Excellence Award for Leadership in IT Advancement.
The goal of the ITS Customer Excellence Awards program is to recognize students, faculty and staff who have made a significant contribution to the deployment of new services or resources of ITS. Each recipient was nominated by an ITS staff member who witnessed the efforts and impact made by each awarded individual. Not only has their involvement aided in the work of ITS, but it has also greatly improved the overall IT environment of the university. This year's recipients are: Bharath Chithrala (student), Holly Hapke (faculty) and Michelle Garth (staff).
Bharath Chithrala, a recent graduate of UK with bachelor's degrees in biology and neuroscience, used his platform within the Student Government Association to initiate a pilot which aims at providing at-need students with tablets. He worked very closely with ITS to launch the project which encompassed majors throughout the university. Chithrala's hard work will aid in the retention of students.
Holly Hapke, with Gatton College of Business and Economics, has used her standing as a senior lecturer to help initiate technological advancements within the classroom. Operating closely with multiple teams, Hapke has worked to find ways to improve student retention rates. These include using Echo360 equipped classrooms which allow students to participate online when they are unable to physically attend class. She has also piloted the Adaptive Learning Platform (ALP) for Echo360, providing a more interactive online learning experience.
Michelle Garth, with the Office of Undergraduate Admissions, has collaborated tirelessly with ITS to improve the admissions process. She is responsible for increasing the speed and accuracy of student admittances. Garth succeeded in doing so through her involvement in the Student File Management (SFM) Integration initiative. This involved the automatic archival of transcript data or documents related to student applicants into SFM. Not only have Garth's efforts been cost saving, but they have also aided in the distribution of student scholarships, ultimately influencing student commitment.
ITS Employee Service Awards were also distributed to employees during the same ceremony. Ranging from five years to 50 years of service to the university, 22 ITS personnel were recognized for their hard work and dedication to the department. All together serving a combined total of 405 years, each awardee was commemorated with a small gift.