University of Kentucky providing support to Eastern Kentucky after severe flooding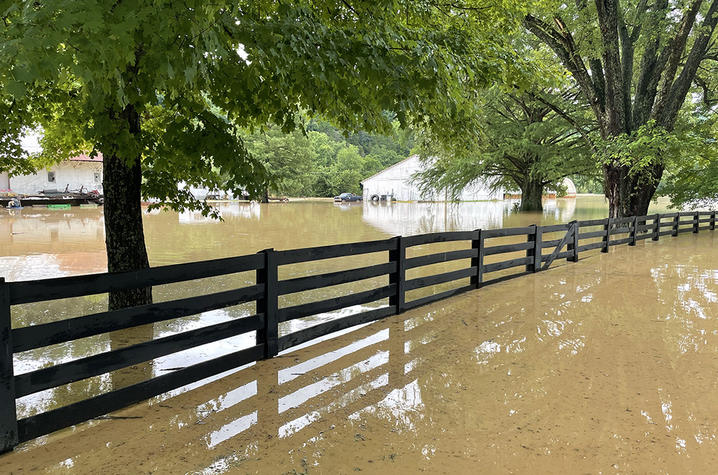 LEXINGTON Ky. (July 29, 2022) — President Eli Capilouto sent the following message to the campus following the severe flooding in Eastern Kentucky.
Campus Community,
In the last two days, we have witnessed one of the most devastating flooding events in our state's history.
Images of the disaster and reports of a rising death toll have overwhelmed us all with grief for our fellow Kentuckians who will — for weeks, months and likely years to come — feel the catastrophic effects of this tragedy.
Indeed, it is painful to watch our state and community go through such a trying time. Yet, even in these darkest moments, I remain inspired by those who continually ask, "How can I help?"
It is this question that fills me with hope and reminds me of who we are as Kentucky's university. Here is what we have done so far:
Once again, our Office for Student Success mobilized quickly to reach out directly to more than 1,100 students who may have been affected by the flooding, connecting them with resources such as our Counseling Center, housing and other information regarding basic needs. The office will continue to support our students and call them directly in the coming days to check-in.
Additionally, our Extension Office, Human Resources and Risk Management are coordinating efforts to support employees — several of whom have lost their homes — as well as several colleges with facilities in the area that have been impacted.
UK HealthCare is in close communication with health officials throughout the region, particularly at Appalachian Regional Healthcare and our many clinical partners, to discuss their patient needs. We are committed to supporting patients and their families, as well as our UK HealthCare employees and their families in the region, during this crisis.
Here is how you can help:
For student-related issues, such as counseling and basic needs support, please direct individuals to call our UK Center for Support and Intervention (CSI) at 859-257-3755.
If you or someone you know has been affected by the flooding and needs support, please reach out to us at crisisresponse@uky.edu. For more general questions, calls can be directed to UK Health Corps at 859-218-SAFE.
If you would like to support the UK community, you can donate to our Basic Needs and Persistence Fund for students or our Crisis Program Gift Fund for faculty and staff.
I say often that this community is one that deeply cares. I saw it when tornadoes struck Western Kentucky and the surrounding region, and I see it now, as we respond to yet another natural disaster in our state.
We will continue to support our people in any way that we can. I know that we — as a state and as a university — will meet this moment.
Where there is a need in our state and in our community, we are there.
Eli Capilouto
President