Wendell Berry Wins National Humanities Medal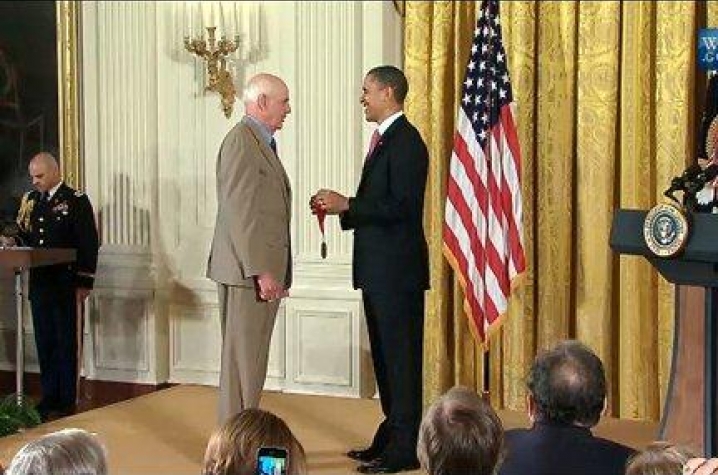 LEXINGTON, Ky. (March 2, 2011) — President Barack Obama awarded former University of Kentucky student and creative writing professor Wendell Berry one of only 10 National Humanities Medals for outstanding achievements in history, literature, education and cultural policy.
Berry is renowned for his achievements as a poet, novelist, farmer and conservationist. The author of more than 40 books, Berry has spent his career exploring our relationship with the land and the community.
Berry received bachelor's and master's degrees at UK, later returning for two separate stints of teaching as well. UK Provost Kumble Subbaswamy said the university community is proud of Berry's latest national honor.
"We take particular pride in the award of a National Humanities Medal to Wendell Berry, our alumnus and revered former faculty member," Subbaswamy said. "As an acclaimed author and conservationist, he is an inspiration to all who come into contact with him and his literary work."
The National Humanities Medal honors individuals or groups whose work has deepened the nation's understanding of the humanities, broadened our citizens' engagement with the humanities, or helped preserve and expand Americans' access to important resources in the humanities.
Berry is joined this year by authors Joyce Carol Oates, and Philip Roth; historians Bernard Bailyn and Gordon S. Wood; literary scholars Daniel Aaron, Roberto González Echevarría, and Arnold Rampersad; cultural historian Jacques Barzun; and legal historian and higher education policy expert Stanley Nider Katz. 
The medals, first awarded as the Charles Frankel Prize in 1989, were presented at a White House ceremony on Wednesday, March 2.
Since 1996, when the first National Humanities Medal was given, 125 individuals have been honored, inclusive of this year's awardees. Nine organizations also received medals. Previous medalists include Nobel Prize winner Toni Morrison, novelist John Updike, Nobel Peace Prize laureate Elie Wiesel, sociologist Robert Coles, and filmmaker Steven Spielberg. A complete list of previous honorees is available at www.neh.gov/whoweare/nationalmedals.html.