Community Transition Program Supports Stroke Survivors in Eastern Kentucky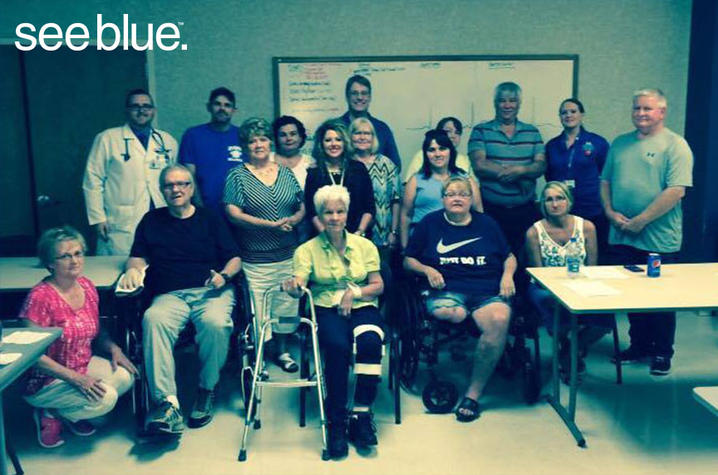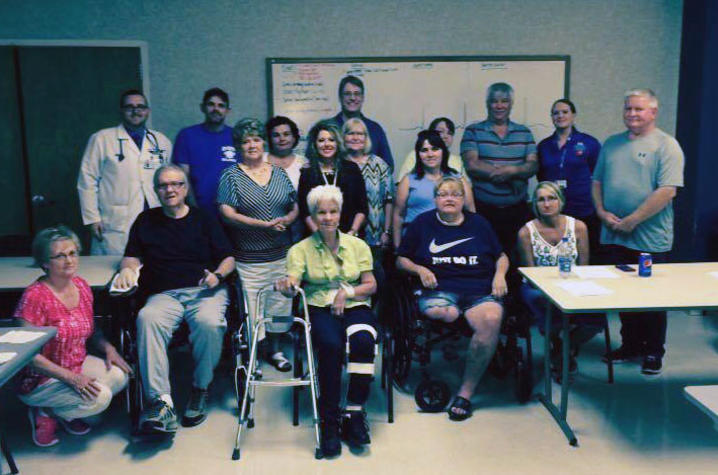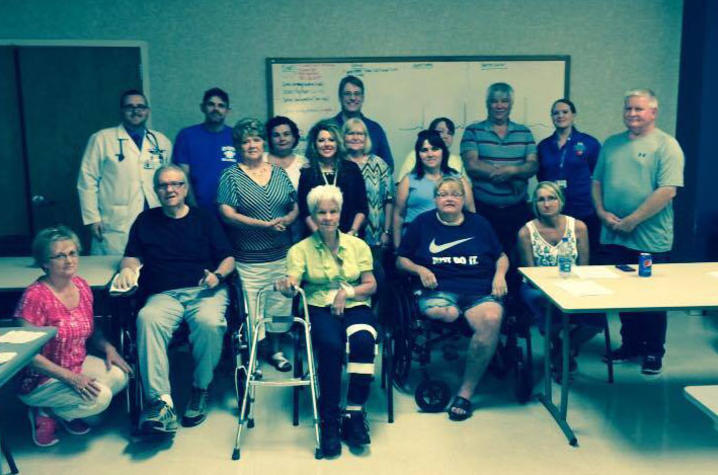 Lexington, Ky. (Jan. 29, 2016) – Life after a stroke can be a big adjustment for both a patient and their family. Speech, walking, coordination — tasks once simple, nearly automatic— become difficult or impossible after a stroke. Meanwhile, health care after a stroke can get complicated, especially if someone also has conditions like diabetes or heart disease. In a rural setting, the distance from doctors and resources exacerbates these challenges.
"Stroke is a hard, hard thing to deal with," said Lloyd Cornett, a stroke survivor from Slemp, Ky.  A retired coal miner and a week shy of his 61st birthday, he spent 36 years — more than half his life — working underground.
After his stroke, he couldn't speak and the right side of his body was numb. But the hardest thing after his stroke was people saying he would have another one within a year, and it would be worse than the first.
"They were telling me things I just didn't need to hear," he said. "They had me downhearted so bad it was just unreal. And then Keisha came into the picture, and I found out there was just no proof to what people were telling me."
Keisha Hudson is the patient navigator for the Community Transition Program, which provides education, resources and care coordination for individuals who are moving between care facilities and their homes in Perry and surrounding counties. As of July 2015, the program is jointly funded by the University of Kentucky Center for Excellence in Rural Health (where Hudson also serves as a research assistant) and Appalachian Regional Healthcare, a not-for-profit health system serving residents across Eastern Kentucky and Southern West Virginia. 
Through Hudson, Cornett learned that a second stroke was far from inevitable.  She also helped him obtain and understand his medications, learn to monitor his health, and connect with a monthly support group for stroke survivors. The group provides a supportive community and hosts speakers to address common comorbidities for stroke survivors (and often their caregivers), such as diabetes and blood pressure management.
"If I didn't have this program, with all the talk that I've heard and the things that I've experienced, I'd say most likely I'd be kicking up daisies by now. I couldn't have survived without them," Cornett said. "Keisha and the doctor come and see me, and they're just number one in my opinion, and they always will be. They sit you down and they'll talk to you, tell you every little thing to look for, what to do, and how to do it. I'm a diabetic, and they have people come to the stroke meetings to talk about that, or blood pressure or health things we need to know. I just can't say enough about how good they are."
If Hudson did save Cornett's life, it wouldn't be the first time she'd prevented a death in the course of her work as the patient navigator. On one of her routine visits to check on a stroke survivor, she arrived to find the patient in a diabetic coma. With another patient, Hudson caught an infected surgical site that needed immediate attention. While on the phone with yet another patient, Hudson recognized heavy breathing and directed the patient to seek medical care immediately. The patient was hospitalized with dangerous levels of fluid on her lungs. While none of the patients in the transition program have been readmitted to the hospital for stroke complications, Hudson's attentive care has led to life-saving interventions related to patients' other health issues.
"A lot of people who have had a stroke get home and they feel like they're lost. They don't know what to do, they don't know who to contact for questions, they don't get all the education they need about stroke and comorbidities. They get lost in the system, and therefore some of them end up back in the hospital. Our goal is to keep them out," she said.
According to Patrick Kitzman, director of the Community Transition Program and associate professor of physical therapy at UK, such close-call stories of stroke survivors show that the need for coordinated care is especially acute in Kentucky. In 2014, the state ranked 47th in the country for incidence of stroke; in the eastern Appalachian region, stroke is especially prevalent. Concordantly, some of the highest rates of stroke risk factors, such as diabetes, obesity, hypertension, and heart disease, are also found in the region. Kitzman explains that many stroke survivors in the area have some of the highest levels of both health care needs and financial burden, and need dedicated support to navigate the health care system.
"The more that we do this program, the more I'm so absolutely convinced that the only way we can have proper support for people whose conditions are so complex is to have programs like this," Kitzman said. "They have the fewest resources available to them, and they're the furthest away from specialized care and from what they need. Many of them don't know what resources exist. They need someone to walk them through this change in their life. And you absolutely need someone from their community who knows where all the little pockets of support exist."
The Community Transition Program began in 2014 as pilot study, in collaboration with Appalachian Regional Healthcare (ARH) and funded by the UK Center for Clinical and Translational Science, which aims to address health disparities in central Appalachia. The pilot program demonstrated that quality of life and health outcomes for stroke survivors improved with the support of a patient navigator.
Primary needs among stroke survivors included assistance communicating with health care providers, insurance support, follow-up education, and connecting with community resources.  As of July 2015, the program is now sustainably funded by both the UK Center for Excellence in Rural Health (CERH) and ARH, which are located beside one another in Hazard, Ky. Patient navigation services are not currently covered by health insurers as reimbursable service, so the program requires dedicated funding.
Fran Feltner, director of the CERH, sees Hudson's role as the patient navigator as key to ensuring the best outcomes for stroke survivors.
"The patient navigator is the connector, the link, the person standing with the clients at the center of their care," Feltner said.  "She makes sure that all aspects of care are met. From the community to the hospital and back to the community, her clients have education and are provided the services needed to support health and social outcomes that ultimately improve their care and satisfaction of the healthcare system."
The program has served 23 individuals since July 2015, with Hudson providing more than 200 follow-up interactions. None of the stroke survivors who participated in the program were readmitted to the hospital. While Kitzman and Hudson are still finalizing the most recent data, he says that their readmission rates are well below comparison groups.
Violet Sylvia, system director for rehabilitation at ARH, where many stroke survivors receive care and rehabilitation, sees that the collaboration between her organization and UK as reflection of their mutual commitment to sustainable efforts for improved health in the region.
"We all learn from each other. It's really a true collaboration, where we all feel like we have equal trust, equal partnership, and we're all committed to ensuring that we're giving back to the community in a meaningful way. Not just coming in, collecting data and leaving, but really following through in a meaningful way," she said.
Sylvia said that one lesson from the pilot program was the importance of connecting patients to the program while they're still in the hospital, in order to establish a trusting relationship and reduce gaps in care. Hudson, as the patient navigator, therefore receives a daily list of patients with stroke or neurological diagnoses so that she can introduce herself and offer the program before patients and their families leave the hospital. She then follows the patients through their hospital stay and rehab, and participates in patients' discharge planning. By the time she's visiting patients in their homes, everyone knows one another. She checks on each patient weekly for the first month that they're home, then transitions to biweekly or monthly checks as patients become more stable. Even though the program is designed to provide a year of support, she says she's been working with some patients for longer than that. 
"I'm not goin to say 'OK, your time is up,'" said Hudson. "A few people we've followed for more than year because they still need things, and I'm not going discharge them from the program just because it's been 12 months."
She intentionally holds the monthly stroke support group in the hospital so patients and their families can come down from their hospital rooms to get involved in the program before they're even sent home.
Shannon Polly, a stroke survivor and participant in the Community Transition Program, says that just talking about your experiences after a stroke can be helpful. Trouble with speaking or other tasks can make you feel frustrated or depressed after a stroke, she said, but sharing with others is a way to learn coping strategies and keeps things in perspective.
"It just helps to talk to other people and see what they're going through too. Sometimes they can give you little pointers on what you can do with your daily routine to kind of help yourself," she said.
Hudson, who was born and raised in Eastern Kentucky, admits to feeling protective of the people she works with in the Community Transition Program. 
"I consider them 'my' people," she said. "And I feel very good about the people we can help and what all we can do for them – the education and resources we can provide to make their quality of life better in their communities."
Kitzman hopes that in the future they can expand the program to other diagnoses and other geographic areas.
"Our work so far show us a couple of things," he said. "It's showing that our population is very involved and requires a lot of help. Standard of care is that you send them home and one week later you check on them, and then that's it. But we're showing that you need to be much more hands on. A lot of data now show that these folks require support for an extended period of time, and our data is bearing that out at as well. But we also had people who didn't meet our program requirements because of their diagnosis or geographic area, which shows that that we need more people down here to help.  When you're traveling in the region, you can have an hour driving time within one county, so there's a need for more navigators. We're providing a significant number of services for our individuals, and it looks like we're keeping them out of the hospital."
MEDIA CONTACT: Mallory Powell, mallory.powell@uky.edu
UK is the University for Kentucky. At UK, we are educating more students, treating more patients with complex illnesses and conducting more research and service than at any time in our 150-year history. To read more about the UK story and how you can support continued investment in your university and the Commonwealth, go to: uky.edu/uk4ky. #uk4ky #seeblue