Flying From Chicago is Worth It for This Orofacial Pain Patient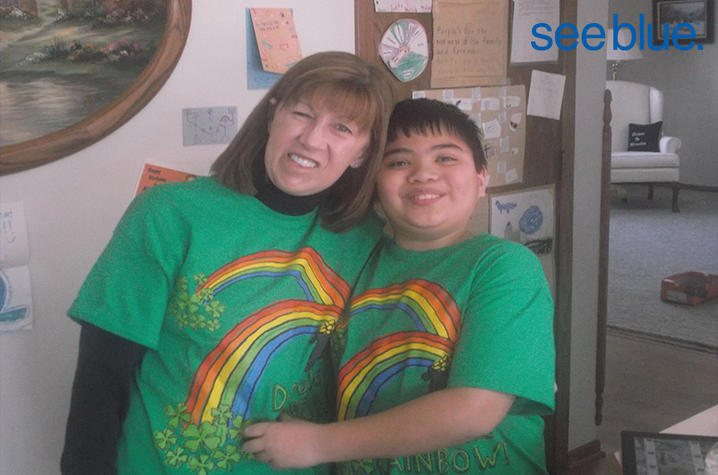 LEXINGTON, Ky. (April 19, 2016) –  After being treated for a crossbite in 1988 Mary Hennessy-Kukla joined the more than 100 million people in the United States who suffer with chronic pain. After adjusting her jaw and wiring her mouth closed for six weeks, Mary began to feel pain in the muscles in her face. Initially, the pain was mild but over time it continued to get more and more severe.
In 2001, after 13 previous surgeries, she had her jaw joint replaced, that was when the most severe pain began. Mary could barely open her mouth to speak and she was in constant pain. In addition to being uncomfortable, the pain was also draining, physically and mentally. Eventually, Mary had to quit her job as a teacher and would become exhausted completing everyday tasks. The doctor who performed the jaw surgery eventually referred Mary to Dr. Jeffrey Okeson and the Orofacial Pain Clinic at the University of Kentucky College of Dentistry.
Mary canceled her first appointment; she was scared. However, she realized in order to live the life she wanted, she needed to get help. In 2002, a year after undergoing jaw surgery, Mary adopted her son, Michael. As Michael got older, Mary realized she wasn't able to keep up with him like she could when he was an infant.
When she had the opportunity to get treatment at UK the thought of putting Michael in child care while she was "just at home in pain" provided additional motivation for her. After the first visit to the clinic at UK, Mary reported feeling exponentially better. She said "I took my son to Mom and Tots and when we were backing out of the parking lot I could turn my head better. When I got home, I called my sister to tell her all the things we were able to do without my getting exhausted."
Every 8 to 10 weeks Mary flies from Chicago to Lexington for treatments with Dr. Okeson. When a former student of Okeson's began to practice at a medical center closer to Mary, she opted to continue traveling to Lexington for treatment. When asked why she said, "I wouldn't think of looking anywhere else. I know I'm getting the best care and it's worth the money to fly." Mary likes the chance to see the people who have helped her through her treatments and through her experience with chronic pain. Occasionally, she brings Michael to see everyone.
"If I weren't getting these treatments, I don't know where my life would be. It's given me my life back." After 12 years of treatment Mary is able to play with her son and has energy she hadn't had in previous years. With this help Mary is able to live the hands on life she prefers and keep up with her son.
UK is the University for Kentucky. At UK, we are educating more students, treating more patients with complex illnesses and conducting more research and service than at any time in our 150-year history. To read more about the UK story and how you can support continued investment in your university and the Commonwealth, go to: uky.edu/uk4ky. #uk4ky #seeblue
Media Contact: Olivia McCoy, olivia.mccoy1@uky.edu, 859-257-1076