Fourteen Student Entrepreneur Teams Compete in UK Venture Challenge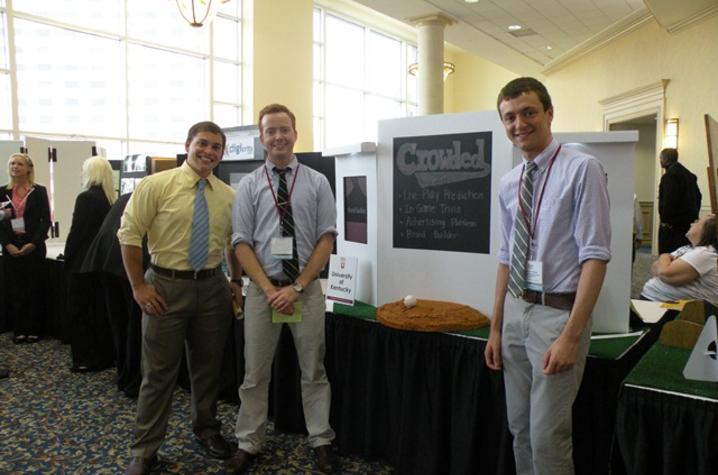 LEXINGTON, Ky. (Feb. 13, 2013) — Fourteen undergraduate and graduate teams will compete in UK Venture Challenge for student entrepreneurs Saturday, Feb. 16, at the Davis Marksbury Building. The students are competing for $3,000 in scholarships and the right to represent UK at the state competition, Idea State U, in April.
"UK Venture Challenge gives our students experience in developing an idea into a potential business venture, and the opportunity to show off their creativity and entrepreneurial spirit," said Dan O'Hair, iNET advisory board chair, College of Communication & Information dean, and interim senior vice provost for student success.
The student teams will make their pitches on Saturday to a panel of judges from the UK and local entrepreneurial community. They submitted written entries in either the concept or business plan categories for judging prior to Feb. 16.
The public is invited to attend the presentations, which will be in the James F. Hardymon Theater. The graduate teams begin at 9 a.m. and the undergraduate final four teams begin at noon. The Davis Marksbury Building is located at 329 Rose Street. The public may also vote online for their favorite UK Venture Challenge team.
The sponsor of the scholarships again this year is the Bluegrass Business Development Partnership (BBDP). The BBDP includes the Lexington-Fayette Urban County Government, Commerce Lexington, and the University of Kentucky. The inaugural UK Venture Challenge was in 2012.
UK Venture Challenge is organized by iNET, the University of Kentucky Innovation Network for Entrepreneurial Thinking including the UK Entrepreneur in Residence, in cooperation with the Von Allmen Center for Entrepreneurship, the College of Engineering, the Gatton College of Business & Economics, and other iNET partners. iNET is hosted by the UK College of Communication & Information.
Undergraduate Teams Aurelob – Arial Boulware, Business Management and Marketing / Senior 
The Bar – Richard Graff, Computer Science / Freshman; Ethan Palmer, Electrical Engineering / Freshman 
Control My ADHD – Grant Weherley, Economics / Senior
HeartMirror – Jun Huang, Computer Science / Junior; Ben Freeman, Finance / Senior
Home Unity – Brian Johnson, Computer Engineering / Junior; Ryan Riddle, Computer Science / Senior; Robyn Kaw, Electrical Engineering / Junior
MyBar – Huy Tran, Business Minor and Intl. Business / Freshman 
Outdoor Paradise – Sydney Reeder, Business Management and Marketing / Freshman 
Personal Concierge by Crambu – David Booth, Economics and Finance / Junior; Tommy Crush, Business Analytics / Junior
Prolific Entrepreneurs – Jarrett Burns, Computer Science / Senior; David Huston, Computer Science / Senior Specialty Screw – Matt Dieruf, Electrical Engineering / Senior
Graduate Teams EARlyTAG – Kaitlyn Foree, MBA; Jeffrey Billion, MBA; Nathan Miles, MBA; William Templeton, MBA; Alex Hart, Agricultural Economics / Junior
Integral Solutions – Kelsey Underwood, MBA; Benjamin Gombos, MBA; Case Fedor, MBA;  Warren Finlinson, MBA
Precision Medical – Jeremy Preston, MBA; Adrienne Cates, MBA; Catie Pintuck, MBA; Rob Janning, MBA
TerraCast Technologies – Jordan Denny, MBA; Jarrod Willis, MBA; Lee Goatley, MBA; Jordan Laycock, MBA
MEDIA CONTACT:  Deb Weis at (859) 338-0751 or debweis@email.uky.edu