Match Day Results Change the Lives of UK Medical Students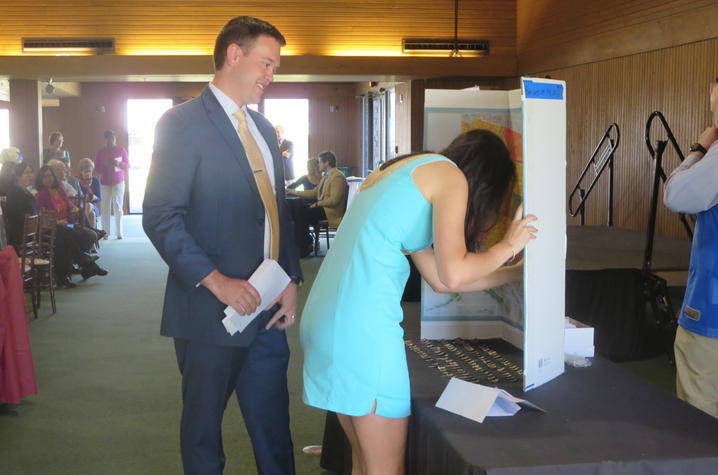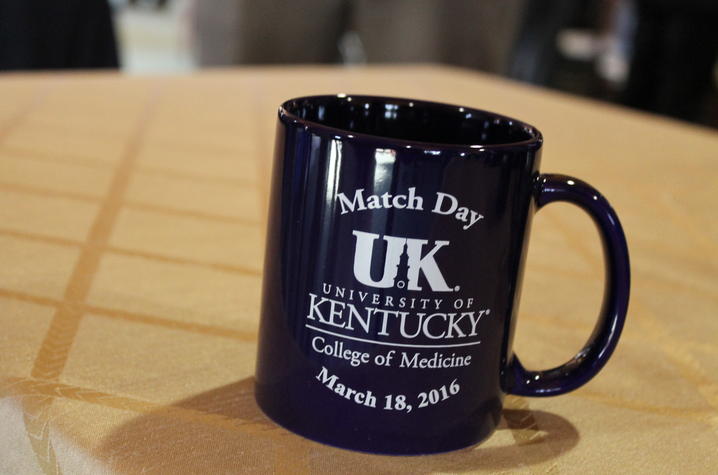 LEXINGTON, Ky. (Mar. 25, 2016) – For medical students, there is one day a year that means as much, and might be as stressful, as all the exams and studying. After four years of medical school, and numerous interviews, medical students find out where they will spend the next years of their lives in residency programs. Match Day is a culmination of the hard work and dreams of students on the path to becoming doctors.
On Friday, March 18 UK's fourth-year medical students gathered with family and friends at the Keene Barn at Keeneland Race Course in Lexington. At noon, students began making their way one by one to the stage to reveal where they "matched" and will be spending the next few years continuing their medical training.
The range of specialties for students matched was thorough and included radiation-oncology, plastic surgery, psychiatry and ophthalmology as well as primary care, family medicine, internal medicine and pediatrics in locations across the U.S.
Match Day ceremonies take place simultaneously at noon the same day every year at medical schools across the country. The National Resident Matching Program (NRMP), designed to keep the match fair and objective, pairs the wishes of the students with the needs of hospitals' residency programs.
The process leading up to Match Day is extensive. Students complete paperwork and interviews with hospitals, eventually creating a ranking of their top choices. Hospitals submit a similar list indicating openings, preferred students, and specialty or generalist preferences. Each applicant is matched via computer algorithm to the hospital residency program that is highest on the applicant's list and has offered the applicant a position. This year, 37% of students elected to stay at UK for their residency training.
Below are the stories of three UK College of Medicine students who shared their Match Day journey.
Peter Rodgers-Fischl
A native of Pittsburg, Pa., Peter arrived at the University of Kentucky College of Medicine with his brother. Though both brothers started the program at the same time, Peter took a little longer to complete his studies. Peter, a member of the Army Reserves since 2009, was deployed to Afghanistan in 2014, during his third year in the program. After learning of his deployment, Peter worried about the logistics and cost of disenrolling and reenrolling and the risk of falling behind, or repeating courses he had already started. Peter found relief thanks to the support of the staff at College of Medicine Student Affairs, he said "I consider UK a very military friendly school. They handled everything." Peter was able to focus on preparing to deploy with the burden of managing his education lifted.
Originally, Peter expected to be deployed for twelve to fourteen months; he feared it would add an additional two years onto his time in medical school. However, after nine months, Peter returned from the Middle East, and began his education right where he left off. Peter needed only an additional year to complete his training and reach the long awaited Match Day.
Peter chose cardio thoracic surgery as his specialty; after spending his time in medical school conducting research with Dr. Sibu Saha he knew it was the field he wanted to dedicate his life to. That research inspired Peter's long-term goal, developing a patentable device to aid in cardio thoracic procedures. With a bachelor's degree in engineering from Carnegie Mellon and his clinical training Peter says he hopes to "Come up with my own solution to problems I find firsthand."
Since arriving for medical school Peter has come to see Lexington as his home town. He will continue to practice medicine in Lexington, helping to address health disparities in the area. Peter applied for cardio thoracic programs in the Midwest, he went on twnty two interviews in all, and was accepted at his first choice, the University of Kentucky.
Chris and Hilary Anderson
Kentucky natives Chris and Hilary Anderson added an additional twist to their Match Day. Both Hilary and Chris must be accepted to residency programs at the same institution; they are married. The Andersons are participating in a "Couple Match," they decided together which programs they were interested in, applied and hope the institutions want to offer both of them a spot in their respective specialties.
Hilary and Chris are very familiar with Kentucky, having grown up in Bowling Green and Northern Kentucky. Both know they want to work in rural areas of Kentucky after completing residency so they enrolled in the Rural Physician Leadership Program offered by the UK College of Medicine. Through this program, students study at Morehead University and have the opportunity to take business and leadership courses in addition to clinical studies. With only three counties in Kentucky that are not considered rural, the program prepares students to serve the Commonwealth of Kentucky, in addition to other rural parts of the country. Chris and Hilary will be using their time as residence to explore locations outside of the state. They were matched at the University of Alabama at Birmingham and plan to return to Kentucky to begin their practice.
The process for a couple match is similar to that of an individual. The only difference is, a program must like both applicants and have openings in the specialties of the students. Hilary will be specializing in Pediatrics and Chris will be studying Anesthesiology. That can add some additional stress though Hilary said "It feels better going through with someone, it's like we got two chances at each interview."
UK is the University for Kentucky. At UK, we are educating more students, treating more patients with complex illnesses and conducting more research and service than at any time in our 150-year history. To read more about the UK story and how you can support continued investment in your university and the Commonwealth, go to: uky.edu/uk4ky. #uk4ky #seeblue
Media Contact: Olivia McCoy, olivia.mccoy1@uky.edu, 859-257-1076