UK Art Museum Opens Citywide Retrospective on Artist Louis Zoellar Bickett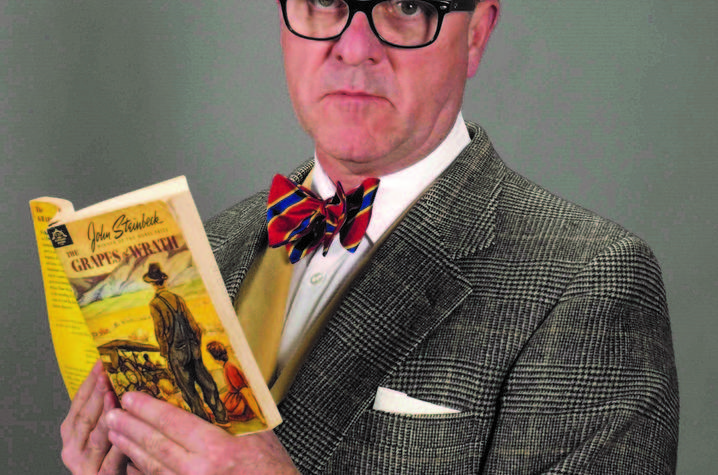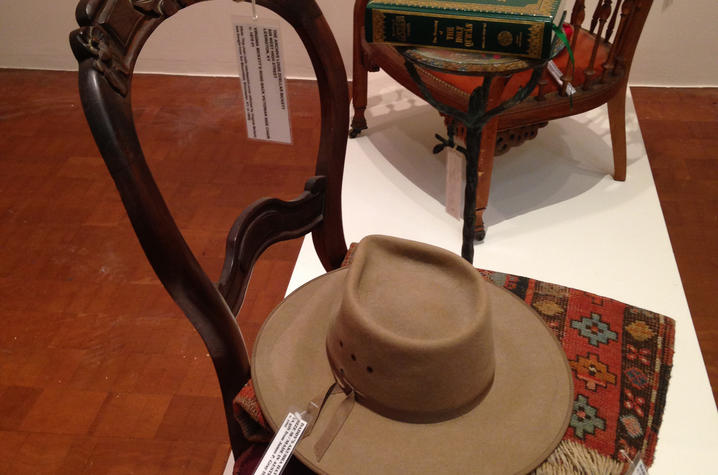 Interview with artist Louis Zoellar Bickett by Creative Lexington.
LEXINGTON, Ky. (Aug. 26, 2016) — The University of Kentucky Art Museum will kick off a citywide retrospective of the work of celebrated Lexington-based artist Louis Zoellar Bickett. Since 1972, Bickett has maintained a rigorous practice of collecting and cataloging items from his daily life to form a vast archive of found, gifted, purchased and made objects. The free public survey exhibition, "Louis Zoellar Bickett: Saving Myself," will open this weekend, Saturday, Aug. 27, and run through Sunday, Nov. 27.
In "Saving Myself," the UK Art Museum brings together several specific projects that are part of what Bickett calls "The Archive," his vast and detailed accumulation of photographs, receipts, articles of clothing, books, toys, furniture and bodily fluids. All have been preserved and placed throughout his home/studio.
The exhibition affords viewers a chance to examine some of the artist's most consistent subjects — religion, sexuality, family, friendship and history — both personal and cultural. Soil collected from Civil War battlefields and notorious gravesites are sealed in glass jars. Portraits of the artist holding some of his favorite books or wearing his collection of hats show a hyper-aware performer channeling his inner Buster Keaton. Postcards obtained by Bickett at faraway locales are modified and mailed to himself at home, revealing his Dadaesque spirit. Annotated objects and haiku poems are seen throughout the galleries, attesting to his love of language and assessing the importance of experiences and objects. As the artist states, "Life is a meaningless series of events that lead to the grave. The charge of civilization is to live as if that was not true."
UK Art Museum Director Stuart Horodner comments, "This is a thrilling moment in the history of visual art in the Commonwealth. Louis Bickett has been making rigorously conceptual and emotionally rich work in our midst for decades, and this is a unique opportunity for audiences to encounter the scope of his creative activities. I believe visitors to these exhibitions will come away understanding something profound about paying attention to one's life with humor, generosity and grace."
"Saving Myself" is part of a citywide focus on Bickett's art taking place throughout the fall at several venues. The other free public Bickett exhibits and installations are as follows:  
· "What You Don't Surrender the World Strips Away," Sept. 9-April15, 2017, at 21c Museum Hotel;
· "Selections from the Art Collection," Oct. 27-Nov. 26, at Institute 193;
· "All We Ever Wanted," Oct. 28-Nov. 27, at Lexington Art League; and
· "The Kentucky Dirt Project: 120 Counties," a permanent installation at the new Chandler Dining located in UK A.B. Chandler Hospital Pavilion A.
Bickett has exhibited in galleries and museums, including Institute 193 and the Lexington Art League in Lexington; the Speed Art Museum, Hite Art Institute at the University of Louisville, and Zephyr Gallery in Louisville, Kentucky; and Galerie Eugen Lendl in Graz, Austria.
The mission of the UK Art Museum, part of the UK College of Fine Arts, is to promote the understanding and appreciation of art to enhance the quality of life for people of Kentucky through collecting, exhibiting, preserving and interpreting outstanding works of visual art from all cultures. Home to a collection of more than 4,800 objects including American and European paintings, drawings, photographs, prints and sculpture, the UK Art Museum presents both special exhibitions and shows of work from its permanent collection.
The UK Art Museum, located in the Singletary Center for the Arts at Rose Street and Euclid Avenue, is open 10 a.m. to 5 p.m. Tuesday through Thursday, 10 a.m. to 8 p.m. on Friday, and noon to 5 p.m. on Saturday and Sunday. Admission is free but donations are encouraged. For more information on membership, contact Lyndi VanDeursen at 859-257-8164 or lyndi.vandeursen@uky.edu.
UK is the University for Kentucky. At UK, we are educating more students, treating more patients with complex illnesses and conducting more research and service than at any time in our 150-year history. To read more about the UK story and how you can support continued investment in your university and the Commonwealth, go to: uky.edu/uk4ky. #uk4ky #seeblue
MEDIA CONTACT: Whitney Hale, 859-257-8716; whitney.hale@uky.edu