UK College of Education's Diane Johnson Receives Kentucky Science Teachers Association Award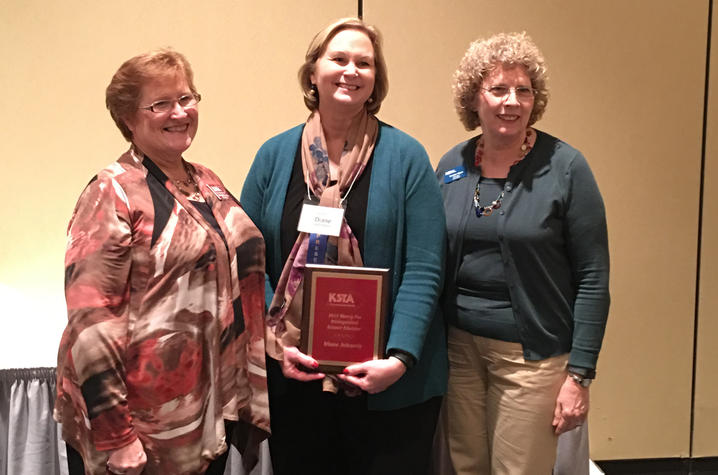 LEXINGTON, Ky. (Nov. 19, 2015) — The University of Kentucky College of Education's Diane Johnson received the Sherry Fox Distinguished Service Award in the field of science education at the Kentucky Science Teachers Association's annual conference in Lexington Nov. 5-7.
Johnson is the assistant director of Partnership Institute for Math and Science Education Reform (PIMSER), where she works with a range of partners, including K-12 teachers and administrators from across the state, the Kentucky Department of Education, the Council on Postsecondary Education, and higher education professors.
The Sherry Fox Distinguished Service Award is designed to recognize exemplary science leaders across the state of Kentucky who make significant contributions to science education.
Johnson has spent 35 years as an educator, with most of those years in Lewis County, where she taught science subjects ranging from chemistry to astronomy at Lewis County High School. She was also an instructional supervisor for Lewis County from 2003-2010.
"One accomplishment that makes me glow is having at least one student in every graduating class I taught for a 15-plus year span go into scientific research," Johnson said. "This has been a source of pride, because the odds of this happening in a poor, rural county are close to zero. Yet, I am grateful that I could play a small part in sparking an interest, making a dream attainable, and cracking the door open for a student to pursue a passion to know, to find, to figure out. "
Over the years, Johnson has demonstrated her commitment to K-12 science education through a variety of leadership roles on both a state and national level.
Johnson is a past president of the Kentucky Science Teachers Association, chaired the regional National Science Teacher Association (NSTA) Conference twice, and served as an author and reviewer for The Science Teacher, a national journal for science educators. She was a part of a Kentucky team that authored three chapters in "Active Chemistry."
MEDIA CONTACT: Whitney Harder, 859-323-2396, whitney.harder@uky.edu