Undergraduates Receive Oswald Awards for Research and Creativity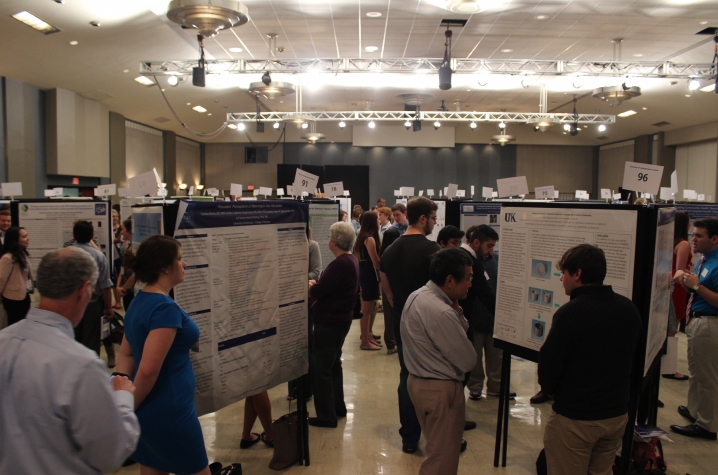 LEXINGTON, Ky. (Feb. 5, 2016) — The University of Kentucky Office of Undergraduate Research recently recognized and awarded 16 students with the Oswald Research and Creativity Program awards. 
Categories include Biological Sciences; Design, including architecture, landscape architecture and interior design; Fine Arts, including film, music, photography, painting and sculpture; Humanities, from creative and critical-research approaches; Physical and Engineering Sciences; and Social Sciences. All submissions are sent anonymously to faculty reviewers in related fields and are judged based on a rubric.
Awards in each category are: first place: $350; second place: $200; and honorable mention, if applicable. Entries are judged on originality, clarity of expression, scholarly or artistic contribution, and the validity, scope, and depth of the project or investigation.
The award winners are:
Biological Sciences
First Place: Taylor Jordan
"The Opportunity for Effectiveness with the Integration of Suspension Training into Therapy for Chronic Lower Back Pain Treatment"
Second Place: Jeremy Frederick
"An Examination of Reproductive Isolation in Sympatric Populations of the Redheaded Pine Sawfly (Neodiprion lecontei)"
Honorable Mention: Ava Vargason
"Endocytosis and Exocytosis of Poly (trolox ester) Nanoparticles in Endothelial Cells"
Design
First Place: Erin Taylor
"The Translation and Communication of Design Research"
Second Place: Caitlin Porter
"The Block"
Fine Arts
First Place: Elmer Lopez
"Unidentifiable Man"
Second Place: Felipe Rodriguez
"Falling Violence"
Humanities: Creative
First Place: Joshua Irvin
"The Teenage Militia"
First Place: Sam Stromberg
"Dear Myself"
Second Place: Kelsey Potter
"I Am Their Vessel"
Humanities: Critical Research
First Place: Rosie Picone
"Transmutation and the Philosopher's Stone: Alchemy's Presence in Blood Meridian"
Second Place: Madison Stewart
"Misrepresentation in Sir Gawain and the Green Knight"
Physical and Engineering Sciences
First Place: Daniel Ma
"Combining Microelectrode Surface Area Produces Greater Sensitivity while Maintaining Comparable Interference and Limit of Detection in a Biosensor"
Second Place: Thomas Barron
"Every n-ary semigroup is binary-subderived"
Honorable Mention: Deborah Ferguson
"Milky Way Tomography using K and M Dwarfs from the Sloan Digital Sky Survey"
Social Sciences
Second Place: Rebecca Faith VanMeter
"Global coding for support and comfort in investigative interviews of alleged child abuse victims: Comparing the NICHD and MoGP Protocols"
Established in 1964 by then-UK President John Oswald, the Oswald Research and Creativity Program encourages research and creative activities by undergraduate students at UK. The objectives of the program are to stimulate creative work by undergraduate students, and to recognize individuals who demonstrate outstanding achievement.
The Office of Undergraduate Research is a part of the Academy for Undergraduate Excellence within the Division of Undergraduate Education at UK.
MEDIA CONTACT: Jenny Wells, 859-257-5343; jenny.wells@uky.edu