UK Baroque Trumpet Ensemble Record CD, Play New York
Watch the UK Baroque Trumpet Ensemble perform Michel Delalande's "Pour les festes sur le Canal de Versailles."
LEXINGTON, Ky. (July 31, 2017) — The University of Kentucky Baroque Trumpet Ensemble has had a busy summer that included recording a CD with an Australian Baroque trumpet virtuoso and traveling to New York City for performances at an international conference. The Baroque, or "natural," trumpet, is the valveless ancestor of the modern valved trumpet.
In early July, John Foster, director of Australian Baroque Brass and one of the world's leading Baroque trumpeters, flew to Lexington to work with UK students in preparation for a recording project. On July 11, UK students and Foster recorded all day in Memorial Hall. Their repertoire included many staples of the Baroque era as well as some new compositions and arrangements by Jason Dovel, director UK Baroque Trumpet Ensemble and assistant professor in the UK School of Music. The group plans to release the CD, "Music for Natural Trumpets," in late 2017 on the New Branch Records label.
Playing with one of the world's best musicians in the field would be enough for many, but the UK trumpet students had more in store. The following day, the group departed for New York City, where they attended and performed as a featured ensemble at the Historic Brass Society International Conference. On July 14, the ensemble performed at the Metropolitan Museum of Art as part of the opening of a new exhibit of early brass instruments. This concert was held in the organ loft of the Music Gallery and was attended by both conference participants and a public audience. On July 16, they performed again at New York University (NYU) as part of Dovel's conference presentation, "Building an Early Brass Program."
Also during the trip, graduate trumpet student Marisa Youngs, from Cochranton, Pennsylvania, received the Joe and Joella Utley Award from the Historic Brass Society during an awards program July 13, at NYU. The Utley Award encourages and helps college and university students aged 35 years or under, officially enrolled in accredited academic programs and having career interests that relate to the purposes of the Historic Brass Society, to attend the society's events. The award includes a one-year student membership in the society and partial financial support for travel and lodging. 
Other UK students who participated in this summer's trip included: music performance senior Drew Burke, of Pikeville, Kentucky; music education freshman Bailey Goff, of Lexington; 2017 music performance graduate Caden Holmes, of Madisonville, Kentucky; music performance sophomore Jessica Lambert, of Sugar Land, Texas; music freshman Kyle Mitchell, of Vine Grove, Kentucky; human health sciences sophomore Rhiannon Montgomery, of Lancaster, Kentucky; music education and music performance senior Denver Pascua, of Saipan, Northern Mariana Islands; music education sophomore Coleman Scott, of Frankfort, Kentucky; and music performance and arts administration freshman Abby Temple, of Hickory, North Carolina.
Two UK trumpet alumni also joined the UK trumpets for the CD recording project and trip: Jared Wallis, a 2015 UK music performance graduate who recently completed his master's degree at Eastman School of Music, and Phillip Chase Hawkins, a 2014 graduate who earned his master's degree in music at UK and is currently a doctoral student at the University of Cincinnati College Conservatory of Music.
The UK Baroque Trumpet Ensemble was established in 2013 by Dovel. The group has performed at the Historic Brass Society International Conference, International Trumpet Guild Conference and the National Conference for Undergraduate Research. The ensemble has collaborated with many leading Baroque trumpeters, including John Foster (Australia), Friedemann Immer (Germany) and the United States Army Historical Trumpets. Starting in 2017, UK will offer a Certificate in Baroque Trumpet at both the undergraduate and graduate levels.
The CD recording project was made possible by a Summer Research Grant from the Office of Undergraduate Research. The trip to New York was made possible by a grant from the UK School of Music Friends of Music.
UK Baroque Trumpet Ensemble is part of the UK School of Music at the UK College of Fine Arts. The school has garnered a national reputation for high-caliber education in opera, choral and instrumental music performance, as well as music education, music therapy, composition, and theory and music history.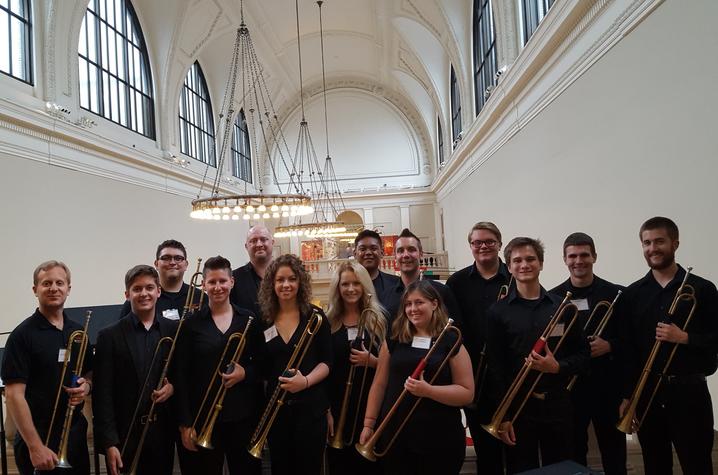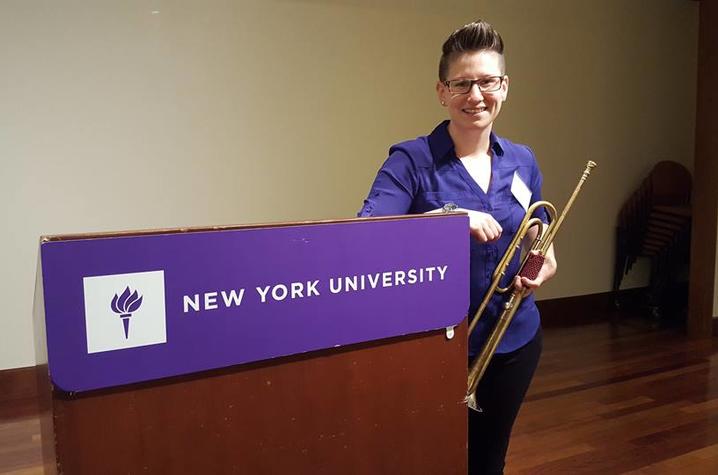 UK is the University for Kentucky. At UK, we are educating more students, treating more patients with complex illnesses and conducting more research and service than at any time in our 150-year history. To read more about the UK story and how you can support continued investment in your university and the Commonwealth, go to: uky.edu/uk4ky. #uk4ky #seeblue