DanceBlue 2012 – For the Kids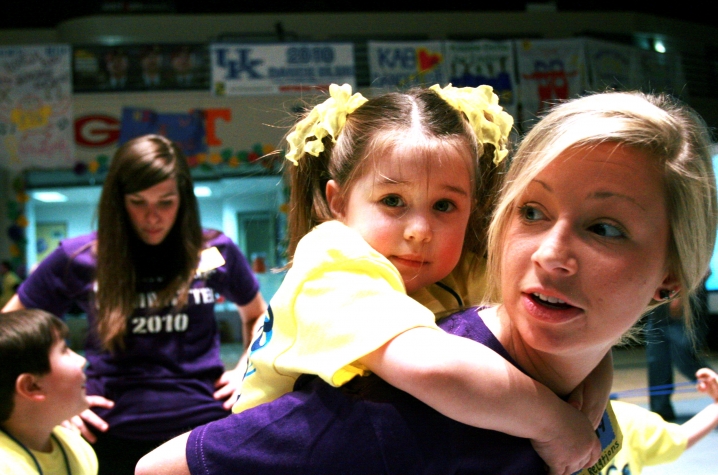 The best part of my job is the opportunities I have to share the wonderful work happening on our campus. It is especially fulfilling when I get to tell you about the work our students are doing on campus and across our community and state. DanceBlue is a prime example of energy and enthusiasm happening at UK.
This weekend, thousands of UK students will participate, either as dancers, organizers, volunteers or spectators, in DanceBlue; UK's 24 hour no-sitting, no-sleeping dance marathon that benefits the Golden Matrix Fund, the Pediatric Oncology Clinic at Kentucky Children's Hospital and cancer research. This entirely student-run organization has raised more than $2.6 million since its beginning in 2006. Their efforts have helped pay for two fulltime social workers at the clinic who serve DanceBlue's mission of aiding the children and the families in the clinic.
I recently met with the student leaders of this year's marathon, and their energy and enthusiasm was infectious. The passion they have for DanceBlue, and the children and families they work with at the Pediatric Oncology Clinic, is unparalleled.
Their leadership was tested as our community and state braced for Friday's severe weather threat. They showed incredible maturity and flexibility as the University acted in the interest of safety for the UK Family.
Following the severe weather outbreak across Kentucky and the southeast, the start of the DanceBlue dance marathon was rescheduled. The marathon will begin at 8 a.m. on Saturday, March 3, in Memorial Coliseum on UK's campus and is open the entire 12 hours of the marathon, concluding at 8 p.m. on Saturday, March 3. The top of each hour features a line dance performed by more than 700 dancers. Family and memorial hours at the marathon begin at 5 p.m. on Saturday.
I encourage the entire Wildcat family, students, faculty, staff, alumni and friends, to visit this year's marathon. If you are unable to attend, view the live stream of the event on the DanceBlue website at www.danceblue.org.
FTK – For the Kids!