APHA Recognizes UK Doctoral Student's Work at Annual Meeting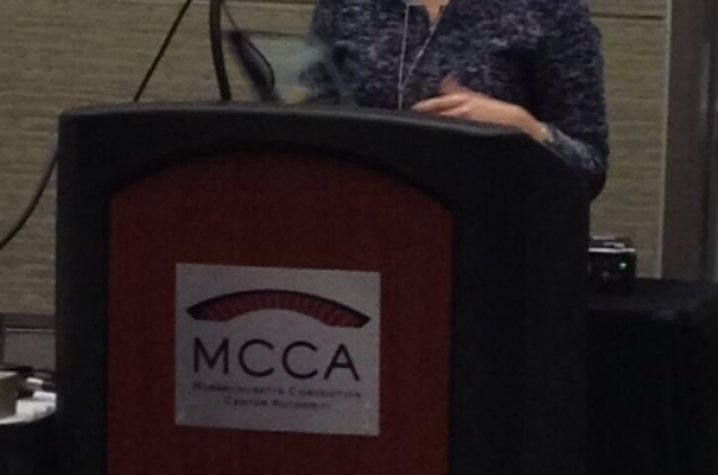 LEXINGTON, Ky. (Nov. 13, 2013) — The American Public Health Association (APHA) Health Administration Section has selected Rachel A. Hogg, a graduate research assistant at the National Coordinating Center for Public Health Systems & Services Research (PHSSR) and Practice Based Research Networks (PBRNs) at the University Of Kentucky College of Public Health, as the recipient of the Outstanding Student Abstract Award for 2013.
The abstract titled "Hospital collaboration in public health: How hospitals can impact the scope of public health services," describes the results of research conducted by Hogg and Glen Mays, the F. Douglas Scutchfield Endowed Professor of Health Services and Systems and director of the Coordinating Center.
Together, Hogg and Mays examined how hospitals participate in local public health, what services they contribute and how their participation affects overall availability of public health services in the system. The findings provide evidence that increased hospital participation expands the availability of public health protections in communities across the U.S. 
"Local public health systems are becoming more integrated with non-government and health care organizations increasingly participating in public health activities," said Hogg.
"With the tightening of community-benefit requirements for hospitals under the Affordable Care Act, we wanted to take a deeper look at what activities hospitals typically participate in, what that can do to service availability, and determine if any synergies exist between the local health department and hospital. In part, this was to help establish a base for future research examining how hospital contributions may impact population health in communities," said Hogg.
"Public health improvement is a collective action problem," said Mays, "so understanding the changing division of labor within the public health enterprise is absolutely essential if we want to maximize health impact and economic value.  Rachel's work provides exactly this type of insight to inform policy and administrative decision-making."  
Hogg received her award at the APHA annual meeting, held Nov. 2-6 in Boston.
###
About the National Coordinating Center for Public Health Services and Systems Research (PHSSR) and Practice-Based Research Networks (PBRNs):
The goal of the National Coordinating Center is to grow the field of PHSSR & PBRNs by coordinating current investments, supporting real-world applications, and strengthening the capacity of researchers and practitioners. The Center also works to determine the future direction of the field's research initiatives; translate that research into practice; increase the visibility of the work; and attract other funders to the field. For more information, visit www.publichealthsystems.org. Follow the center on Twitter @cphssr and @ph_pbrn.
About the University of Kentucky College of Public Health:
The College of Public Health is committed to quality in all of its education, research and service efforts. Evidence of this commitment to quality is full accreditation by the Council on Education for Public Health (CEPH), full membership in the Association of Schools of Public Health (ASPH), and Commission on Accreditation of Healthcare Management Education (CAHME) . The College of Public Health is committed to the practice community, as evidenced by its collaborations with the Centers for Disease Control and Prevention, National Institutes of Health, Kentucky Department for Public Health, Lexington-Fayette County Health Department, Kentucky Public Health Association, and the Kentucky Health Department Association.  For more information, visit www.uky.edu/publichealth.
MEDIA CONTACT: Allison Elliott-Shannon, allison.elliott@uky.edu