Art Museum Education Director Wins Award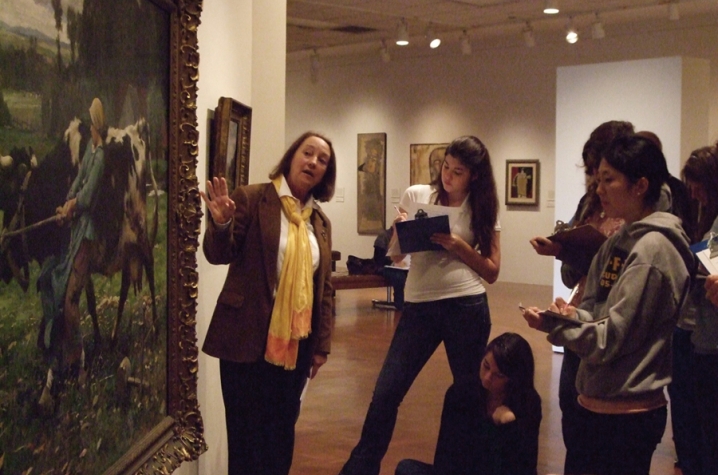 LEXINGTON, Ky. (Nov. 8, 2010) − The Kentucky Art Education Association (KyAEA) has named the Art Museum at the University of Kentucky's Deborah Borrowdale-Cox the Art Advocate of the Year at the organization's 2010 annual meeting.
 In her position as education director for the Art Museum at UK, Borrowdale-Cox oversees programs that provide art education to more than 10,000 students a year. She has been with the museum for 12 years, and has designed and implemented programs for families, high school students and adults, as well as representing the art museum in community and state organizations.
As an arts advocate, Borrowdale-Cox has a provided a needed and active voice to support arts and museum education as a vital part of all Kentuckians experience. "My goal is to provide paths of understanding for our exhibitions and collections so that people can appreciate and value the works of art and the cultures from which they came," said the award-winning educator.
 
Borrowdale-Cox earned a bachelor's degree in fine arts and art history from Scripps College and a master's degree in museum education from George Washington University. She has worked for the Corcoran Gallery of Art, The Santa Cruz Cultural Council and the Santa Barbara Museum of Art. She is a previous recipient of the Museum/Higher Education Art Educator of the Year Award also presented by the KyAEA, an affiliate of the National Art Education Association.
The mission of the Art Museum at the University of Kentucky is to promote the understanding and appreciation of art to enhance the quality of life for the people of Kentucky through collecting, exhibiting, preserving and interpreting outstanding works of visual art from all cultures.
KyAEA's mission is to advance art education through professional development, service, advancement of knowledge and leadership. To that end, the association promotes quality instruction in visual arts education that is delivered by qualified personnel; holds public discussions; sponsors workshops and institutes, publishes articles, reports and surveys; provides a network for communication; supports student exhibitions; and works with other related agencies in support of visual arts education.