Markey Director Receives Prestigious Surgical Award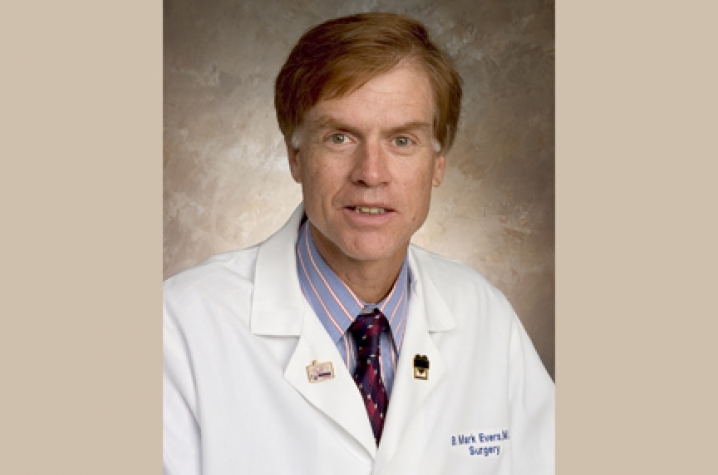 LEXINGTON, Ky. (April 10, 2010) —  Dr. B. Mark Evers, director of the University of Kentucky Markey Cancer Center, has been chosen to receive the 2010 Flance-Karl Award from the American Surgical Association.  The award is given each year to a surgeon in the United States who has made a seminal contribution in basic laboratory research that has application to clinical surgery. Evers accepted the award April 9 at the association's annual meeting in Chicago. 
"To a surgeon, there are few things more highly prized than the esteem of one's colleagues," Evers said. "It is always a humbling experience to be singled out for recognition from such a distinguished group of peers, and I am very grateful to receive this honor."
Evers, an internationally recognized gastrointestinal and endocrine surgeon specializing in the treatment of cancer, has had a prolific research career spanning more than two decades. His work has been continuously funded by the National Institutes of Health for the past 18 years. Prior to his 2009 arrival in Kentucky, Evers was director of the University of Texas Medical Branch Comprehensive Cancer Center in Galveston. There, he amassed hundreds of publication credits, comprising clinical/investigational studies as well as basic science research.  Over the past year, the research program at the Markey Cancer Center has continued to grow under his leadership.  Last year, the National Cancer Institute designated the Markey Cancer Center as a Specialized Program of Research Excellence in gastrointestinal cancer, one of only six cancer centers nationwide to have earned that distinction.  
Evers sits on the editorial boards of four peer-reviewed scientific publications, and he is an associate editor of the Sabiston Textbook of Surgery. He is a director of the American Board of Surgery, a past president of the Society of University Surgeons (SUS), current president of the SUS Foundation and secretary of the Southern Surgical Association. He is also an elected member of the prestigious American Society for Clinical Investigation. 
The American Surgical Association, founded in 1880, is the nation's oldest and most prestigious surgical organization. Its members include the nation's most prominent surgeons from the country's leading academic medical institutions, many of whom are departmental chairs. Membership also includes leading surgeons from around the world. Its primary mission is to be the premier organization for surgical science and scholarship and to provide a national forum for presenting the developing state of the art and science of general and sub-specialty surgery and the elevation of the standards of the medical surgical profession.  The Flance-Karl Award was established in 1996 and is named in recognition of two St. Louis physicians, Dr. I. Jerome Flance and Dr. Michael M. Karl.