UK College of Public Health Names Outstanding Alumnus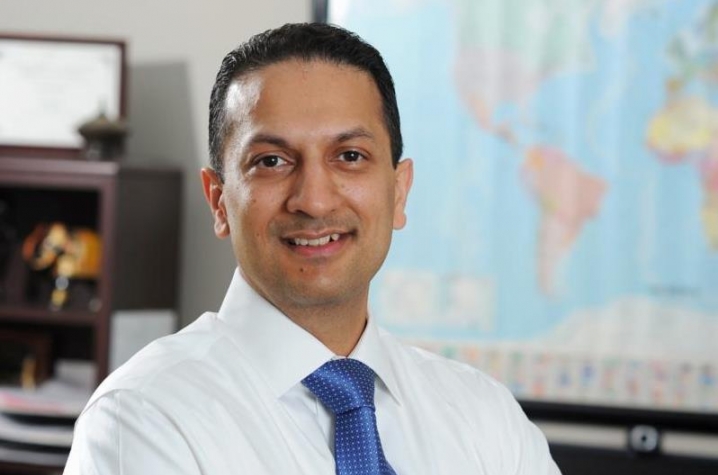 LEXINGTON, Ky. (Dec. 13, 2013) —The University of Kentucky College of Public Health has presented its inaugural Outstanding Alumni Award to Yousuf J. Ahmad, a 2008 doctoral graduate of the college.
The College of Public Health Outstanding Alumni Awards program was established in 2013, in conjunction with the 10th anniversary of the college. The award recognizes extraordinary alumni who have made outstanding contributions at the local, state, national and/or international level in public health or health care leadership.
"The College of Public Health alumni provide insight for future and current students, add value to our programs, and enhance the quality of the public health workforce," said Stephen Wyatt, dean of the college.
"This award reflects Dr. Yousuf's significant contributions to his profession and community, as well as our mission to ensure graduates are prepared to address health problems efficiently and effectively."
Ahmad is the president and chief executive officer of Mercy Health in Cincinnati, a division of Catholic Health Partners (CHP). Previously, he was the senior vice president and chief network transformation officer for the central division of CHP. He is responsible for the delivery and implementation of primary and specialty care throughout the central division including physician offices, hospitals, home health, long-term care and other services.  Ahmad also lead the Mercy Health market in preparing for health care reform initiatives, including the development and execution of the region's first and only accountable care organization, the advancement of its patient-centered medical home project, and population health management. He provides executive oversight over key services lines of Mercy Health physicians and serves on its advisory board.
Ahmad joined CHP in 2004 as senior vice president and chief information officer for its Southwest Ohio region, Mercy Health Partners. Shortly thereafter, he assumed the roles of divisional senior vice president for the Cincinnati and Springfield markets of CHP, and president of Mercy Health Physicians. He has extensive experience in the areas of managed care, multi-specialty group practice, hospitals and integrated delivery health systems.
Ahmad is also a fellow in the American College of Healthcare Executives, a certified medical practice executive in the American College of Medical Practice Executives and an active member of the College of Healthcare Information Management Executives and the American Public Health Association. He holds a doctorate in Public Health from the University of Kentucky, as well as a master's of Health Administration and a master's of Business Administration from Xavier University.
"I believe that Dr. Ahmad represents the discipline of public health and the University of Kentucky's College of Public Health in a manner and context that distinguishes him as an outstanding alumnus and healthcare leader," said Martha Riddell, chair of the College of Public Health alumni relations committee.
Ahmad will return to the College of Public Health as a distinguished guest in February to meet with students and faculty.
MEDIA CONTACT: Allison Elliott-Shannon, allison.elliott@uky.edu