Deborah Reed Receives National Award for "Farm Dinner Theater"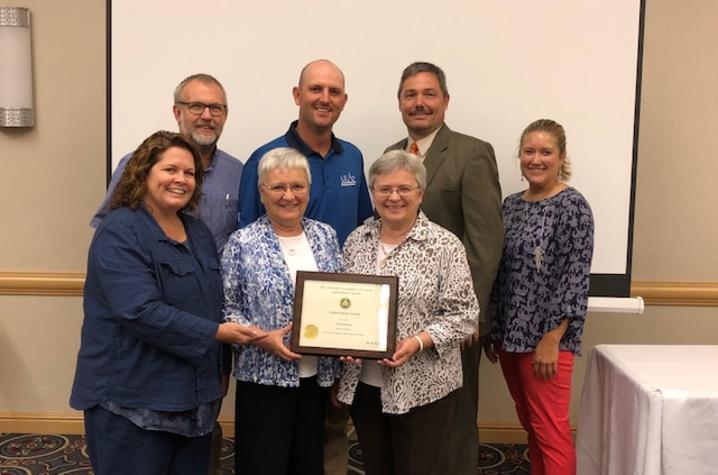 LEXINGTON, Ky. (Aug. 10, 2018) – University of Kentucky College of Nursing Professor Deborah Reed recently received the National Association of County Agriculture Agents Award for Excellence with Health and Safety for her National Institutes of Health-funded program, the Farm Theater Dinner.
Reed designed the Farm Theater Dinner intervention with the goal of getting more farmers to think about occupational health, safety and disease prevention on the farm. Raised on a Kentucky farm 15 miles outside of Lexington, Reed understands farmers' attitudes toward traditional forms of occupational safety education. She has conducted community-based research on Kentucky's farms for more than 25 years. Her research has shown farmers aren't persuaded by lectures and pamphlets and don't have time in their demanding work schedule to attend educational meetings.
"What we are trying to do with these plays is empower the local community to change their work behaviors in a way that's acceptable within the community," Reed said.
The Farm Theater Dinner program entertains Kentucky and Tennessee farmers with a meal and a farm-friendly theater performance embedded with important health and safety messages. But more than just a date night off the farm, these casual events are also influencing behaviors, with results of a study showing that farmers are thinking more about occupational safety and implementing precautions as a result of attending the forum-style dinners.
Organized by researchers in the UK College of Nursing, the Farm Theater Dinners feature a 10-minute play performed by local volunteer actors. The scripts are based on interviews and stories from real Kentucky and Tennessee farmers. The plays also contain implicit messages about occupational safety and health risks specific to the farming profession. While enjoying a collegial atmosphere and a night off the farm, farmers are presented with realistic safety and health topics on the farm, which they discuss as a group at the conclusion of the performance.