Elisia Cohen Delivered Annual Lecture at USC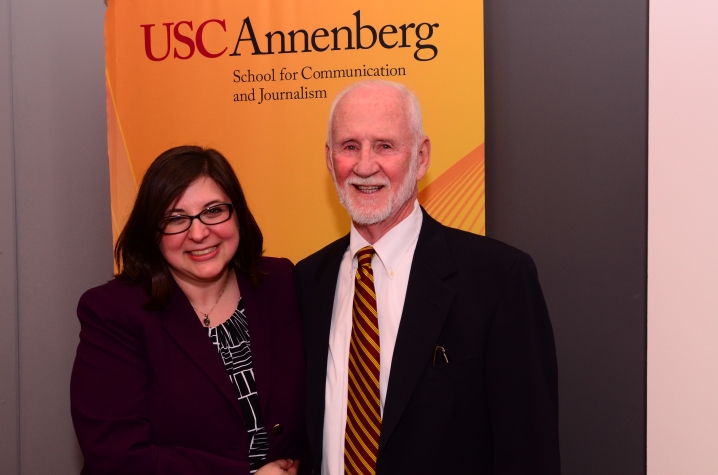 LEXINGTON, Ky. (April 1, 2015) — University of Kentucky Department of Communication Chair Elisia Cohen gave this year's annual Walter Fisher Lecture at the University of Southern California on Feb, 26.
Cohen's lecture covered her research on developing communication strategies, both social media and clinic-based, to best increase demand for immunization in Appalachian communities.  Cohen is the primary researcher on this project and has partnered with the University of Kentucky Rural Cancer Prevention Center to create and test the strategies.
USC communication Professor Peter Monge organized the 2015 Fisher Lecture, now in its 11th year at the USC Annenberg School for Communication and Journalism.  When Monge asked Cohen to return to her alma mater, where she earned a communication doctorate in 2003, she was delighted.
The lecture is named for Walter Fisher, Cohen's former faculty mentor and instructor.
"That Walt was able to join me to hear my talk this month made it a particular honor to be asked to return to campus to give the lecture," Cohen said.
Cohen earned a Bachelor of Arts degree in political science from the University of Louisville in 1997. She received a Master of Arts degree in speech communication as well as her doctorate from Wake Forest University in 1999.
She then worked at Saint Louis University for four years until she joined the University of Kentucky faculty in 2007.  In addition to her position as Department of Communication chair, Cohen also teaches graduate level courses in health communication.
MEDIA CONTACT: Rebecca Stratton and Blair Hoover, (859) 323-2395; rebecca.stratton@uky.edu