Information Technology Services Honors Customers and Employees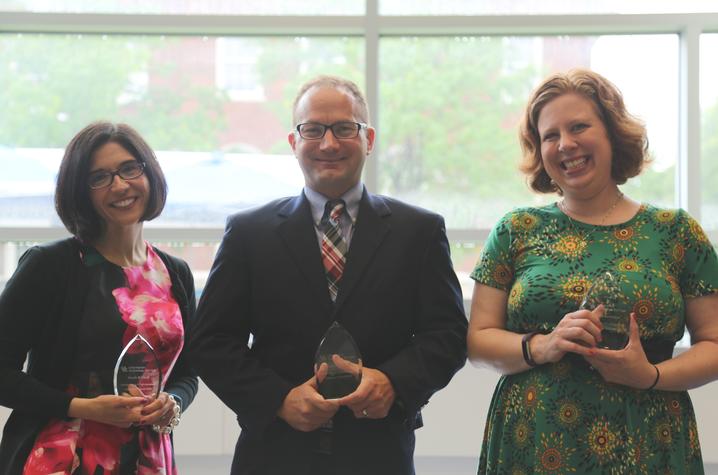 LEXINGTON, Ky. (May 22, 2017) — University of Kentucky Information Technology Services (ITS) announced the inaugural recipients of the Customer Excellence Award for Leadership in IT Advancement at UK at a ceremony on Friday, May 12. During the same ceremony, 41 ITS employees were honored for a combined 650 years of service to the university.
The ITS Customer Excellence Awards program recognizes students, staff and faculty members who have greatly assisted ITS in successfully deploying a new service or resource. Nominated by an ITS staff member, the efforts of these individuals on ITS' behalf have greatly improved the IT environment for the entire university. This year's recipients included: Sarah Ballard (University Advising), Sarah Kercsmar (Center for Instructional Communication) and Nathan Brown (UK Police Department). 
Sarah Ballard provided critical support and subject matter expertise in the design of several signature IT innovation products in 2016, continuing into 2017. Ballard has actively participated in the design, discovery and usability sessions for the myUK GPS and Academic Communication Tool (ACT) projects.
Sarah Kercsmar chairs the Learning Management System (LMS) Committee, and is a member of the Academic Computing Committee representing both her college and campus instructional interests and needs in IT. Kercsmar's leadership on the LMS Committee relaunched the group, leading to a Canvas Customer Fair and ideas to grow adoption and depth of usage.
Nathan Brown provided leadership for the implementation of security infrastructure at the university. In addition, he led the successful conversion of the door access systems enterprisewide, establishing a collaborative relationship with ITS that is vital to the protection of the university community.
ITS recognized employees who have provided multiple years of service to the university. Each received a charm, lapel or tie tack of their choosing as a token of appreciation for their dedicated service.  
The following were recognized:
5-Years of Service:
Kerry Boytzun, Patrick Calkins, Kelley Cruse, Buddy Hall, John Henderson, Dan O'Brien, Gerri Sims, Scot Snyder, Angie Taulbee and Jason Ullstam
10-Years of Service:
Smitha Chopra, Jennifer Edwards, Edward Herkert, Kirk Laird, Rick Phillips, Ken Randall, Ling Cao Wolbarst and Tim Worley
15-Years of Service:
Adam Boyd, Stephen Burr, Robert Carr, Yan Chen, Casey Hutchinson, Virginia Lacefield and Donna Schultz
20-Years of Service:
Kathryn Wong, Joyce Smith, Rainer Dittert, Lisa Bramel and Vratislav Nosek
25-Years of Service:
Catherine Bell, David Chesnut, Jim Ruberg, Lee Fong Ho Song and Joe Tietyen
30-Years of Service:
Peggy Akridge, Wayne Beech, Deborah Taylor and Rick Willmott
35-Years of Service:
Victoria Banks and Sam Newcomb
UK is the University for Kentucky. At UK, we are educating more students, treating more patients with complex illnesses and conducting more research and service than at any time in our 150-year history. To read more about the UK story and how you can support continued investment in your university and the Commonwealth, go to: uky.edu/uk4ky. #uk4ky #seeblue