Leader in Nursing Education, Outreach, Tobacco Control, Named New Dean of UK College of Nursing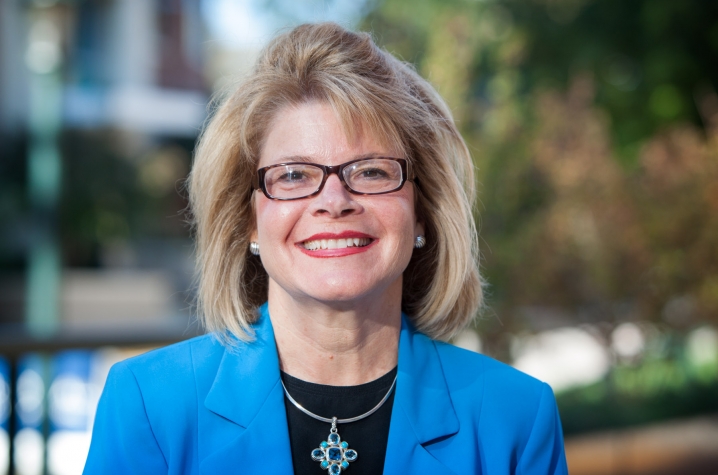 LEXINGTON, Ky. (March 17, 2014) — University of Kentucky Provost Christine Riordan announced Monday that a national leader in nursing education, tobacco control and health care outreach has accepted the position of dean of the UK College of Nursing and Warwick Professorship.
Janie Heath, who is currently the associate dean of Academic Programs and the Thomas Saunders III Endowed Professor at the University of Virginia School of Nursing, will take over as dean at UK on Aug. 1, pending UK Board of Trustees approval.
"Nurses are on the front lines of health care and service throughout our Commonwealth and beyond," Riordan said. "UK's nationally ranked College of Nursing not only educates nursing leaders but also conducts critical research and outreach efforts regarding many of Kentucky's most pressing health challenges, such as smoking and heart disease. Janie Heath has been a leader in educational, clinical and research efforts. She is an ideal fit for our College of Nursing."
"I have known about the UK College of Nursing for a long time," said Heath, who has been a nurse for nearly 40 years and also has worked at Georgia Health Sciences University, Georgetown University and the University of South Carolina. "I was attracted to the college's well-known strengths in advanced practice nursing and research. UK ― through its talented faculty, staff and students ― has been on the forefront of addressing major challenges in higher education and health care delivery today. I'm excited to work on new strategic initiatives to help promote a healthy working and learning environment for the UK academic and clinical enterprise."
UK President Eli Capilouto said the one of the university's core missions is providing health care that "extends and enhances life through education, research and service. Our College of Nursing exemplifies so well that commitment. In Janie Health, I know we have found someone who will lead this college in moving forward with these critical missions."
As associate dean at UVA's School of Nursing, Heath is the chief academic officer responsible for the quality and integrity of education of the Commonwealth of Virginia's flagship nursing program. The school offers bachelor's, master's and doctoral programs with more than 16 focus areas and certificate options. The school has some 720 students and more than 100 faculty members.
Recently, Heath has been the principal investigator on a $5 million gift from the Conway Foundation to expand a Critical Nurse Leader program (CNL) from 24 students in the Charlottesville area to 96 students throughout rural Virginia. She also helped secure funding to advance undergraduate nursing research and inter-professional education efforts for innovative virtual learning programs in partnership with UVA's College of Medicine.
A pioneer with implementing Acute Care Nurse Practitioner, CNL and Doctor of Nursing Practice education in the Southeast,  Heath has been awarded more than $12 million for academic and research initiatives and generated more than 150 publications and abstracts while also serving in national leadership organizations including the American Association of Critical-Care Nurses, National Organization of Nurse Practitioner Faculty and the American Academy of Nursing.
"The talent that exists throughout the College of Nursing will put us in an excellent position to help transform nursing education and create new innovative models of health care delivery," Heath said. "I'm looking forward to joining the UK community and influencing the health and wellness of the Commonwealth and beyond."
Heath is married to Mike Heath, a retired U.S. Army colonel who was the pharmacy consultant to the U.S. Army Surgeon General, and they have three married children and four grandchildren living in Charlotte, N.C. and Charleston, S.C.
Riordan thanked current UK Interim Dean Patricia Howard for her "steadfast leadership and service during this period. I often say that people make the place. Dean Howard exemplifies so much of what I see at UK ― people committed to this institution and committed to leadership and service in ways that move our university and our Commonwealth forward."
Howard has been serving as UK's interim dean since late 2012 after Jane Kirschling left UK to serve as dean of the University of Maryland School of Nursing.