Pharmacy Building Wins Design Award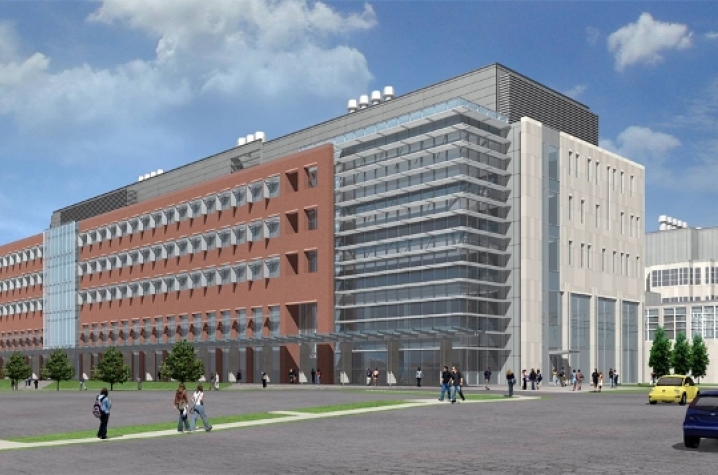 LEXINGTON, Ky. (Nov. 18, 2010) − The highly anticipated key addition to the University of Kentucky's medical campus of the future, the UK  College of Pharmacy Biological Pharmaceutical Complex, has been recognized for its distinctive architectural design by the American Institute of Architect's (AIA) Kentucky Society of Architects. The AIA Honor Award is the highest professional honor bestowed upon a Kentucky architect by his or her peers, and it distinguishes the architect as one who is dedicated to making architecture the best it can be.
 
The building, designed by Ellenzweig of Cambridge, Mass. and EOP Architects of Lexington, opened to faculty, staff and students in January 2010. 
EOP Architects, a Lexington design firm with over 29 years of experience in the architectural and interior design industry, was selected by UK to serve as architect of record for the new College of Pharmacy project.
"EOP is very pleased with the outcome of this landmark project and thoroughly enjoyed collaborating with UK, with Ellenzweig, the team's national design consultant, and with Messer Construction Company," said EOP principal Richard Polk. "We are honored to have the design merits of the project recognized by AIA Kentucky."
The 286,000 square-foot facility is the largest academic building in Kentucky and among the largest in the nation. It includes a five-story atrium, two 219 seat auditoriums, a 110-seat classroom, a 54-seat classroom, a teaching laboratory with compounding laboratory and patient assessment rooms, and nine group-learning rooms. The facility, considered to be a flagship research center for drug discovery and development across the state, provides opportunities for faculty across the campus and the Commonwealth to interact with other faculty and students to access the research facilities and expertise.