UK 'Smart Skin Patch' Can Help Nicotine Addiction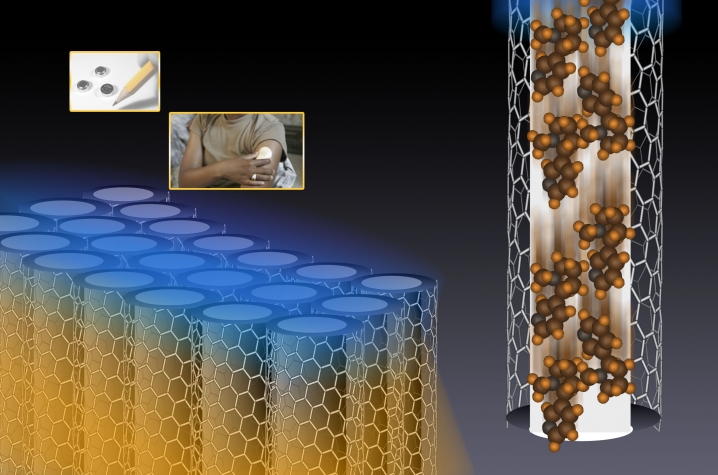 LEXINGTON, Ky. (June 15, 2010) - Bruce Hinds, University of Kentucky William Bryan Professor in Chemical and Materials Engineering in the UK College of Engineering, and Audra Stinchomb in the College of Pharmacy are showing that research teams in Kentucky are not only doing some of the most interesting and significant research in the country, but they're also doing it very early in their careers. 
Their research team, which includes many other professionals and students, have conducted extensive studies with carbon nanotube membranes and nano-scale device fabrication that have now lead to an innovative way to treat nicotine addiction with a "smart skin patch," and it's catching the attention of scientists around the country.
Hinds' paper, titled "Programmable Transdermal Drug Delivery of Nicotine using Carbon Nanotube Membranes," is featured in this week's "Early Editions," a publication by the Proceedings for the National Academy of Sciences (PNAS). Scientists and researchers believe UK's novel technology has the potential to revolutionize transdermal drug delivery.
"I'm excited about the potential of this technology helping with addiction treatment," said Hinds. "Addiction affects nearly every extended family in our country with enormous social and economic costs. Addiction treatment is very difficult due to a combination of complex biochemistry and psychological triggers. My hope is that this device can join the two fields together with highly personalized treatments that can address one's daily events and needs."
The technology is based on carbon nanotube membranes that are ultra-efficient in pumping therapeutics to the skin through a transdermal patch that has the ability to be programmed, which is the key to addiction treatment. The nicotine delivery device is able to successfully switch between high and low changes that coincide with the necessary levels for nicotine cessation treatment. While the concurrent use of counseling and drugs is currently the most effective method, there is a large population of smokers that cannot afford to make numerous visits to a counselor. With this new technology, one can have phone counseling or internet-based surveys to program the patch, which can then control for differing needs during the day or for specific events that can trigger cravings. This is accomplished by remotely programming the patch and adding patient input within set prescription limits.     
"This could dramatically reduce cost and increase treatment accessibility for something as widespread as smoking," Hinds said.
This report builds on a prior report in the international journal Nature about 10,000 fold faster fluid flow in the cores of carbon nanotubes compared to conventional materials. The Hinds group is actively researching creative applications of carbon nanotube membranes including bio-sensing, chemical separations, water purification, energy generation and programmable drug delivery.
Recently, President Obama honored Hinds, along with UK Plant and Soil Sciences assistant professor David McNear Jr., with the Presidential Early Career Award for Scientists and Engineers (PECASE). Hinds and McNear were two of 100 researchers nationwide to receive the award, the highest honor bestowed by the federal government on young professionals in the early stages of their independent research careers. The recipients were awarded at a ceremony at the White House last fall.
For more information about the research groups, visit www.engr.uky.edu/~bjhinds or pharmacy.mc.uky.edu/faculty/AudraStinchcomb.php.