Renowned Dental, Pain Researcher to Become UK Dentistry Dean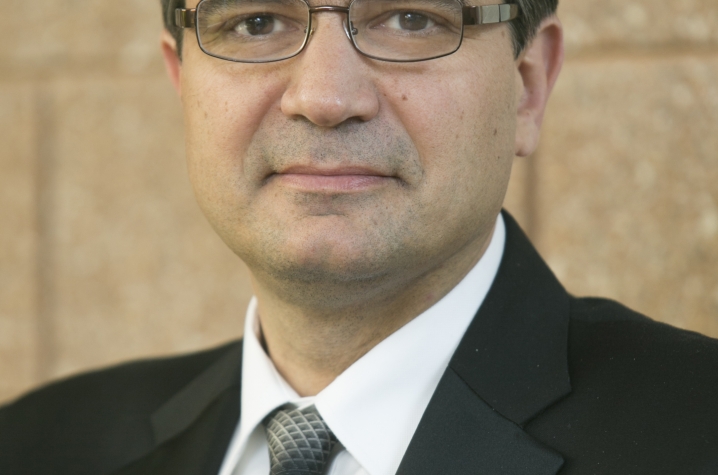 LEXINGTON, Ky. (June 19, 2015) — University of Kentucky Provost Tim Tracy today announced that Dr. Stephanos Kyrkanides will become dean of the UK College of Dentistry.
Kyrkanides is currently associate dean for research and faculty development and chair of the Department of Orthodontics and Pediatric Dentistry at the Stony Brook University School of Dental Medicine. Stony Brook, part of the New York State higher education system, is one of the leading public research institutions in the country.
Kyrkanides will join UK on Aug. 1, subject to approval by the Board of Trustees.
"We are pleased to recruit someone of Dr. Kyrkanides' caliber, who is an outstanding clinician, researcher and administrator," Tracy said. "His experience in innovative care delivery, cutting-edge research and intellectual property generation as well as quality education delivery makes him the ideal person to help the College of Dentistry continue to excel."
"The College of Dentistry at the University of Kentucky is world renowned for its strong and longstanding tradition of excellence. Under the leadership of Dean Sharon Turner, the college has risen as one of the top dental schools in North America," Kyrkanides said. "I am truly honored to be given the opportunity to join the exceptional faculty, staff, residents and students at UK and lead the College of Dentistry in reaching its greatest potential.
I am also delighted to be signing on to the bold vision defined and being executed by the spectacular leadership of Provost Tim Tracy, Executive Vice President Michael Karpf and University President Eli Capilouto."
Kyrkanides will replace Dean Sharon Turner, who has led the UK College of Dentistry for the last 12 years. Turner last year announced her intention to retire once a new dean was selected.
Under her leadership, the UK College of Dentistry has had sustained growth — realized through significant increases in clinical revenues, important and needed renovations of facilities, and a notable diversification of faculty members who now represent many cultures and countries.
As importantly, the college also has expanded upon its commitment to service. The college's mobile dental program, considered a national model, has provided dental care for thousands of children and others throughout the mountains of Eastern Kentucky.
"Dean Turner has taken our college to new heights in every facet of our mission at UK — teaching, research and service," Tracy said. "It's been an honor to serve with her and we are deeply appreciative of her outstanding leadership for more than a decade at UK. We wish Sharon and her family only the best as they move forward in this new, exciting chapter of their lives."
As both a dentist and neuroscientist, Kyrkanides has collaborated extensively with faculty in the School of Dental Medicine and School of Medicine on neurodegeneration and pain arthritis research.
Kyrkanides' current research focuses on regenerative dentistry, having invented Natural Enamel, a new biomaterial for use in CAD/CAM dentistry. Also, in collaboration with principal investigator and inventor, Dr. Sabine Brouxhon, (Kyrkanides' wife), he has developed a novel cancer therapy that was just recently licensed by the Avalon Ventures / GlaxoSmithKline consortium.
Kyrkanides' long-standing research efforts have revolved around pain, specifically his discovery that pain is more than just a symptom of disease but part of the disease itself in osteoarthritis. This research is the basis for what he calls central nervous system (CNS) two-way "cross-talk," where pain is transmitted from the site (i.e, knee) to the spinal cord and brain, and then spreads through the CNS from one joint to another spurring further pain and disease.
Before coming to Stony Brook, Kyrkanides held numerous academic and administrative positions at the University of Rochester. He was professor and J. Daniel Subtelny Chair of Orthodontics at the University of Rochester Eastman Dental Center, and associate chair for research, Department of Dentistry, University of Rochester School of Medicine and Dentistry.
Dr. Kyrkanides received his D.D.S. degree (1991) from the National University of Athens School of Dentistry in Greece and his training in orthodontics, orofacial pain and advanced education in general dentistry at the Eastman Dental Center in Rochester New York. He received M.S. (1997) and Ph.D. (1999) degrees in neurobiology and anatomy from the University of Rochester. In 2000, Dr. Kyrkanides completed post-doctoral training in molecular medicine and gene therapy at the University of Rochester's Center for Aging and Developmental Biology.
He also is a member of a number of international organizations related to dental medicine and research. He has authored dozens of journal articles and received numerous awards and honors.
Dr. Kyrkanides and his wife, Sabine Brouxhon M.D., have two children, James and Nicole.