UK Appreciation Day Returning With New Attractions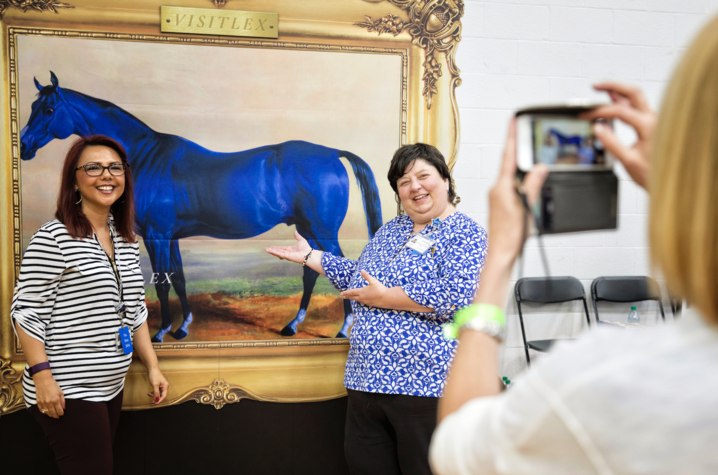 LEXINGTON, Ky. (May 13, 2019) — University of Kentucky Appreciation Day will be held from 11 a.m. to 2 p.m. Thursday, May 23, at Kroger Field. The Appreciation Day Commission, a group of nearly 30 staff volunteers from all over campus, have worked to bring back popular attractions as well as find some new activities for employees.
Returning items include Clearly You Crystals at Gate 5, as well as MaverickVR at Gate 8. On the concourse, popular returning booths will include VisitLEX and their frame photo op, as well as the Bluegrass Photo Booth. If you like to sing and aren't shy about it, karaoke will be making a welcome return to the event.
A couple of hidden gems missed by some participants at the event last year can be found again this year at the President's Pavilion. Get your caricature drawn by one of four artists. Take a break and get a massage from one of 5 massage therapists. 
Returning corporate sponsors include PNC Bank, UK Federal Credit Union, KY Tobacco Cessation and Prevention, and Papa John's. Kentucky Farm Bureau will also return with its interactive trailer and cornhole game, plus a vintage 1919 Model T vehicle on display. A new addition this year is the Now Let's Get Fit Foundation and the Jared Lorenzen Project in partnership with Kroger will have their mobile gym set up in the parking lot outside Gate 4. This program works to highlight the importance of a healthy lifestyle throughout the nation. Another new sponsor set up is Paul Miller Ford who will have vehicles on display and a UK Athletics-themed photo booth. 
Additionally, in partnership with Well-Being Week, come and visit Well-Being Way at Gate 9 to discover your next step toward greater well-being at a resource fair highlighting more than 10 UK departments that support employee well-being. Employees will also have the opportunity to be a part of the largest group of employees practicing yoga together. These 15 minute yoga sessions, designed to inspire inner joy, will take place on Kroger Field from 11:30 a.m.–2p.m.
This is a small sample of what will be available for employees at the event. As always, lunch and Appreciation Day T-shirts will be available. Most importantly, have a great time May 23 at Kroger Field. Please see the UK Staff Senate website for more details.