UK International Center Announces 2022 Global Impact Award Winners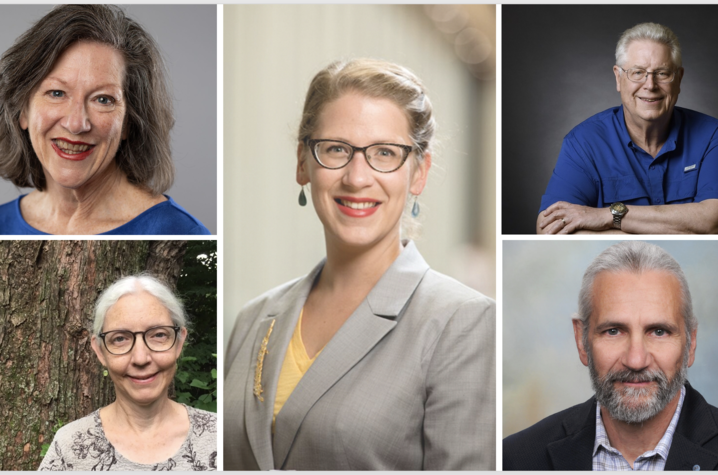 LEXINGTON, Ky. (May 25, 2022) — The International Center at the University of Kentucky (UKIC) has announced the 2022 UK Global Impact Award winners.
Recipients comprise faculty, staff, alumni and community members who have significantly contributed to the university's global engagement through education, research and service, as well those who have fostered a culturally diverse, welcoming environment.
"This past year has reinforced for us just how interconnected our world really is, and how critically important international collaboration is in research and higher education," said Sue Roberts, associate provost for internationalization. "These individuals are making a wonderful and positive difference with their dedication to helping create a more global University of Kentucky."
This year, six awardees are being recognized with Global Impact Awards in six different categories, including UKIC's first Community Partner Global Impact awardee.
Community Partner Global Impact Award
The University of Kentucky is pleased to confer the inaugural Community Partner Global Impact Award to the Kiwanis Club of Lexington. This valued community partner is the local chapter organization of Kiwanis International, a global community of clubs, members and partners dedicated to improving the lives of children one community at a time, with more than 550,000 members in 80 countries. Founded in 1920, the Kiwanis Club of Lexington has a long history of civic engagement and philanthropy. Since its very beginning, this club has supported the University of Kentucky by establishing a scholarship fund to assist students pursuing higher education.
In 2006, the Kiwanis Club of Lexington began its ongoing partnership with UK's Shoulder to Shoulder Global, which operates a health clinic in Santo Domingo, Ecuador, and provides invaluable inter-professional educational and clinical experiences for UK faculty, staff and students, while providing essential health care to underserved, largely indigenous populations in Ecuador. In the true spirit of partnership, the Kiwanis Club of Lexington has also fostered connections and rallied support from the Kiwanis Club in Santo Domingo, Ecuador, and Kiwanis International. 
"From the Kiwanis Club of Lexington's extensive history in partnership with UK to helping UK's Shoulder to Shoulder Global program educate tomorrow's health care leaders, it is with great camaraderie and pride that we nominate the Kiwanis Club of Lexington for the UK International Center's Community Partner Global Impact Award," said Melody Ryan, assistant provost for global health initiatives and professor and director of international professional student education in the UK College of Pharmacy.
Thomas Young, of the UK College of Medicine's Department of Pediatrics, added "Their sustaining support has been essential in our ability to continue the service and experiential learning opportunities for so many of our UK students. It is truly rare to have such a long-term commitment supporting UK programing."
UK Alumni Global Impact Award
The 2022 Alumni Global Impact Award recognizes the outstanding career and achievements of William H. Jansen II (B.A., anthropology, 1971). After going on to earn his M.A. and Ph.D. in anthropology at the University of Wisconsin - Madison, Bill Jansen devoted a long and distinguished career to applying the strengths of anthropological inquiry and deep understanding of cultural context on pressing global health issues around the world. His work with the United States Agency for International Development (USAID) led to extended stays in the Canadian Arctic, the Philippines, Bangladesh, Pakistan, Jordan, Morocco and Zimbabwe, as well as shorter tenures in Benin, Bolivia, Cambodia, Djibouti, Dominican Republic, Egypt, Ethiopia, Ghana, Guatemala, Haiti, Honduras, India, Indonesia, Kenya, Malawi, Namibia, Nigeria, Paraguay, Rwanda, Senegal, Sri Lanka, Tanzania, Thailand, Togo and Uganda. His work around the world addressed such critical issues as protection of indigenous ancestral lands, improving maternal and child health, controlling malaria and tuberculosis, and mitigating the HIV/AIDS epidemic in Africa.
Most recently, Jansen has worked to strengthen capacities to respond to the COVID-19 pandemic in Senegal and Ukraine. In all these varied projects, he sought to bring a better understanding of the local social or cultural context to improve the program's chances of success.
In recommending Jansen for the 2022 Alumni Global Impact Award, George Smith, associate director of the Southeast Archaeological Center, National Park Service (retired), pointed out the "long-lasting contributions of his international research, public service, teaching, advising of graduate students, publications and sustainable development projects have impacted the understanding and addressing of global issues and concerns." Smith describes Jansen as "one of the most dedicated, motivated and solid professionals I have had the pleasure of working with at both the national and international levels ... (who) represents the highest ideals of the University of Kentucky as well as the profession of anthropology."
UK Global Impact Award for Distinguished Faculty Achievement in International Research and Scholarship
Nikiforos "Nick" Stamatiadis (Department of Civil Engineering, College of Engineering) has been selected as the recipient of the 2022 Global Impact Award for Distinguished Faculty Achievement in International Research and Scholarship. Stamatiadis first came to the United States as an international student pursuing graduate degrees at Michigan State University. He is a leading international expert on Context Sensitive Solutions (CSS), an approach to roadway design that emphasizes the importance of crafting holistic, participatory transportation solutions accommodated to the context in which they are built.
Stamatiadis has maintained active research and educational collaborations with scholars and practitioners on every continent and has delivered CSS workshops to transportation officials and government ministries in Thailand, Sri Lanka, Greece, Italy, Mexico, Cyprus and China. A multiple Fulbright Scholar award winner, Stamatiadis has cultivated sustained institutional partnerships with the University of Catania in Italy and the National Technological University of Athens, among others. His passion for both research and education has also led Stamatiadis to serve as the faculty advisor for the UK chapter of Engineers Without Borders — a role that has led him to take UK student engineers to Ecuador, Honduras, Cameroon and Malawi.
In nominating Stamatiadis for the 2022 Global Impact Award, Reginald Souleyrette, chair of UK'S Department of Civil Engineering, noted that his colleague's impressive publication record, numerous engagements with researchers and transportation practitioners on every continent, and a resolute commitment to his students have significantly raised UK's profile within the global civil engineering community.
"He views the world as both a laboratory and classroom and urges those he works with to look at and analyze transportation challenges in a way that is mindful of their sociocultural context, but which does not neglect the more global and far-reaching implications of particular issues," Souleyrette said.
UK Global Impact Award for Distinguished Faculty Achievement in Education Abroad
The 2022 Global Impact Award for Distinguished Faculty Achievements in Education Abroad recognizes the outstanding, career-spanning efforts of Beth Barnes (Department of Integrated Strategic Communication, College of Communication and Information). Barnes has facilitated highly impactful education abroad experiences in multiple countries for UK students. In addition to serving as a faculty director for annual summer and winter education abroad experiences in London and South Africa for more than 15 years, Barnes has served as the associate dean for undergraduate and international studies for the College of Communication and Information, as well as UK's interim assistant provost for internationalization. She has been an active member of the campuswide International Advisory Council, as well as the campuswide Education Abroad Committee and International Health, Safety & Security Committee.
In nominating Barnes for the 2022 Global Impact Award, Chike Anyaegbunam, chair of the Department of Integrated Strategic Communication, cited her love of leading UK students on transformative education abroad experiences.
"Dr. Barnes combines lectures, use of guest speakers, visits to advertising/PR agencies, tours of historical and cultural sites, and experiential learning opportunities in her study abroad courses to expose her students to the complexities of strategic communication in the global arena. Her students come out of her study abroad classes not only with the skills of strategic communication honed from working with real-world clients and professionals, but also with a strong understanding of the complexities and nuances of communicating professionally in a different culture."
UK Global Impact Award for Distinguished Faculty Achievement in Internationalizing the Curriculum
Ann Kingsolver (Department of Anthropology, Appalachian Studies program, College of Arts and Sciences) is recognized with the 2022 Global Impact Award for Distinguished Faculty Achievement in Internationalizing the curriculum for her exceptional work in incorporating global perspectives in her teaching and mentoring. Kingsolver, an anthropologist of globalization, was recruited in 2011 to join UK's College of Arts and Sciences specifically to bring a global perspective to Appalachian Studies and the Appalachian Center. She has developed the innovative "Global Appalachia" course, which she has taught for the past 10 years. In this course, she has connected her classroom virtually with classrooms at partner universities in Sri Lanka, India, Ireland and Italy. In 2019, Kingsolver reimagined the Global Dynamics in UK Core course, "Cultural Diversity in the Modern World," with a redesigned syllabus and revised course description and learning objectives. She offered the course to more than 650 students with overwhelmingly positive student feedback.
Her work at internationalizing the curriculum has extended to co-curricular activities for international students right here in Lexington. She has organized bus trips to the Hindman Settlement School in Inez, Kentucky, and Natural Bridge State Park for UK international students, providing them with opportunities to interact directly with the people of Appalachia — enriching both groups. In nominating her for this 2022 Global Impact Award, Scott Hudson, chair of the Department of Anthropology, noted her deeply personal commitment to internationalization.
"In every course Dr. Kingsolver teaches, there is strong attention to global and minoritized perspectives and to what can be learned through international comparisons."
UK Global Impact Award for Distinguished Staff Achievement in Campus Internationalization
Summer Eglinski, director of Gatton Global Initiatives in the Gatton College of Business and Economics, has been named the winner of the 2022 Global Impact Award for Distinguished Staff Achievements in Campus Internationalization. Eglinski has been passionate about international education since first studying abroad in Greece after her freshman year of college and later teaching English at a high school in France for an academic year. She has served as director of global initiatives for the Gatton College since 2015 and works closely with both domestic business students seeking education abroad and international business students pursuing UK degrees in the college.
During the past two years, amidst the significant challenges for student mobility caused by the COVID-19 pandemic, Eglinski has led several forward-looking and innovative initiatives to help Gatton College students meet those challenges, including virtual global opportunities. For incoming international students, she has worked to navigate challenging conversations with compassion, and has been a strong advocate for flexibility when travel restrictions or other circumstances have demanded creative solutions.
In nominating her colleague for this award, Meg Marquis, assistant dean for undergraduate affairs, cited Eglinski's long history of excellence in supporting international efforts in her time in the Gatton College of Business and Economics.
"Whether through formal mechanisms such as classroom instruction or the more organic mentoring relationship she cultivates with her students, Summer's advocacy and work contribute to an inclusive international mindset on this campus," Marquis said.
About the UK Global Impact Awards
The Global Impact Awards were established to recognize, highlight and celebrate the wide range of global engagement activities undertaken by UK faculty, staff and alumni.
Nominees for the various award categories are reviewed by the International Advisory Committee and receive additional review from campus stakeholders, such as the Staff Senate.
The 2022 recipients will be recognized at an event planned for this fall.
As the state's flagship, land-grant institution, the University of Kentucky exists to advance the Commonwealth. We do that by preparing the next generation of leaders — placing students at the heart of everything we do — and transforming the lives of Kentuckians through education, research and creative work, service and health care. We pride ourselves on being a catalyst for breakthroughs and a force for healing, a place where ingenuity unfolds. It's all made possible by our people — visionaries, disruptors and pioneers — who make up 200 academic programs, a $476.5 million research and development enterprise and a world-class medical center, all on one campus.   
In 2022, UK was ranked by Forbes as one of the "Best Employers for New Grads" and named a "Diversity Champion" by INSIGHT into Diversity, a testament to our commitment to advance Kentucky and create a community of belonging for everyone. While our mission looks different in many ways than it did in 1865, the vision of service to our Commonwealth and the world remains the same. We are the University for Kentucky.