UK Libraries to Present Willis Award to Eric Weig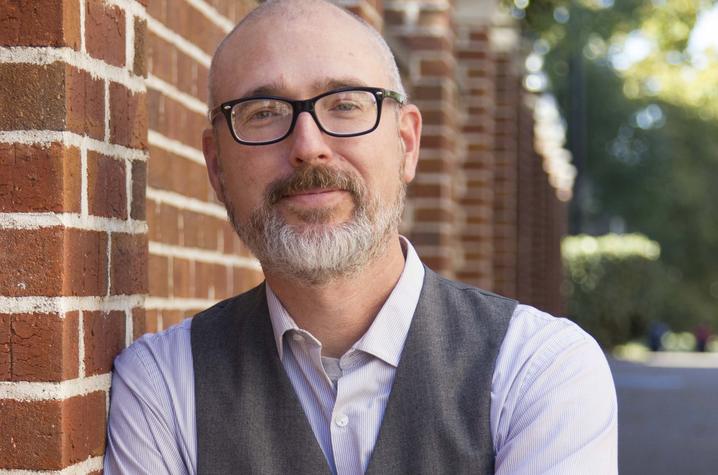 LEXINGTON, Ky. (May 15, 2019) — University of Kentucky Libraries will honor Eric Weig, the university's digital library architect, with the 2019 Paul A. Willis Outstanding Faculty Award at tomorrow night's UK Libraries Spring Gala, at William T. Young Library.
"The Willis Award recognizes the outstanding achievements of a UK librarian. Eric's creativity and skills in digital librarianship have produced innovative solutions and increased access to UK Libraries resources. As a faculty member, his research and scholarship are strengthening the profession at large, and I'm happy to recognize his outstanding work," said Interim Dean of Libraries Deirdre Scaggs.
Eric Weig's work in libraries started in middle school volunteering at his school library. He continued working in the library in high school and later at the University of Iowa's Main Library as an undergraduate. At that time, he was encouraged to attend library school to explore his interest in web technology.
After earning his bachelor's degrees in English and music performance, Weig pursued his master's degree in library science at Iowa. While attending grad school, he taught an undergraduate course on conducting research in the library and worked as a research assistant to develop experimental electronic texts with an early web encoding technology called Standard Generalized Markup Language (SGML).
Weig came to UK Libraries in 1998 to create a digital library program. Since that time, his ideas and designs have fostered expansive digital collection growth for UK Libraries through dedication, innovation and collaboration.
Weig's success stories include working with historian Thomas D. Clark in 2001 to develop the Beyond The Shelf grant proposal to digitize rare Kentuckiana books. This proposal gained funding from the Institute of Museum and Library Services. In 2005, Weig's technical acumen was instrumental in helping to establish UK Libraries as one of the first six institutions in the nation to join the National Digital Newspaper Program at the Library of Congress. 
During that same time, Weig began working with the Louie B. Nunn Center for Oral History on its collection digitization efforts. As a part of this work, he was a key member of the team that developed OHMS (Oral History Metadata Synchronizer), an innovative search tool used to enhance access to online oral history.    
For more than 20 years, Weig has been building and managing digital libraries at UK Libraries. While challenged by rapid technological change, he continues to build some of his own digital tools when needed. His constant willingness to learn and evolve his skillset has served to cultivate deep expertise with metadata, project management, technological systems design and open-source software development.
To share his knowledge with others, Weig has published research, authored open-source software, authored and/or co-authored six successful grant narratives, and recently presented on his work with digital newspapers at the Internet Archive. In his day-to-day work, he manages open-source web publishing platforms that support five major online resources for UK Libraries: SPOKEdb Oral History Database, Notable Kentucky African Americans Database, Daily Racing Form Online Archive, Kentucky Digital Newspaper Program and the John C. Wyatt Lexington Herald-Leader Photographs Database.  
The Willis Award is named for Paul A. Willis, former director of UK Libraries. A 1963 UK graduate, Willis served as a library director for 41 years throughout the Southeast. He worked as a cataloger at Library of Congress before beginning his master's in library science. In 1966, he began as a circulation librarian at UK's Law Library before becoming university law librarian. He then served as director of UK Libraries from 1973 to 2003. He later served as University of South Carolina's Dean of Libraries from 2004 until 2007. During his career at UK, Willis created the Information Alliance consortium, planned construction of Young Library, and expanded its collection and services.
In addition to the presentation of the Willis Award at the Spring Gala, UK Libraries will recognize this year's winner of the Medallion for Intellectual Achievement, Robert K. Wallace; the Dean's Award for Outstanding Performance winners: Danielle Gabbard, oral history processing archivist, Deborah "Shell" Dunn, image management specialist, and James Crowden, of Cataloging and Metadata; and the Dean's Award for Excellence in Undergraduate Scholarship winners: biology junior Hannah Thompson and art history and visual studies senior Emily Hedges.
The major research library in the Commonwealth and a member of the Association of Research Libraries, UK Libraries comprises eight major facilities spanning campus: William T. Young Library, Agricultural Information Center, Hunter M. Adams College of Design Library, Education Library, Lucille C. Little Fine Arts Library and Learning Center, Medical Center Library, Science and Engineering Library and the Special Collections Research Center. UK Libraries also manages the Lexmark Library.