UK Welcomes Veteran Katie Buss to Air Force ROTC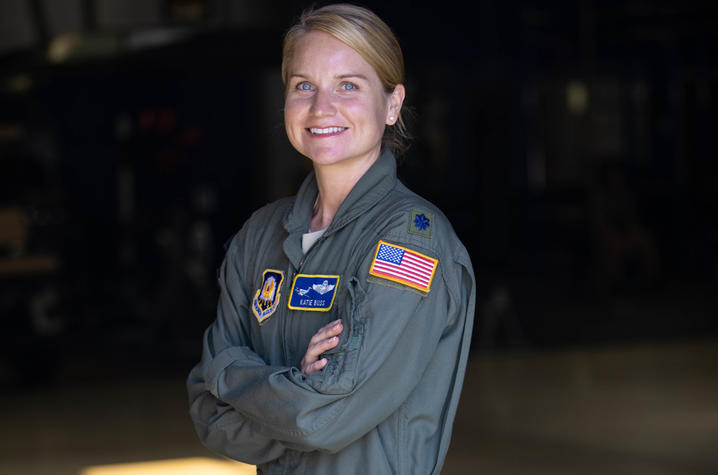 LEXINGTON, Ky. (Nov. 9, 2018) — Coming into a new state, a new school and a new position may seem a daunting task for many, but Lt. Col. Katie Buss of the U.S. Air Force is far from the average person.
Following a fulfilling career in the U.S. Air Force, Buss has recently found her new perch at UK's ROTC program, where she is the Detachment 290 (DET 290) commander and aerospace studies department chair in the UK College of Arts and Sciences. This DET comprises approximately 120 cadets, with an additional five staff members.
Despite numerous relocations and traveling to between 60-70 countries, this is Buss' first experience living in Kentucky. She is presently settling into Lexington with her husband, who is also a pilot, and three children, Griffin, Gracelyn, and coincidentally, Lexington.
"I am very excited about living in Lexington; it seems like a uniquely intriguing place with the horses, the bourbon and the unparalleled UK athletics of course," Buss said. "Before arriving we heard great things about the community and we are excited to take advantage of the amazing opportunity to be a part of the UK family. I believe we will fall in love with Lexington and are grateful for the chance to try something new."
Luckily, new experiences were always in surplus for Buss thanks to her military past. Growing up in Salem, Oregon, she did not come from a military family, but found herself drawn to the idea of being a pilot as early as grade school. After researching options in high school, she decided the military provided her the best venue to explore her passion.
"I attended the Air Force Academy in Colorado Springs, Colorado, which was a four year program. While I was there, I ran track and studied operations research with a math minor, so I'm clearly a huge nerd," said Buss, laughing. "After graduation, the athletic department selected me to be one of the student athletes that were lucky enough to stay for a year and coach, so I coached track and taught PE classes."
Pilot training in Enid, Oklahoma, at the Vance Air Force Base was next on Buss' list. After a year of intensive training, she was sent to Charleston, South Carolina, to tackle her next milestone: flying C-17 cargo planes.
The C-17s are not just ordinary planes.
"These are large cargo planes; a 585,000-pound aircraft that can do unlimited air refueling and land on dirt strip runways. In the C-17, I flew over 500 combat missions in support of Operations Enduring and Iraqi Freedom in Afghanistan and Iraq, and I was selected to participate in the C-17s Special Operations community."
If flying these gargantuan vessels wasn't challenging enough, Buss also faced the challenges that come with minority status. In a room full of men, she typically was the only woman in the room during multi-lateral Special Forces exercises.
"During hotwashes, or debriefings, after the evening's flying was complete, some briefers started off with 'Good evening, gentlemen,'" Buss said. "So I would just think to myself, 'And lady!' This was before the Army allowed ladies to participate in certain Special Forces roles, and I was often the only woman in this room of a couple hundred men."
Even with the deterrent staring her in the face daily, Buss never let it dissuade her from her passion.
"I always considered myself simply a pilot, not a female pilot. I always pushed myself to perform to the utmost of my abilities and didn't concern myself with the gender piece."   
After six years in Charleston, Buss was relocated to Anchorage, Alaska, where she continued to fly the C-17, until she finally landed in Monterey, California. There she secured a master's in national security studies to complement her first master's in aeronautical science from Charleston. This additional accolade leant her the chance to spend a year at the Pentagon, working as an international affairs strategist. Always chasing new horizons, Buss then went through training and worked for the U.S. Embassy in Bogota, Colombia, for three years. As a diplomat in Bogota, Buss was a military attaché and flew the C-12, or KingAir, throughout the region.
Buss' efforts in Bogotá earned her the honor of being named the International Affairs Officer of the Year. This prestigious award is granted to one officer for exceptional and innovative contributions that carry the greatest impact in international affairs, and were most effective in building, sustaining, expanding and guiding U.S. Air Force-to-partner air force relationships.
Along the way, one of Buss' true passions — the development of youth — was realized. This core desire led her to her position at UK.
"I enjoy working with youth and hope to make a positive difference in their lives. I'm excited for the opportunity to mentor the cadets and enable them to 'Fly, Fight, and Win' for the United States Air Force," Buss said.
Her dedication for the military youth bleeds through in every goal she carries to her position. Buss' top priority — developing the cadets for whom she has so much admiration — is followed closely by her desire to leave her personal mark on UK's ROTC program by continually bridging the relationship between the university and ROTC, serving the school and Lexington community, supporting veterans and increasing cadet involvement on campus.
"In a climate of professionalism and self respect, I would like to build on the cadets' abilities to lead during ambiguous situations and prepare them for the many ill-defined challenges they will meet while defending our nation and protecting our freedom as an Air Force officer," Buss said. "I will work to enhance our program, focusing on the cadets, and graduate professional officers who encapsulate the core values of 'Integrity First, Service Before Self, and Excellence in All We Do'; after all, these brave young men and women will be the future guardians of our nation."