Alzheimer's Association and Global Down Syndrome Foundation Explore Links Between Alzheimer's, Down Syndrome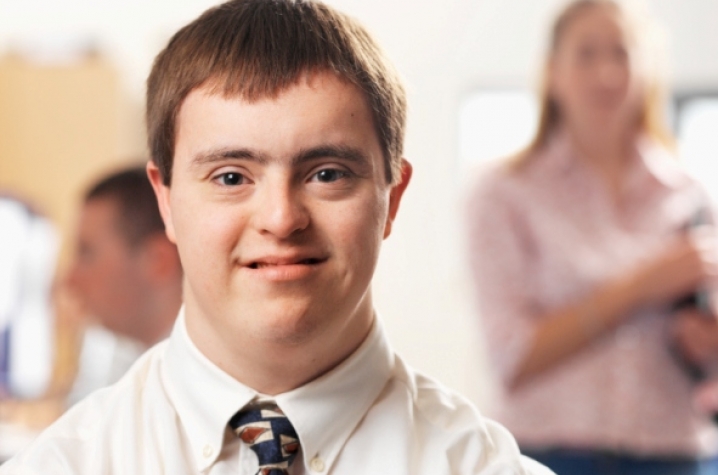 LEXINGTON, Ky. (Nov. 8, 2013) —Donna Wilcock of the University of Kentucky Sanders-Brown Center on Aging is the lead investigator on a recently-funded project exploring the links between Alzheimer's disease and Down Syndrome. Elizabeth Head, also of Sanders-Brown Center on Aging, is a co-investigator on the project.
The Global Down Syndrome Foundation, the Alzheimer's Association, and the Linda Crnic Institute for Down Syndrome have awarded $1.2 million in research grants to five scientists for innovative investigations that explore the development of Alzheimer's disease in individuals with Down syndrome. The goal is to eventually translate the findings into improved treatments for all people with Alzheimer's. Wilcock has received $150,000 of the funding, and was one of five selected for funding from among 50 applicants.
Alzheimer's Disease and Down Syndrome
Alzheimer's is a fatal, progressive, degenerative brain disease that causes problems with memory, thinking and behavior. More than 5 million Americans are living with Alzheimer's, which is the sixth leading cause of death in the United States.
Down syndrome is a genetic disorder whereby a person has three copies of chromosome 21 instead of two. This chromosome also contains the gene that encodes the amyloid precursor protein (APP). APP is cleaved to form beta-amyloid, which is the primary component of plaques – a lesion found in the brains of people with Alzheimer's that many scientists believe is part of the cause of the disease.
According to the U.S. Centers for Disease Control and Prevention, Down syndrome occurs in 1 out of 691 infants in the United States. Due to improved clinical care, people with Down syndrome are now regularly living into their sixth decade of life, which leads many to develop dementia due to Alzheimer's. Autopsy studies show that by age 40 years, the brains of almost all individuals with Down syndrome have significant levels of plaques and tangles – abnormal protein deposits that are considered Alzheimer's hallmarks. But despite the presence of these brain changes, not everyone with Down syndrome develops Alzheimer's symptoms.
One of the many questions researchers hope to answer about Down syndrome is why some people develop dementia symptoms and others don't. Researchers are working to answer a similar key question about those who don't have Down syndrome. This may lead to new opportunities for treatment and prevention of the disease.
Wilcock's research will focus on studying inflammation in the blood of aging adults with Down syndrome, some of who have dementia and others who do not. Working together with fellow Sanders-Brown faculty members Elizabeth Head and Frederick Schmitt (who run an NIH funded longitudinal study of aging in adults with Down syndrome and their brain health), Wilcock has identified markers in the blood that predict the inflammatory state of the brain.
Since Down syndrome is associated with the triplication of many inflammatory genes, Wilock hypothesizes that a neuroinflammatory switch may be involved in the transition of a person with Down syndrome being cognitively normal to clinical dementia. She will measure blood markers of inflammation previously identified in Alzheimer's disease to the ongoing  longitudinal study of aging in  , some of whom have transitioned to dementia, to determine whether inflammatory profiles can be predictive of transition to dementia. The samples to be used in this study are from the Head / Schmitt longitudinal Down's group," said Wilcock.
 "Of more than 50 applications, only five grants were funded worldwide for this research initiative. This clearly emphasizes the world-class research that Drs. Wilcock, Head, and Schmitt are doing at the Center.  his work is highly significant in that it may lead to more predictive ways to tell whether an individual is at high risk for developing dementia," said Linda J. Van Eldik, director of the Sanders-Brown Center on Aging.