Going Viral: UK Scientist Takes on Human Metapneumovirus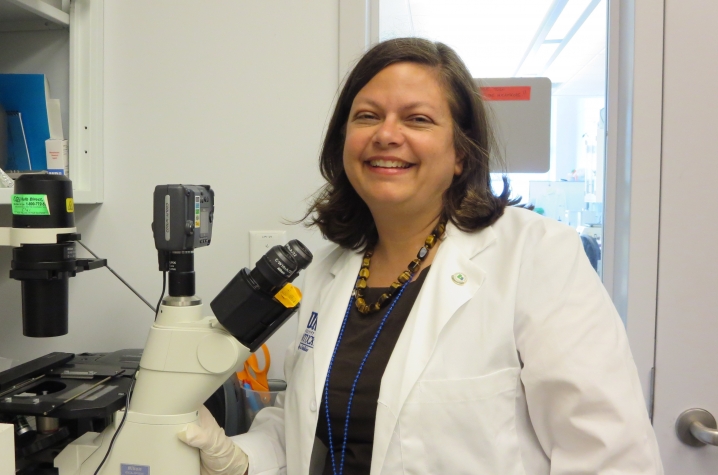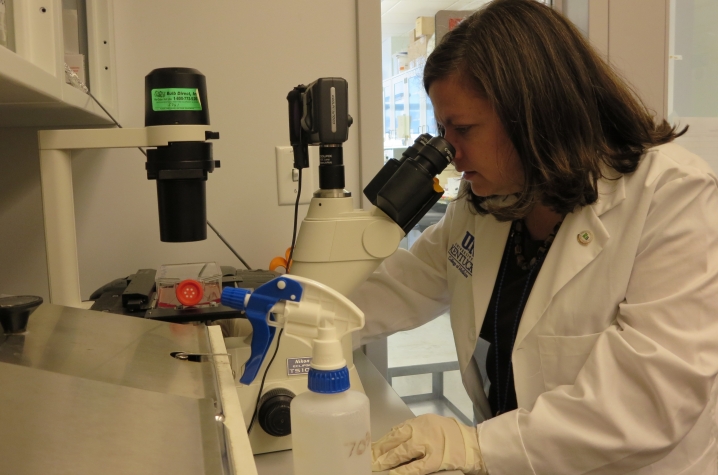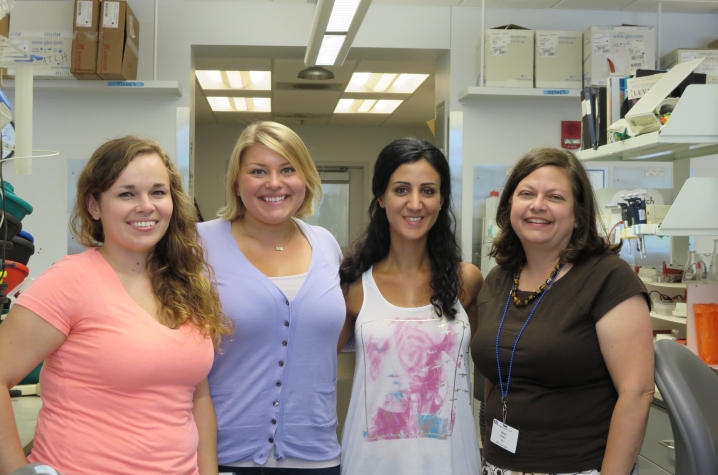 LEXINGTON, Ky. (Aug. 21, 2013) — You may not know the human metapneumovirus by name, but chances are that you have met somewhere before.
HMPV, as it's known to virologists, is a common respiratory virus that new studies suggest is second only to influenza in the number of viral pneumonia cases it causes worldwide every year. Especially dangerous for small children, the elderly, and anyone with a compromised immune system, the virus strikes almost 100 percent of people on Earth at some point in their lives.
Despite its wide reach, the virus was only identified in 2001, and few people outside the scientific community have heard of it. Physicians can now diagnose HMPV, but have no specific way to treat the illness.
Becky Dutch of the University of Kentucky wants to change that, and she's working with some of the most advanced biomedical technology available to do so.
Dutch is a professor in the UK College of Medicine Department of Molecular and Cellular Biochemistry. Along with the team in her lab - composed mostly of graduate and undergraduate students she mentors - she is studying how the human metapneumovirus infiltrates and attacks the respiratory tract, taking a basic science approach to better understanding how the disease functions in human airways.
"From early on I knew that I loved science," said Dutch, whose father is also a scientist. Her mother is a musician, and she said that she debated the arts versus science up until her entry to undergraduate study. Ultimately, the lure of the lab won out.
After completing an undergraduate degree in biochemistry and microbiology at Michigan State University, Dutch did a one-year master's program in biochemistry at Cambridge University in Great Britain, on a Churchill Fellowship. Upon her return to the U.S., she completed a doctorate in biochemistry at Stanford University, followed by a postdoctoral fellowship at Northwestern University in Chicago. From Northwestern, Dutch was hired as an assistant professor at UK in 2000. She quickly rose up the ranks, receiving tenure as an associate professor in 2006, and being named a full professor in 2011.
"I was looking for great science and a wonderful place to live," Dutch said of her move to the Bluegrass state.
Early in her career, Dutch focused on the Nipah virus, the dangerous pathogen on which the film "Contagion" was based. The Nipah virus is a biosafety level 4 pathogen, meaning Dutch and her lab could not actually study samples of the whole virus -- also meaning everyone in the Lexington area can breathe easier knowing that no vault at UK contains the dangerous virus.
In a move to diversify her research, plus work with a virus she could study in its whole state, Dutch moved toward studying the biosafety level 2 HMPV. Because the virus is less dangerous, and relatively common in the outside world anyway, Dutch and her staff can work with samples of live, whole virus under controlled conditions.
"It's a beautiful case of 'there's so much we don't know'," said Dutch of her work with HMPV, which has only been identified and named by the scientific community for a dozen years.
Serum testing confirms that the virus was active at least as early as the 1950s, although Dutch suspects it could actually have been active in the human population for centuries, as one of many non-specific respiratory viruses afflicting people.
Dutch has taken her research on the road, presenting many talks about HMPV, and recently appearing on the This Week in Virology podcast, a widely-circulated online production with appeal to academic scientists as well as lay people, high school science teachers, physicians and others.
Initially, Dutch and her team researched HMPV grown in a petri dish full of human cells. However, their research has now advanced to the point that they need to study the virus in a model of the human airway.
Because animal models do not sufficiently approximate the human airway, and it would not be safe or ethical to introduce the virus to human subjects, Dutch has turned to a commercially available model of the human airway grown from actual human cells. The model looks like a clear dish to the naked eye, but under a microscope it has all the layers seen in a human respiratory tract, right down to the cilia present in airways. The membrane model even produces mucus. Studying how the virus behaves when introduced to this model enables the scientists to see how the virus infects human tissue.
Developing a vaccine for HMPV is likely to be extremely difficult. Scientists have been working on a vaccine for the related respiratory syncytial virus (RSV) for more than 40 years, with poor results. In fact, the first attempted RSV vaccine actually appeared to worsen subjects' reaction to the virus, rather than providing immunity.
What is possible with HMPV is to develop a pharmaceutical intervention in the form of antiviral therapies. Antiviral medications may be familiar to anyone who has been prescribed a drug like Tamiflu for influenza. Administered appropriately, antivirals may cut the duration and severity of the illness. In the elderly, small children and those with weakened immune systems, that could mean the difference between a bothersome illness and a life-threatening disease.
HMPV is widespread among humans across the globe. In healthy adults, it causes symptoms ranging from respiratory difficulties to flu-like aches and fevers. In vulnerable populations, its effects can be worse. If humanity as a whole is to get the upper hand on HMPV and related viruses, basic science work by researchers like Dutch will be key. Perhaps in a few decades, a trip to the doctor may result in a lab test for HMPV and appropriate antiviral medication being prescribed. For now, the virus is active in Dutch's lab models, where along with her team she is searching for answers about this pervasive pathogen.
MEDIA CONTACT: Allison Elliott-Shannon, allison.elliott@uky.edu