Rogers and Davis Secure $2 Million for UK Coal-to-Liquids Research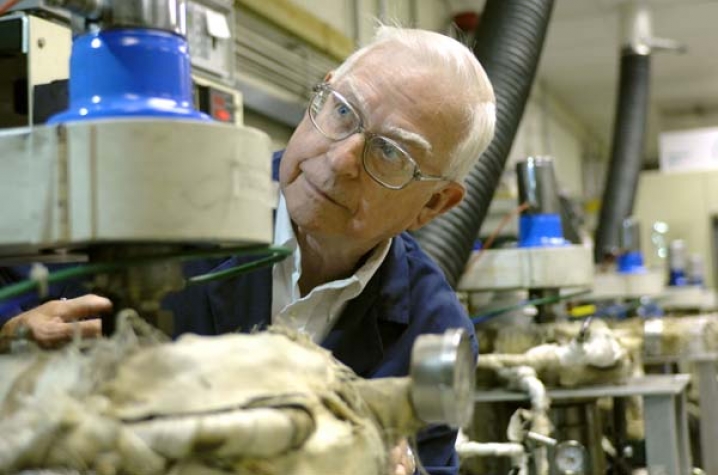 LEXINGTON, Ky. (Nov. 3, 2009) — The University of Kentucky Center for Applied Energy Research (CAER) will receive a $2 million grant for the development of coal-to-liquids technology, thanks to an appropriation secured by U.S. Representatives Harold "Hal" Rogers (KY-05) and Geoff Davis (KY-04).  The technology would reduce dependence on foreign oil and open new markets for Kentucky's coal mining economy.
The funding comes from congressional appropriations that Reps. Rogers and Davis secured in the FY10 Energy and Water Appropriations Act, which was signed into law by President Obama today.
"Rising energy costs create a huge burden on Kentucky's hard-working families that are already struggling with economic uncertainty and job losses in these challenging times. We need to make a more concerted effort to wean ourselves from the stronghold of unfriendly foreign countries and utilize the abundant resources here on American soil," said Rogers. "Coal is the single most abundant resource at our disposal in the United States, and the basic technology to convert coal into liquid fuel has been around for decades. Now is the time to make targeted investments that engage our best and brightest in the quest to make clean, coal-based transportation fuel commercially available and lower the price at the pump for American consumers and the U.S. military. I am confident that the ground-breaking research performed by scientists at CAER will prove vital on both the national and local levels, particularly in the creation of high-paying jobs here in Kentucky."
Davis said, "Energy prices are a major factor in determining the cost of living and the cost of doing business in a particular location. In this time of economic hardship, investing in new energy technology is one of the smartest things we can do to spur our recovery. By encouraging the development of new technology like coal to liquids that will produce cleaner energy, we can attain greater energy independence, reinvigorate our economy and create thousands of new jobs, right here at home. I am very pleased that the University of Kentucky will receive these funds."
This funding will enable CAER to expand upon its ongoing coal-to-liquids research by constructing a small-scale refinery to develop more efficient and environmentally-friendly methods for coal liquefaction. This important research into the manufacturing process of coal-to-liquids technology is widely seen as a critical next step to engage private investors in larger-scale commercial projects. To date, Reps. Rogers and Davis have worked to secure $4.425 million for this applied research project.
"This funding is important as we move forward in a carbon-constrained world.  It will enable us to develop more efficient and environmentally friendly methods to use coal, a resource our state has in abundance," said Rodney Andrews, director of CAER.
"Representatives Rogers and Davis should be commended for their strong support of developing these strategic fuels from our domestic coal resources," Andrews added.
In addition to pushing for more federal dollars dedicated to alternative energy research, Reps. Rogers and Davis have joined like-minded colleagues in supporting comprehensive legislation to combat soaring energy and gas prices and create a stable, long-term domestic source of affordable energy for working families, seniors and veterans in Kentucky. The American Energy Act (H.R. 2846) takes an "all-of-the-above" approach to reducing and stabilizing energy prices by increasing the supply of American-made energy, improving conservation and efficiency, and promoting renewable and alternative energy technologies. Passage of H.R. 2846 would authorize the Secretary of Energy to enter into price guarantee agreements with up to six coal-to-liquids projects that produce innovative transportation fuel – creating a level of certainty for private investment in domestic coal-to-liquids production.