CCTS Rewards Researchers With Free UK Basketball Tickets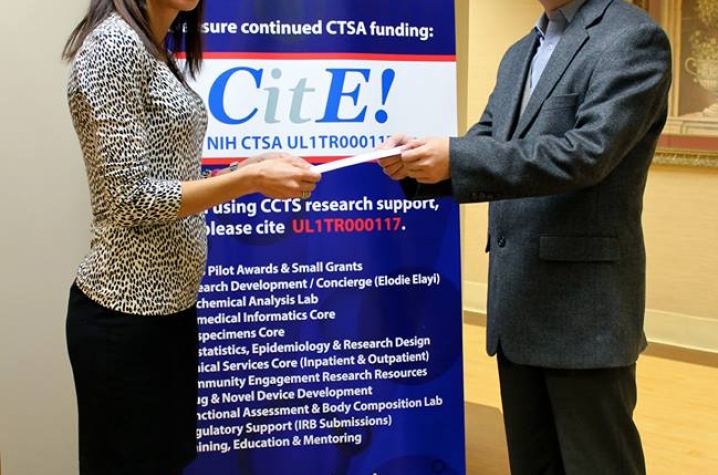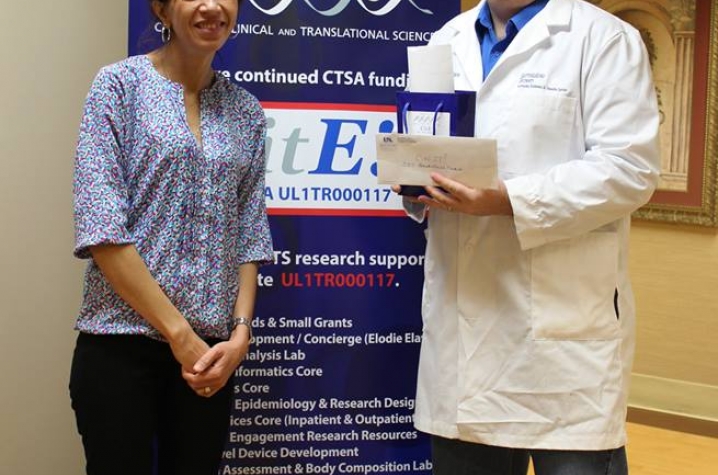 LEXINGTON, Ky. (Dec. 12, 2013) –Two University of Kentucky researchers have recently been rewarded with a high-value commodity: free UK basketball tickets. Researchers Guoqiang Yu and Michael Spencer each won a pair UK basketball tickets in a drawing associated with the "CitE!" campaign by Center for Clinical and Translational Science (CCTS).
CCTS is funded by a Clinical and Translational Science Award (CTSA) from the National Institutes of Health (NIH). Researchers who receive any support from CCTS, either in the form of funding or programmatic services like biostatistics or participant recruitment support, are asked to cite the CTSA grant number in papers submitted for publication. Citation is a critical productivity metric for all CTSA recipients because the NIH captures publication citations electronically for annual progress reporting.  
In an effort to increase awareness about citation and incentivize UK researchers to cite the CTSA grant number, the CCTS leadership launched the "CitE!" campaign. Requirements for grant citation, including gray areas where CTSA citation was encouraged but not mandatory, were developed and distributed to researchers. In addition to informational and marketing efforts, the campaign included a one-time incentive scheme wherein researchers would be entered into a drawing for basketball tickets if they submitted papers with citation of the CTSA grant.  
"At UK, the introduction of basketball tickets as incentive provides an unparalleled opportunity to promote an effective marketing effort," said Dr. Philip Kern, director of the CCTS.
Seventy-three papers were submitted for the "CitE!" drawing, representing research from the colleges medicine, pharmacy, public health, health sciences, nursing, education, engineering and arts and sciences.
Yu, from the College of Engineering, won tickets to the game against Belmont on Dec. 21. He cited the CTSA in a paper titled "Simultaneously Extracting Multiple Parameters via Fitting One Single Autocorrelation Function Curve in Diffuse Correlation Spectroscopy," which was published in the Journal of Transactions on Biomedical Engineering in February 2013.
"I'm so excited to the win the basketball tickets," said Yu.  "This will be the first UK game I've attended – I only watch on TV."
Michael Spencer won two tickets to the UK - Georgia game on Jan. 25, 2014, and plans to take his son as his guest. He cited the CTSA grant in his paper "Adipose Tissue Extracellular Matrix and Vascular Abnormalities in Obesity and Insulin Resistance," which was published in the Journal of Clinical Endocrinology and Metabolism in December 2011.
"My son will enjoy the cheerleaders and the band," he said. "It has been wonderful working with human subjects, knowing that your research will have real world impact."
MEDIA CONTACT: Mallory Powell, mallory.powell@uky.edu