Center for Clinical and Translational Science Conference Examines Physical Inactivity as a Disease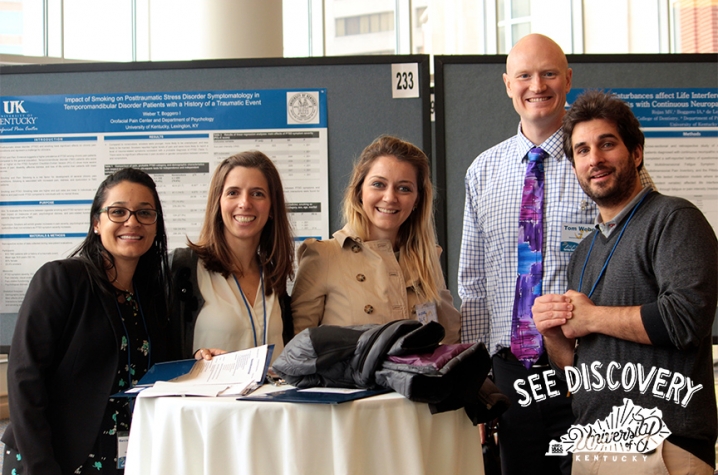 LEXINGTON, Ky. (March 27, 2015) — More than 700 researchers, students, policymakers and community members gathered March 25 for the 10th annual conference of the Center for Clinical and Translational Science (CCTS) to share research and enhance collaborations with special focus on physical activity across the lifespan and physical inactivity as a disease.
According to Dr. Philip Kern, director of the CCTS, physical inactivity is linked to poor health outcomes and disease throughout life.
"It's one thing to say to someone, 'get out there and exercise,' but then there's the question of how much, how often, and what intensity," he said. "And we need to know this, because not everyone can be a marathon runner. So how much activity and what intensity do we need to prevent disease?"
Charlote Petterson, Ph.D., professor and assosciate dean of research in the college of health sciences, chaired this year's conference. 
"The conference was designed to raise awareness of the science behind the benefits of exercise and the dangers of physical inactivity. I think everyone who attended, regardless of their background and research expertise, learned something that is relevant to their everyday lives," she said.
The keynote speaker, Dr. William Kraus, professor of medicine at Duke University, emphasized that physical inactivity is "definitely a disease, but a preventable one." He said that a "culture of convenience" and conditions of built environments, such as absence of sidewalks, deter people from physical activity. He pointed out that even pharmacies have drive-thru windows, which keep customers sitting in their cars instead of taking even a handful of steps (which can add up over the course of a day or lifetime) to walk into a store. A marathon runner, Kraus encouraged walking as a proven and simple activity that can improve health and actually extend life.
His comments had a strong effect on at least one conference participant, who told him that his talk changed her life.
"She said, I am no longer going sit at my desk all day.  I'm not going to work over hours.  I'm going to go home and I'm going to walk.  I don't care who gets mad about it, but that's what I'm gonna do.  I mean, that's the kind of attitude change you've got to have," Kraus said.
The annual conference, now in its 10th year, was held in conjunction with the research days of the colleges of dentistry, health sciences, engineering, and public health, as well as the 31st Annual Spring Neuroscience Research Day and the 34th Annual Symposium in Women's Health and Reproductive Science. In addition to students and faculty from across UK's campus, partners from the Appalachian Translational Research Network also participated.
Thirty-one oral presentations and 270 poster presentations were featured, addressing a vast array of topics including physical inactivity in children, physical inactivity in chronic disease and biomedical informatics.
The conference's multidisciplinary approach to research and collaboration offered the scope and expertise of a national research conference, with the unique convenience of being free and within walking distance of UK's campus.
"UK researchers travel the world giving insights on their scientific findings to their colleagues. This conference showcases our science locally, bringing together our very best researchers across multiple disciplines," said Dr. Jane Lowe, assistant provost of CCTS.
The conference creates a setting to mentor students and junior faculty, who receive coaching and feedback on their poster and podium presentations, guidance on best practices in research, and information about funding and collaboration opportunities.
The conference also provides a unique opportunity to recognize mentors across disciplines who have made a significant impact in the lives of the mentees who nominate them. Mentor awards were presented to Lorri Morford, Ph.d., College of Dentistry; Carie Oser,Ph.D., College of Arts and Science; Dr. Christian Lattermann, College of  Medicine; and Guoqiang Yu, Ph.D., College of Engineering.
Special recognition mentor awards were presented to Richard Kryscio, Ph.D., College of Public Health, and Thomas Kelly, Ph.D., College of Medicine, who also serves as the director of training, education, and mentoring at CCTS.
"The recognition was completely unexpected – and humbling, given the remarkable mentoring contributions of our colleagues at the University of Kentucky," said Kelly. "I can attest to the fact that the most important component to effective mentoring is having the opportunity to work with talented and engaged scholars, and we are extremely fortunate to have such a strong group of early career translational science scholars at the University."
The graduates of the inaugural class of the  Community Leadership Institute of Kentucky (CLIK), a leadership development training program offered by the CCTS, the UK Center of Excellence in Rural Health, and the Kentucky Office of Rural Health, also received special recognition.
MEDIA CONTACT: Mallory Powell, Mallory.powell@uky.edu