UK Announces Major Outreach Initiative for Naloxone Training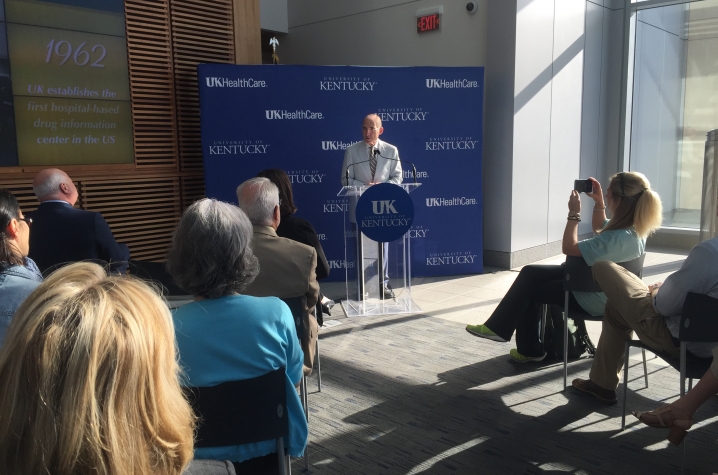 Live streamed announcement of major outreach program announced by UK College of Pharmacy today to help stem the increase in heroin deaths in Kentucky.
LEXINGTON, Ky. (Oct. 8, 2015) — The University of Kentucky College of Pharmacy announced a major outreach initiative aimed at training pharmacists across the state for the prescription use of naloxone, a medication used for the treatment of suspected opioid overdose. Recent legislation now allows pharmacists, acting under a physician-approved protocol, to fill naloxone orders in their communities without an individual physician's prescription.
To facilitate getting this life-saving product out in Kentucky communities, the Advancing Pharmacy Practice in Kentucky Coalition – an organization comprised of Kentucky's pharmacy thought leaders – developed training programs and protocols around naloxone usage for pharmacists across the state. The Coalition is offering this special training during a statewide tour through October and November.
"This is game-changing legislation for public health in Kentucky," said Trish Freeman, Director of the UK College of Pharmacy's Center for the Advancement of Pharmacy Practice (CAPP). "The coalition recognized that and worked hard to bring the necessary resources together to ensure Kentucky pharmacists had the proper training to make sure they could fill this important need in our communities."
The initiative is a prime example of UK's "bench-to-bedside" research in action. Previously, UK College of Pharmacy professor and researcher Dan Wermeling developed a nasal spray version of naloxone through his startup company AntiOp Inc., designed to be much easier to administer than the traditional syringe version.
"Our research and scholarly endeavors offer the brightest hope for transformation and change for our Commonwealth and the broader world we serve," said Dr. Eli Capilouto, President of the University of Kentucky. "This is a compelling example of the power of research — its practical application and its ability to improve the lives of those we touch."
Last year, more than 1000 Kentuckians died from an overdose. Increasing access to naloxone through the new legislation, coupled with the ease of use in the nasal spray device, has the potential to make a difference in the overdose death rate.
"This project is a great example of pharmacists putting patients first," said Wermeling, a UK College of Pharmacy alumnus and native Kentuckian. "This College began its work in naloxone because we saw how opioid overdose was wreaking havoc on Kentucky communities. We approached this as a public health problem, and we sought to leverage the resources and capacity we have at the College to help save lives right here in the Commonwealth. I am proud that our work is starting to pay dividends, and I am proud that Kentucky pharmacists are leading the way."
Currently, approximately 300 Kentucky pharmacists have already received training on the new naloxone prescription guidelines and protocols from the Coalition. Upon completion of the upcoming tour, Freeman estimates that 500 pharmacists will have undergone this special training, vastly improving access to naloxone throughout the state.
"Opioid overdose is a problem affecting families and communities in every corner of our Commonwealth," said Kelly M. Smith, Interim Dean of the UK College of Pharmacy. "Through our educational and research efforts, we are making a real impact on lives across this state. I applaud Drs. Wermeling, Freeman and our pharmacy partners in Kentucky who have joined us in this effort." 
In addition to the UK College of Pharmacy and CAPP, the Advancing Pharmacy Practice in Kentucky Coalition partners include the Kentucky Pharmacists Association, Kentucky Board of Pharmacy, Kentucky Society of Health-System Pharmacists, American Pharmacy Services Corporation, and the Sullivan University College of Pharmacy.
The Coalition's statewide tour began on October 6 at the METS Center in Erlanger, Ky. The tour will make its way to the following cites on these dates:
Oct. 27 – Owensboro
Oct. 29 – Lexington
Nov. 3 –  Pikeville
Nov. 12 – London/Corbin
Nov. 19 – Louisville
In addition to the statewide tour dates, the coalition has worked to ensure naloxone certification clinical education modules are also being offered on the programs at the following statewide meetings/events:
Oct. 11 – Jefferson County Academy of Pharmacy, 2015 Fall Seminar, Sullivan University, Louisville
Oct. 23 – UK College of Pharmacy and Sullivan University College of Pharmacy Preceptors Meeting, College of Pharmacy, Lexington
Nov. 14 – Kentucky Pharmacists Association Legislative Conference, Hyatt Regency, Lexington
MEDIA CONTACT: Allison Perry, allison.perry@uky.edu or (606) 782-7735