Chemistry Researcher Develops Innovative Testing, Potential Remedies for Head Trauma, Alzheimer's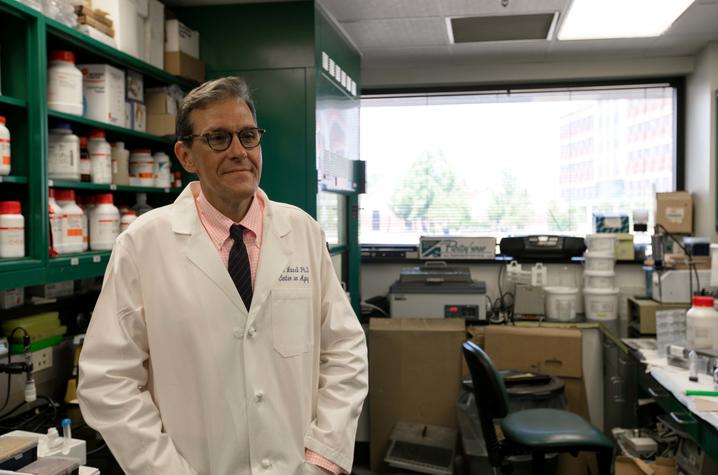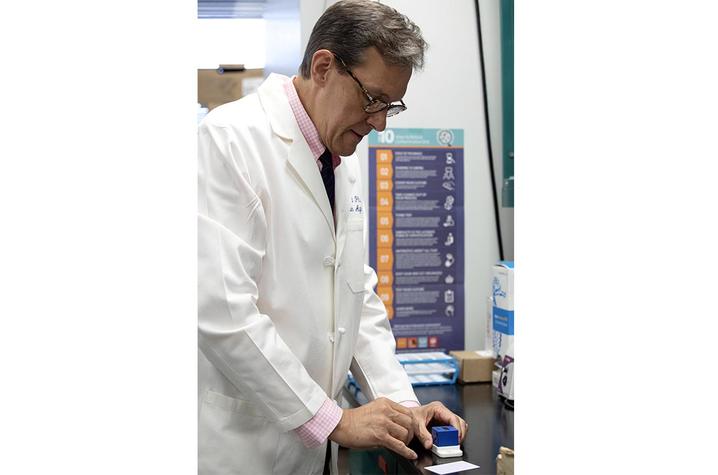 LEXINGTON, Ky. (Jan. 13, 2020) — In higher education, the value of following your passion, meeting challenges head-on and working toward something bigger than yourself are all promoted to students by their professors. Sometimes, students are lucky enough to have a teacher who not only encourages this, but lives it too. Mark Lovell, Jack and Linda Gill Professor of Chemistry in the University of Kentucky College of Arts and Sciences, is one of those teachers.
Growing up in Mount Vernon, Kentucky, Lovell stayed close to home and attended Berea College for his undergraduate degree. Post-graduation, Lovell tried his hand at medical school, but found himself ultimately drawn to graduate school at UK. He received his doctorate here in 1992, working with William Ehmann, a radiochemistry professor at the time, and William Markesbery, former director of UK Sanders-Brown Center on Aging. It was through these two influential men that Lovell first found his path.
"Working on projects with the two of them, I became fascinated with Alzheimer's disease and my research became largely focused on Alzheimer's, head trauma and stroke," Lovell said. "I just became fascinated with the chemistry and the neurochemistry associated with the pathology."
Lovell found himself completing a postdoc at the Sanders-Brown Center on Aging and eventually moving to a research faculty line at UK and ultimately a tenure track line, all while also working at the center.
"Being at UK and Sanders-Brown gives a varied perspective since we have such a wide range of faculty there," Lovell said. "It makes it really nice. If, as a poor, old chemist, you run into a problem outside of chemistry, there are other folks in the building who are very collaborative and willing to jump in and help."
UK became a beneficial choice for Lovell. Not only did he meet mentors that corresponded with his personality and cultivated his passions, but Lovell is also able to remain close to his elderly mother and watch out for her.
"I really just developed a love for the campus and the center and the work we do, so that's really why I came to stay at UK," Lovell said.
This love for his work is something that has never left Lovell. To this day, he is still tirelessly working on projects related to Alzheimer's, head trauma and stroke, including one of his most exciting projects to date. The study examines a circulating marker of head trauma. Lovell and his team have identified a circulating protein that can be picked up in a finger stick and indicates a minor head injury.
"The difficulty with assessing head trauma is that minor injuries typically fail to show up on imaging," said Lovell. "Unfortunately, if an injury is big enough to show, it's probably no longer a mild injury."
The device works much like a home pregnancy test, with a pink line appearing after 20 minutes, if positive. Currently, they have worked with the UK Emergency Department and have moved to conducting the study with UK Athletics and EKU Athletics.
"We're actually working with them to determine if we can identify concussive head trauma in football, soccer and volleyball under an NIH award," Lovell said. "In addition, we just submitted a proposal to the U.S. Department of Defense to expand the project to 11 other universities."
This expansion could potentially increase enrollment to include approximately 1,400 athletes, and potentially 150-200 concussive injuries. 
Among many observations, Lovell and his team have determined that the biomarker is not elevated by basic activity, but that there is a small but significant increase in baseline levels in athletes with repeated contact over the athletic season. This potentially suggests that accumulating minor injuries over time may contribute to neuronal injury. 
Even though the project has presently branched to athletics, military and emergency department purposes, its origins are much more personal for Lovell.
"Back in 2012, my favorite aunt had a transient ischemic attack and went in to the ER, where she was told nothing showed up in imaging," Lovell said. "After bouncing around trying to decide if there had actually been an ischemic event, the physicians decided that they would start her on aggressive clot busters." 
Lovell's aunt suffered a massive hemorrhagic stroke and passed away a few weeks later.
"I thought, if there had been a simple device that could have picked up on a marker indicating an ischemic event in the ER, then it might have helped in the decision of whether or not to start these therapies at a more therapeutically beneficial time," Lovell said. "So that's when I started working on the device, and as the research progressed it became apparent that the approach was better suited for head trauma detection."
In the future, Lovell hopes to modify the device to add additional lines to identify more severe injuries and possibly use the device for children in the emergency room.
"Based on current guidelines from the American Association of Pediatrics to minimize CT imaging of children, there is a need for a noninvasive approach to identify children with head injuries who need imaging," Lovell said. "A classic example is a child who falls off the swing set and hits their head. Because our device only requires a finger stick, it could potentially provide a noninvasive way to determine if an injury is minor or significant enough to merit imaging."
Another exciting project for Lovell is the development of a small molecule that is protective in animal models of Alzheimer's pathology.
"Working with Dr. Bert Lynn in the chemistry department, we've developed a small molecule that appears to interrupt a pathway inside astrocytes that could potentially slow the cascade of events leading to neurodegeneration," Lovell said. "Our ultimate goal is to move toward clinical trials in humans. The compound is poorly water soluble, and we're currently working to modify the chemistry to increase solubility but keep the drug activity. I'm realistically hopeful!"
Lovell, not one to back away from a challenge, intends to continue his "fascinatingly frustrating" work with Alzheimer's and head trauma. Despite his personal success, Lovell credits many people who have helped him along the way.
"Dr. Markesbery was a big influence for me in a variety of ways, even from little physical gestures I've picked up from him. Over the years I've noticed that aspects of my lecture style in class were really influenced by both Dr. Ehmann and also by Dr. Steven Yates (chemistry)," he said.
One of his largest influences has been Mark Meier, past chair of the UK Department of Chemistry, whose position Lovell assumed this July.
"It's a big pair of shoes to fill. Following Dr. Meier is like being the guy who follows Nick Saban," Lovell said. "You never want to be the one to follow Nick Saban, you want to be the one who follows the guy who follows Nick Saban."
Regardless, Lovell intends to pursue his studies and projects in the near future and will never diminish the importance of his work.
"Currently the biggest segment of the U.S. population includes folks who are moving into the age of onset of Alzheimer's disease. So this is going to be a substantial health issue for this country unless something can be developed," Lovell said. "My biggest hope is that something we work on may some day be beneficial to patients."
As the state's flagship, land-grant institution, the University of Kentucky exists to advance the Commonwealth. We do that by preparing the next generation of leaders — placing students at the heart of everything we do — and transforming the lives of Kentuckians through education, research and creative work, service and health care. We pride ourselves on being a catalyst for breakthroughs and a force for healing, a place where ingenuity unfolds. It's all made possible by our people — visionaries, disruptors and pioneers — who make up 200 academic programs, a $501 million research and development enterprise and a world-class medical center, all on one campus.   
In 2022, UK was ranked by Forbes as one of the "Best Employers for New Grads" and named a "Diversity Champion" by INSIGHT into Diversity, a testament to our commitment to advance Kentucky and create a community of belonging for everyone. While our mission looks different in many ways than it did in 1865, the vision of service to our Commonwealth and the world remains the same. We are the University for Kentucky.