Community Partnership Program Helps Women in Recovery Replace Cigarettes with Sweat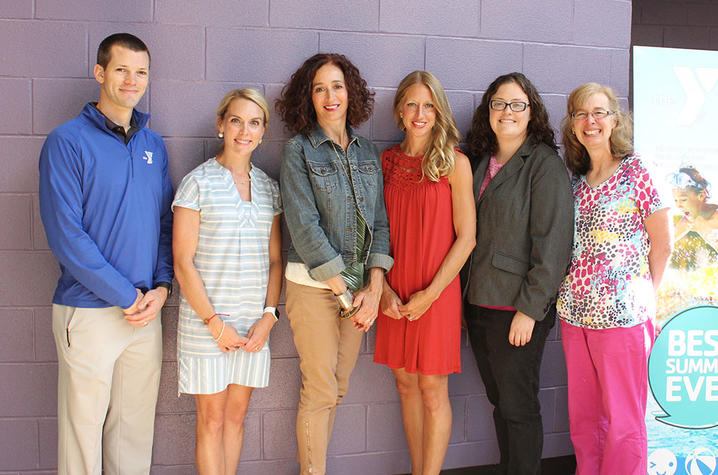 LEXINGTON, Ky. (July 13, 2017) — While managing her sobriety, returning to the workforce and enduring a grueling legal process to reunite with her children, Missy couldn't imagine a day without cigarettes.
After finishing a six-year prison sentence in January, she was determined to get her life back in order. In the spring she completed a substance abuse rehabilitation program at the Chrysalis House, a residential recovery center for women in Lexington. She got a job and started working through the legal process necessary to regain custody of her children. Smoking — a habit she picked up after prison — helped her cope with her emotions and stress of court dates and legal battles. Quitting was the last thing on her mind.
"Quitting wasn't a top priority because I was so stressed out with stuff going on with my kids," Missy said. "I would push it to the back of my mind, like, 'I am not even going to think about quitting smoking, this is calming me down.'"
Then she learned she was pregnant, and she set a quit date.
"It kind of seemed like it was impossible because there is so much going on," she said. "But me finding out I was pregnant— that pushed me over the edge."
During her stay at the Chrysalis House earlier this year, Missy signed up for the Get Fit and Quit Program (GFAQ), a community-based research partnership organized by health advocates at the University of Kentucky College of Nursing, the Chrysalis House and the YMCA of Central Kentucky. Since the pilot program was initiated in March, about 14 Chrysalis House clients have enrolled and consistently participated in the program, which consists of group tobacco treatment and physical activity sessions.  Through the program, women in recovery from substance use disorders at the Chrysalis House are eligible to receive a free family YMCA membership, a free fitness-tracking device and other family health benefits.
Enrolled Chrysalis House clients participate in 10 hour and a half-long Get Fit and Quit sessions with 45 minutes of each session dedicated to group tobacco cessation content  followed by 45 minutes of physical activity at the Northside YMCA. UK nurse interventionists Janine Barnett and Tisha Ducas facilitate the sessions. The program exposes women and families to a range of physical activity, from cardiovascular group workouts like Zumba, to cycling, to yoga, to weight lifting and a day to choose a fitness activity on their own. Barnett said many women are learning to replace tobacco use with healthier activities for managing stress.
"The majority of our session content focuses on identifying smoking triggers and stress and discovering new ways to manage them," Barnett said. "We hope that through exercise, the women will feel the benefits of endorphin release, they will begin to feel physically and mentally better, and then they will begin to naturally incorporate this healthy behavior into their everyday routine.  Since not all individuals like the same physical activities, we expose the women to various types in hopes that they will all find something that they love—something that they will want to do long-term—not only as a replacement for smoking, but as positive lifestyle change for themselves and their families."
Stress is a well-known predictor of smoking.  Beginning in 2015, Amanda Fallin-Bennett, a tobacco control researcher in the UK College of Nursing and a primary investigator on the GFAQ program, partnered with the Chrysalis House to conduct pilot research on the barriers to tobacco treatment and cessation specifically for women in addiction rehabilitation programs. Based on results of individual interviews and focus groups with Chrysalis House residents and staff, GFAQ was designed for a group of women reporting high levels of stress through an integrative approach including a supportive peer network, organized group exercise classes, and access to tobacco treatment specialists and counseling.
Chrysalis House clients leave behind many aspects of their previous lifestyle to transition to a healthier existence in sobriety. But in the process of breaking away from a pattern of addiction, many women cling to  cigarettes as the last stress-coping mechanism. However, research indicates individuals with alcohol use disorder are more likely to die from a tobacco-related disease than an alcohol-related disease. 
The community-based research was funded through Fallin-Bennett's Interdisciplinary Research Careers in Women's Health (BIRCWH) scholarship and co-facilitated by UK College of Nursing Associate Dean of Research Kristin Ashford. Fallin-Bennett used the data from the initial project to inform and mobilize resources for the development of the program. The researchers formed partnerships with staff at the Chrysalis House, as well as officials from the YMCA of Central Kentucky and the Kentucky Quit Line, which provides free nicotine replacement for women enrolled in GFAQ.
Tonya Jernigan, clinical director of the Chrysalis House, said the collaboration complements the Chrysalis House's holistic approach to recovery that addresses the physical, spiritual and mental state of addiction. The clients are provided with multiple tools and resources to succeed on their path to health and substance-free living. They also model healthy behaviors by seeing other families in the community enjoying the benefits of a YMCA membership.
"It's planting a seed," Jernigan said. "Part of that recovery process is being able to build a natural support system and being able to see what healthy families look like." 
Susan Sanders, a clinical nurse at the Chrysalis House, said the program provides a safe, non-judgmental and family friendly outlet for clients to participate in physical activity. Importantly, Chrysalis House clients participating in the program are engaged in the community, which helps to normalize exercise and decrease access barriers to healthy activities.
"Just to feel like there's folks at UK and folks at the Y who are willing to reach out to them — who care about them enough to put this program together— that's inspiring to them as individuals."
Corey Donohoo, the director of community health at the YMCA of Central Kentucky, said his organization benefits from the partnership working with UK researchers to implement evidence-based programming and recruiting more families to the YMCA through the Chrysalis House. GFAQ is the first tobacco cessation treatment program offered by the YMCA of Central Kentucky. The YMCA strives to create an inclusive and safe environment for all families to receive the benefits of physical activity.
"This opportunity to work with a strong partner like UK was something that we thought could be on the cutting-edge for our organization," Donohoo said. "The Y wants to make sure we are open to all groups that might not be here on a regular basis."
The clients, most importantly, are learning to swap out smoking for physical activity as a response to stress. In addition, their families are getting plugged into their local community and experiencing the joy of exercise.
"And I am in the best shape of my life thanks to this program," one participant, whose identity is protected, said. "I have been getting compliments almost daily, and the YMCA has been my and the kids' second home. I feel this program will change lives and its changed mine for the better."
Missy admits she's never been enthusiastic about working out in the past, but she's learned to appreciate exercise and enjoys swimming. She remains committed to the program because she needs encouragement and accountability to make her quit goal. When she missed her quit date about a month ago, participating in the class and receiving encouragement from the instructors motivated her to try again.
"I really started enjoying the program when I had a break down when I didn't make my quit date," she said. "Janine and the nurses have been very supportive and caring, and they try to understand. They are swift in their thinking — they know what to say."
*Missy's name was changed to ensure client confidentiality.