Conference on Health Policy and Systems Change Draws Nearly 1,000 Participants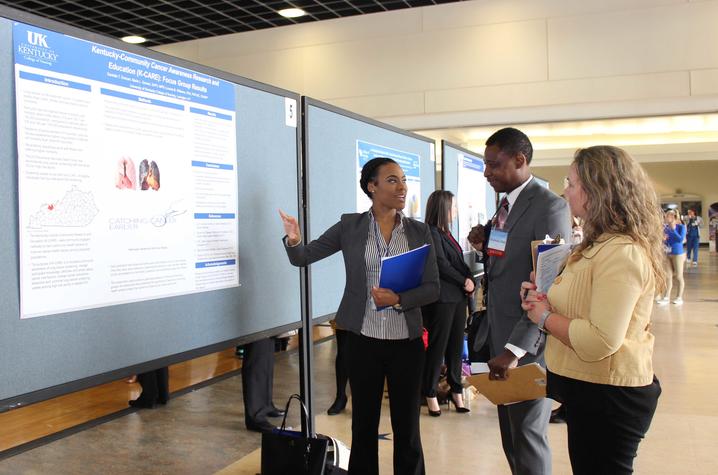 LEXINGTON, Ky. (April 18, 2018) – The 14th Annual Spring Conference of the University of Kentucky Center for Clinical and Translational Science (CCTS) was held Monday, April 15 at the Lexington Convention Center. This year's conference focused on the science of health policy and systems change.
Nearly 1,000 researchers, clinicians, students, trainees, community partners and local and national experts participated in the day-long, multidisciplinary event to share findings, disseminate best practices, enhance collaborations, and mentor the upcoming generation of translational researchers.  
In addition to plenary and keynote presentations by internationally renowned speakers, more than 300 posters were presented, along with 18 podium presentations by CCTS trainees and six by graduates of the Community Leadership Institute of Kentucky, which provides training and funding to Appalachian community leaders working to implement health promotion programs at the local level.
"Policy change is critically important. As is clear from examples such as seatbelts laws and required measles vaccinations, public education campaigns are important, but changes in policy can directly affect, and even save, the lives of millions of people," said Dr. Philip A. Kern, director of the CCTS.
Co-chairs for this year's conference were Ellen J. Hahn, the Marcia A. Dake Professor in the College of Nursing, director of BREATHE and interim director of UK-CARES (Center for Appalachian Research in Environmental Sciences); and Jeffrey Talbert, the Joseph Schutte Chair in Pharmaceutical Policy, director of the UK Institute for Biomedical Informatics, director of the UK Institute for Pharmaceutical Outcomes and Policy, and an associate director of the CCTS.
A plenary address on "Fiscal Policy and Health" was delivered Frank Chaloupka, an economist internationally recognized for his study of the economics of tobacco control and director of the Health Policy Center at the Institute for Health Research and Policy at the University of Illinois-Chicago. An interview with Chaloupka at the conference is available here. 
Lisa Simpson delivered the keynote address on "New Directions in Informing Policy: Leveraging Data, Networks, and Innovation."
The conference was held in collaboration with the UK College of Dentistry Research Day, College of Engineering Biomedical Research Day, College of Nursing Scholarship Showcase, College of Public Health Research Day, MD/PhD Program Research Day and the 35th Annual Bluegrass Science Foundation Neuroscience Day.
The UK Von Allmen Center for Entrepreneurship and Office of Technology Commercialization also hosted the 3nd Annual "1-Minute Pitch Your Poster Competition," with awards going to:
First Place ($500): Vrushali Angadi, Assistant Professor of Division of Communication Sciences and Disorders (CCTS Poster Session)
Second Place ($250): Lindsey Hammerslag, Postdoctoral Scholar (Bluegrass Science Foundation Poster Session)
Third Place ($150): Kent Brouwer, second degree BSN alumnus and DNP student (College of Nursing Poster Session)
Director's Choice Award ($100): James Drury, College of Medicine (CCTS Poster Session)
As part of the CCTS's mission to prepare the upcoming generation of translational scientists, acknowledgement was made to the following individuals who recently completed training programs:
Recipients of Graduate Certificate in Clinical and Translational Science:
Brittnea Adcock
Arit Harvanko
Jacqueline Kulbe
Sameera Kumar
Evan Lynch
Brittany Price
Jason Ramey
Mohsin Salih
Asha Shenoi
Matt Thomas
Recipients of a Masters of Medical Science in the Clinical and Translational Science Track:
Robert-Marlo Bautista
Lesley Davidson
Tong Gan
Ronald Racho
Recipient of a PhD in Clinical and Translational Science:
Dr. Elie Abu-Jawdeh
Dr. Omar Al-Janabi
Brittany Bissell
The first annual UK-CARES/UK Center for Excellence in Rural Health Community Engagement Award was presented to the Tobacco-free Ambassador Partnership at Hazard High School in Hazard, Ky.
Awards were also presented to outstanding mentors who were nominated by their mentees:
Esther Dupont-Versteegden, professor and director of rehabilitation sciences doctoral program in the UK College of Health Sciences
Dr. Peter Morris, professor and chief of the Division of Pulmonary, Critical Care & Sleep Medicine in the UK College of Medicine
Sridhar Sunderam, associate professor in the Department of Biomedical Engineering in the UK College of Engineering
The annual Special Recognition Award was presented to Jeffrey Talbert in recognition of his key role in developing UK's biomedical informatics capacity and his career dedicated to intersection of evidence-based policy and health care outcomes, particularly public health informatics and substance use disorder outcomes.
The full list of speakers, presentations, and poster abstracts is available here.
The UK Center for Clinical and Translational Science (CCTS) accelerates the translation of basic science discoveries into tangible improvements in public health.  Through funding, training, infrastructure, and community engagement, CCTS facilitates and supports innovative team science to address critical health issues, with special focus on health disparities experienced in Kentucky and Central Appalachia.
We invite you visit UKClinicalResarch.com to learn about opportunities to participate in health research. You can make a difference! 
The UK CCTS is supported by the NIH National Center for Advancing Translational Sciences through grant number UL1TR001998.  The content is solely the responsibility of the authors and does not necessarily represent the official views of the NIH.
UK is the University for Kentucky. At UK, we are educating more students, treating more patients with complex illnesses and conducting more research and service than at any time in our 150-year history. To read more about the UK story and how you can support continued investment in your university and the Commonwealth, go to: uky.edu/uk4ky. #uk4ky #seeblue