Getchell Memorial Award Honors Graduate's Persistence in Seeking National Funding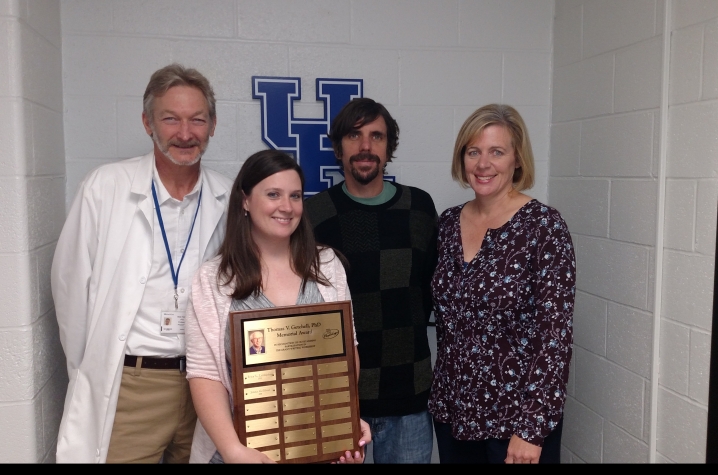 LEXINGTON, Ky. (Nov. 3, 2016) —The second annual Thomas V. Getchell, Ph.D., Memorial Award for excellence in grant writing was presented to Jenna Gollihue, a graduate student in the UK Spinal Cord and Brain Injury Research Center, on Nov. 2.  
The award honors the memory of Getchell, a former professor of physiology in the UK Department of Physiology who encouraged researchers to improve grant-writing skills to acquire research funding. The award supports a travel stipend for a student participating in the annual Grant Writing Workshop. Getchell founded the Grant Writing Workshop in 2005 with a vision to provide proactive, individualized mentoring to medical, doctoral and post-doctoral trainees to further their skills in grantsmanship, increase their success rate in obtaining fellowship grants and enhance their research careers.
Gollihue studies the therapeutic potential of mitochondrial transplantation in a rodent model of spinal cord injury.  After she completed a previous workshop, she wrote and submitted a pre-doctoral fellowship application to the National Institutes of Health (NIH). Although the study was not funded on first submission, she persevered, resubmitting a revised application, and as a result was awarded a competitive fellowship from the National Institute on Neurological Disorders and Stroke in 2015. Gollihue has returned as an alumna to workshop to share her grant writing experiences with students and post-doctoral scholars in the workshop. 
Getchell was a professor in the Department of Physiology and a member of the UK Sanders-Brown Center on Aging and served as associate dean for research and basic sciences for the UK College of Medicine from 1989 to 1998. Workshop trainees have earned more than $2.4 million in fellowship funding as a result of Getchell's efforts.